Cheryl & Oscar Untalasco Written by By Kelley Saia
Photography by The Memory Journalists

THE COUPLE: Cheryl & Oscar's

Wedding Date:
March 1, 2008
Absence makes the heart grow fonder, or so the saying goes, but for Cheryl and Oscar, it's more than a saying, it's reality. Oscar frequently travels for his job, so as the couple became serious, they created a tradition of Cheryl taking Oscar to the airport in order to spend as much time as possible with one another. Three months into the relationship, Oscar decided he was going to marry Cheryl. He took advantage of their tradition in his proposal, but not before doing some serious research. After several months of reading books, wedding magazines and viewing Web sites, he could not find a unique way to pop the question, and then it hit him! He arranged for Cheryl to take him to the airport for a business trip, except there was no trip. He knew that she had lunch plans with his parents that afternoon, so after she dropped him off, his sister picked him up and took him back to his house. By the time Cheryl returned home, Oscar had decorated the entire house with candles, flowers, balloons and paper butterflies with handwritten love notes on them. He hid himself and gave her a moment to take it all in, but she was too confused to understand what was going on, so he turned on some soft music and came into sight. Cheryl immediately began crying as Oscar proposed. She was so overwhelmed that she did not even notice that Oscar had traded the ring that the two of them had picked out for an even larger one!
The wedding planning did not get underway as quickly as the engagement did, but once they started planning, they charged full steam ahead. The first, and probably biggest challenge was the guest list (as it is with most couples). Both Cheryl and Oscar come from large families so they had to decide if they wanted a small, intimate ceremony with only their immediate family, or a larger one with 450 of their closest friends. The couple opted for the latter, but was able to hone down the list to a measly 350. While a large wedding was in their future, the couple was still very budget conscious and made use of the resources that they discovered in their friends and family. Among these were a wedding planner, musicians, a Hawaiian dancer and a lot of love and support. With such a talented and dedicated group, the couple was able to eliminate some of the costs while making everything that much more special.
The wedding was just as the couple had imagined: family-oriented, elegant and memorable. The most vivid memory they share of their wedding day is when Cheryl walked down the aisle. According to Oscar, "You can't beat that moment."
Cheryl & Oscar's Wedding Resources
Tips
The couple says:
"Be honest and open with each other about what you hope for and what is feasible.
Disputes and disagreements are inevitable. Resolve them quickly and privately. Don't embarrass each other in front of others.
Prioritize what is most important to each other. For example, Cheryl wanted a beautiful gown, beautiful flowers and her immediate family involved in the ceremony. Oscar wanted a memorable family-filled ceremony, the best photographer and the best reception entertainment we could afford. We put a lot of effort and resources into our wishes and we got what we wanted. Everything else was icing on the cake.
Unless you have an unlimited budget get used to compromise.
Go with the flow and let go of the small mishaps. Our family and photographer helped us to relax when we got tense. We quickly got over mistakes and enjoyed the moment. Don't lose sight of what the event is really about.
Let your vendors do what they do best. Allow them to work their magic. If you did your homework and picked the best professionals, then you shouldn't be let down. As long as you are in communication and honest with them, they will help make your dreams come through.
Delegate. People who love and support you will do the very best they can to make you happy. Take advantage of the many talents around you.
Try to stay on top of deadlines and expenses. Be honest and keep others such as the wedding planner aware of all of the spending. They will help you keep budget-minded."
Changed
The couple says, "Rehearsed the ceremony with the priest more. Our ceremony lagged a bit. Our original priest had to bow out a couple of weeks before the wedding. Another priest was kind enough to fill in but we didn't keep him in the loop as much as we could have. We all did the best we could under the circumstances. Regardless, our wedding went beautifully."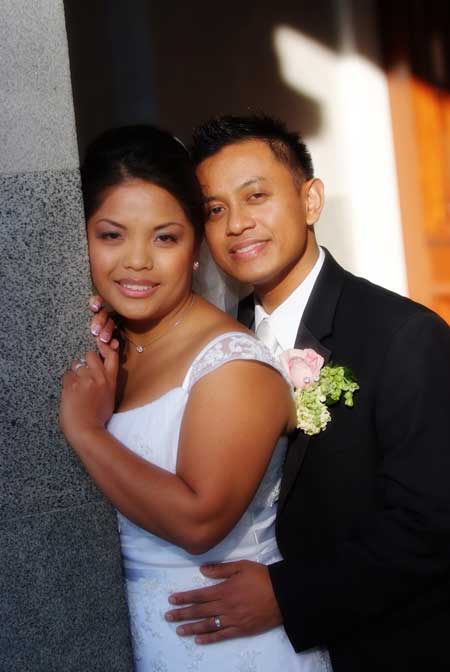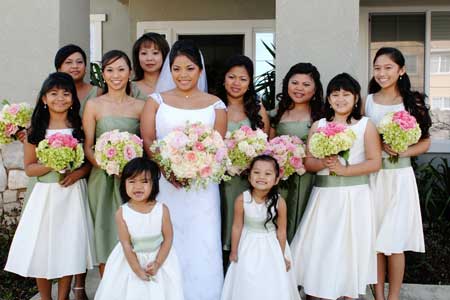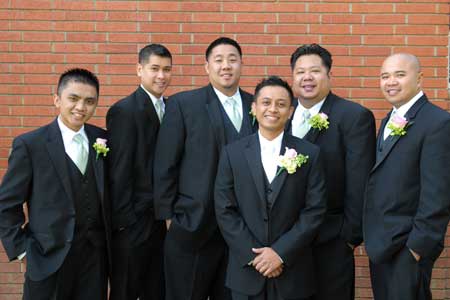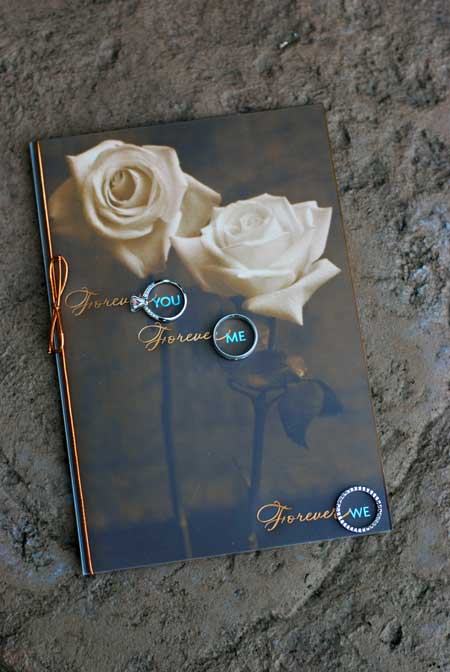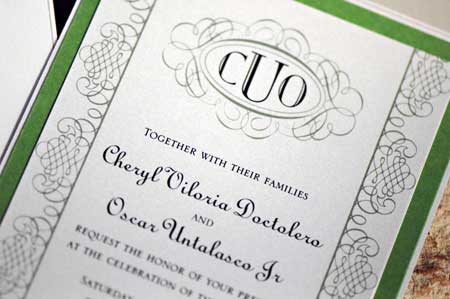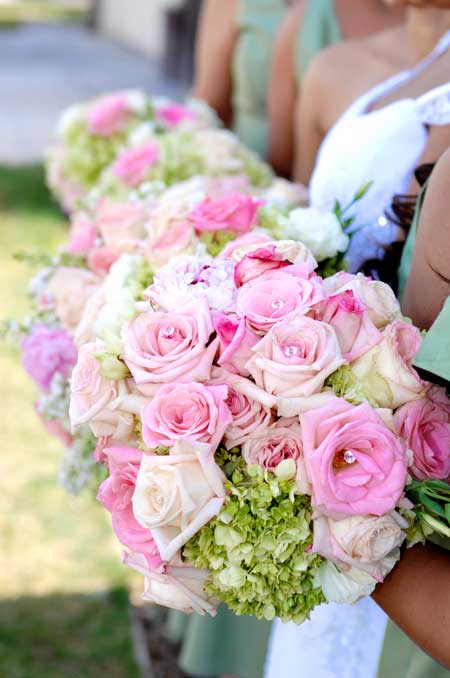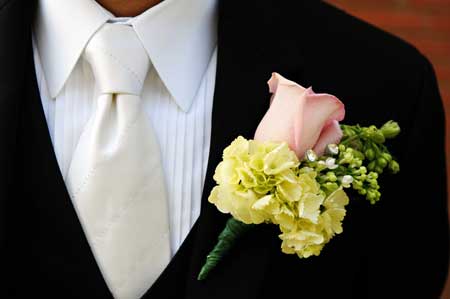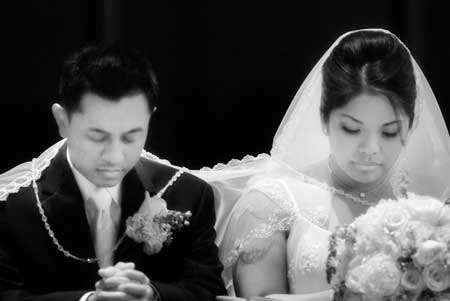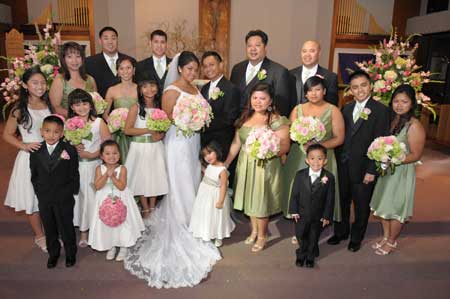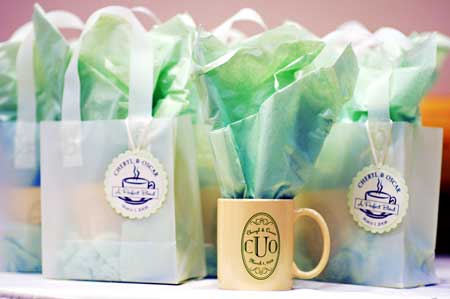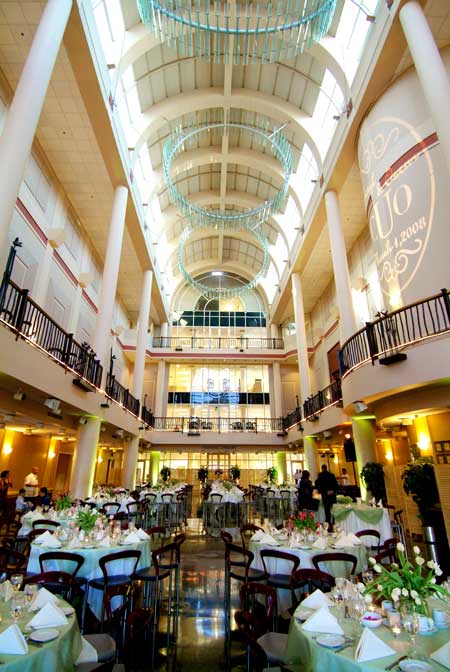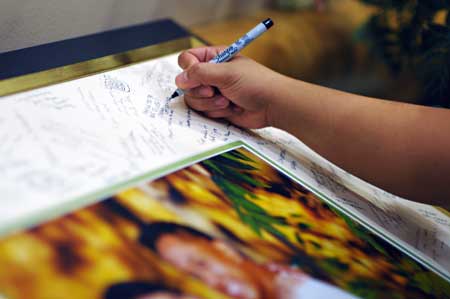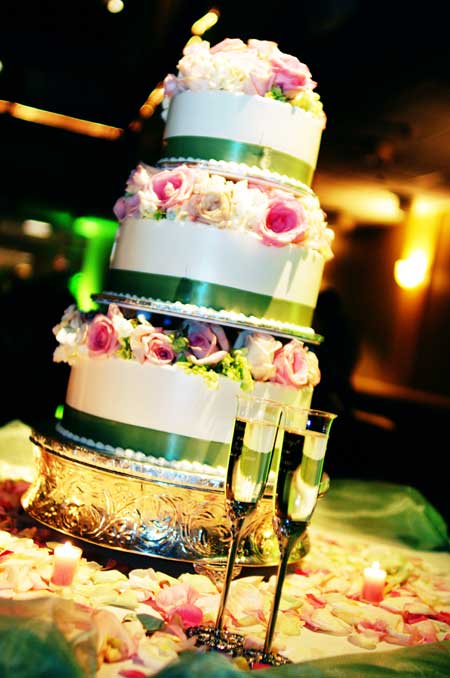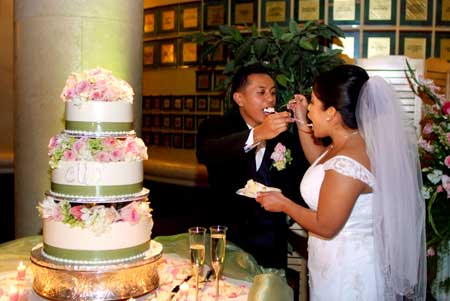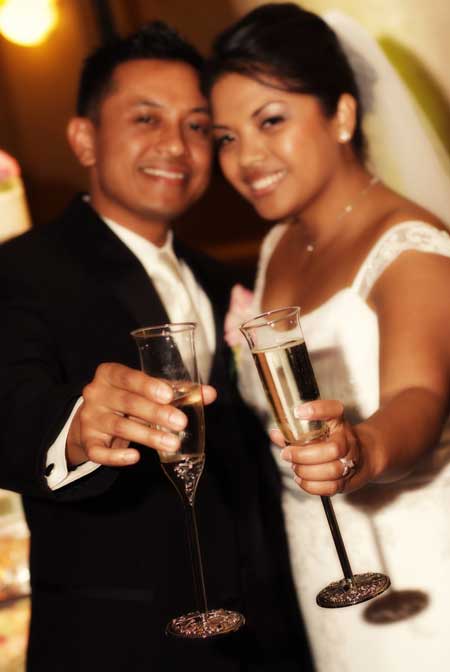 Ceremony All Hallows Church
Officiant Father Soane Kaniseli
Ceremony Music Members of Groom's Family
Reception Tsakopoulos Libary Gallery
Videographer Bride's Cousin Frederick Viloria
Wedding Planner Groom's Godmother Fema Lee
Hair Elk Grove Salon and Spa
Flowers Groom's Aunt Pam Jones
Invitations Paper by Joy and Pulp Papery
Wedding Gown David's Bridal
Bridesmaid Dresses Ann Taylor Celebrations
Flower Girl My Girl Dress
Groomsmen Men's Wearhouse
Ringbearer Men's Wearhouse
Hair and Makeup Gail Zabala, MAC
Caterer Rayna's Gourmet Catering
Music Entertainment Macala Entertainment
Transportation Aloha Limousine
Favors Wedding Monogram Mugs from Discount Mugs
Travel Agent Dymphna McFaden, AAA
Father-Daughter Dance Dance With My Father by Luther Vandross
Mother-Son Dance A Song for Mama by Boyz II Men
Money Dance R&B Medley with too many songs to mention
Garter Sexy Back by Justin Timberlake
Bouquet Ladies Night by Kool and the Gang