Jennifer & Richard Cravens Written by By Melissa Camilleri Magliola
Photography by Caris-matic Photography

THE COUPLE: Jennifer & Richard's

Wedding Date:
July 12, 2008
It was love at first sight when Richard Cravens first espied Jennifer at work one day. After some coaxing, Richard got Jennifer's number, and that's when the romance really kicked in.
"He swept me off my feet from the very beginning," Jennifer recalls. "On our first date, he arrived with the biggest bouquet of roses I'd ever seen. He seriously looked like a bouquet with legs. I couldn't even see his face as he was walking toward me!"
During their courtship, Jennifer and Richard found they were constantly making each other laugh and never missed an opportunity to hold hands. But, as Jennifer explains, she knew Richard was "the one" the day he met the other very special man in her life—her son, Joshua.
"There is nothing more attractive than a man who loves kids. My son and Richard have been inseparable since the day they met," she says. Their relationship flourished while Jennifer and Richard dated. All three found they had similar interests, such as camping, four-wheeling and other adventurous outdoor activities.
Though there was no doubt in her mind, Jennifer sure wasn't expecting Richard to surprise her by getting down on one knee, after coming in the door from work on Christmas Eve. "He pulled a little box from his pocket and said, 'I love you so much. Will you be my wife, my family?' Of course, he had a huge bouquet of roses too. It's his trademark!" Jennifer recalls.
Once she said yes, Jennifer began planning their special day. Hoping to blend tradition with unique touches that would make the décor all their own, she turned to her florist, Dottie at Camino Flower Shop for guidance. Jennifer came up with the color scheme, but Dottie suggested adding feathers and rhinestones for a festive look.
Once the big day arrived, Jennifer and her bridesmaids shuffled their way into a limo that picked them up from Dynamic Images Salon and Day Spa where they had spent the day getting dolled up for the wedding. At five in the afternoon, at Gold Hill Vineyards outside of Placerville, the wedding was underway. "The most special moment was when I saw the look on Richard's face when he first saw me," she says. "I felt beautiful on such a special day. He tried so hard to hold back tears but couldn't. Oh! I love him so much!" she blurts out in glee, all smiles.
Adding to the joy of the occasion, Jennifer's Uncle Glen officiated the ceremony. The couple exchanged traditional vows, their first kiss as husband and wife, and released beautiful monarch butterflies into the wind.
The couple and their guests dined on tri-tip and chicken, au gratin potatoes, green salad, and a fruit waterfall, then spent the rest of the night dancing following the couple's first twirls around the dance floor to Keith Urban's "Memories of Us."
"We were just so excited about spending our lives together as a family. We weren't nervous about a thing," Richard says.
Jennifer & Richard's Wedding Resources
Tips
Jennifer says, "It was very helpful to have help from a wedding planner on the day of the wedding. She really helped with the extras that I was too busy to do."
Changed
Jennifer says, "Absolutely nothing. Our wedding was, and always will be, the perfect day, and a great beginning to a beautiful life together."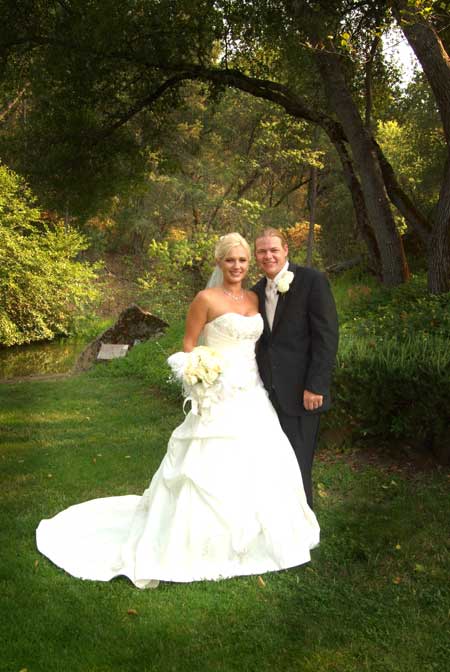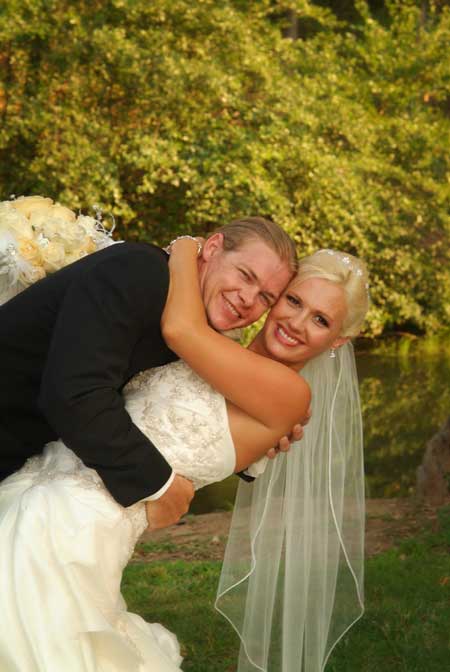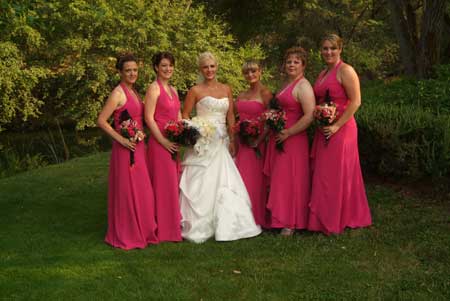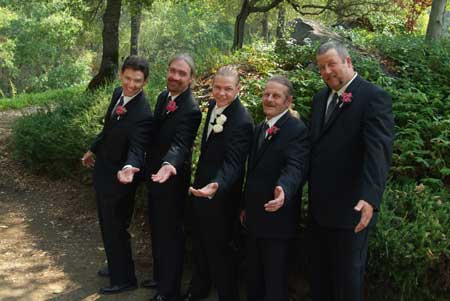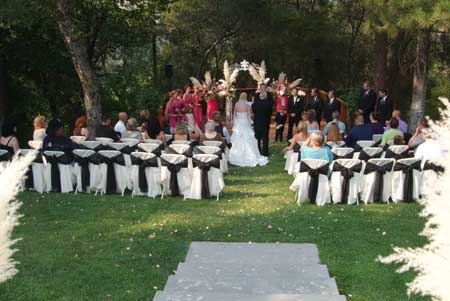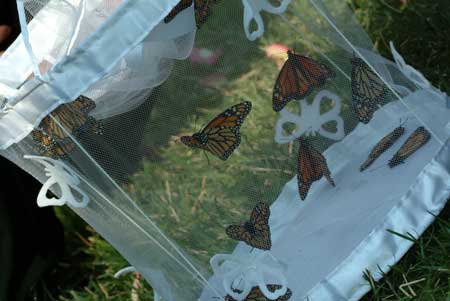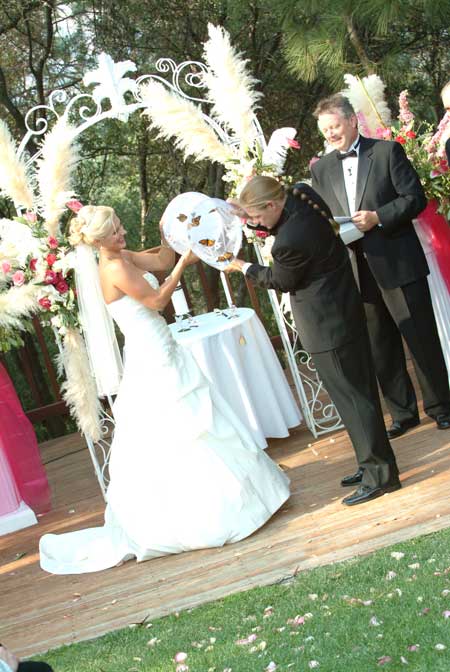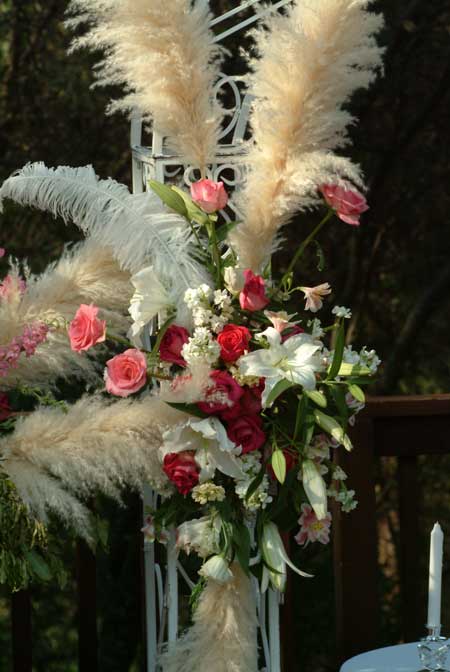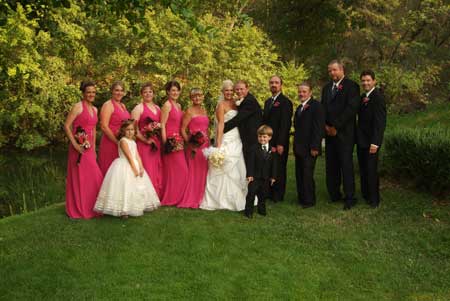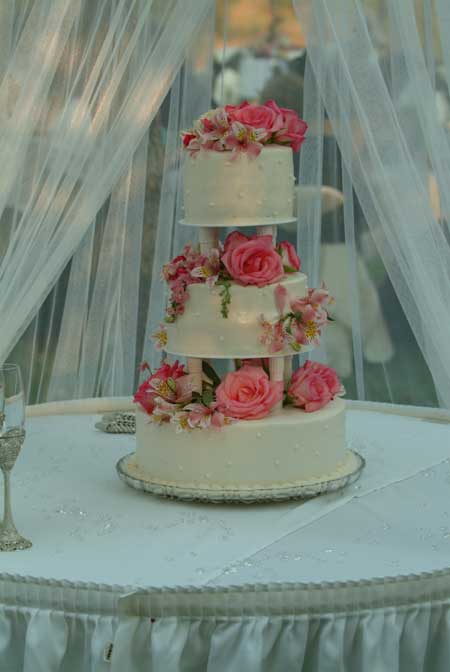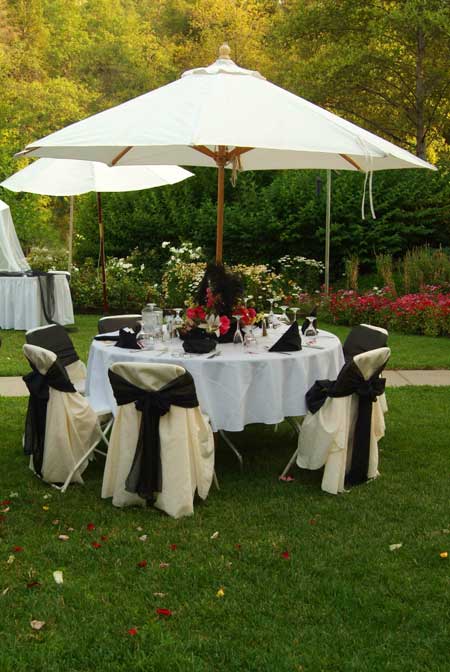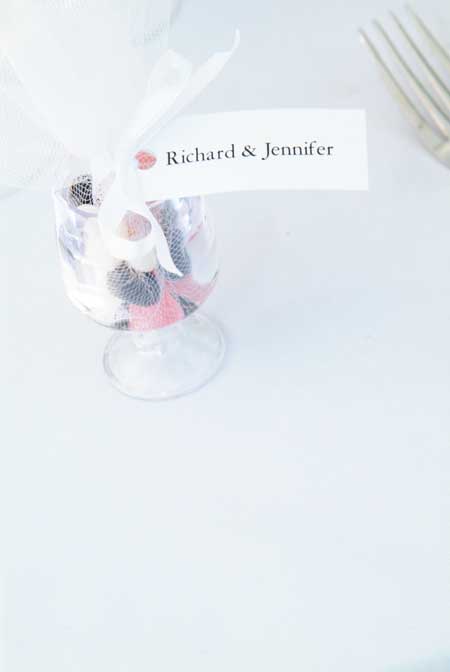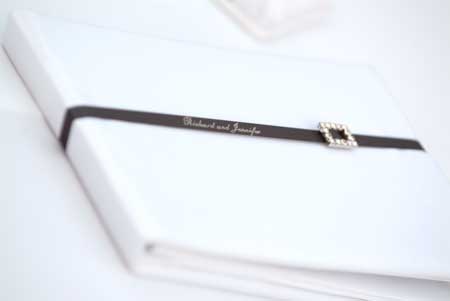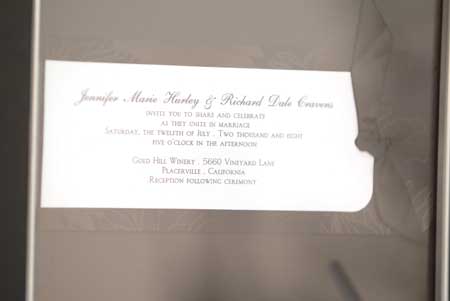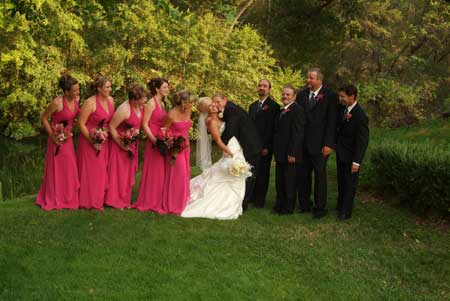 Ceremony Gold Hill Vineyards
Officiant Bride's Uncle, Pastor Glen Jackson
Ceremony Music The Entertainment Team
Reception Gold Hill Vineyards
Wedding Planner Diane Sanford Events
Hair Dynamic Images Salon & Day Spa
Invitations Carlson Craft
Bridesmaid Dresses Renfro's
Hair and Makeup Dynamic Images Salon & Day Spa
Music Entertainment The Entertainment Team
Transportation Gold Country Limousine
Chair Covers Classy Covers
Travel Agent Hangtown Travel
Father-Daughter Dance Landslide by Dixie Chicks
Money Dance It's Your Love by Tim McGraw
Cake Cutting Sugar, Sugar by The Archies
Bouquet Girls Girls Girls by Motley Crue