Veronica & Joshua Jacobson Written by By Bill Romanelli
Photography by Justin Buettner Photography

THE COUPLE: Veronica & Joshua's

Wedding Date:
June 7, 2008
For those of you who are unfamiliar with the Cartoon Network, The Goofy Goobers are a pillar of Spongebob Squarepants lore. It's also the nickname Veronica and Joshua Jacobson have given themselves.
"We're just goofy about everything," Veronica says with a laugh. "It makes for a fun life together."
That also explains Joshua's proposal via text message, and the way they chose to put a lot of fun and entertainment into their wedding day.
The ceremony and reception were at the Timber Creek Ballroom at Sun City Roseville; Veronica liked the location and the catering director so much that there was no need to look anywhere else.
They had a lovely outdoor ceremony—the bridal party was made up of their mutual friends from junior high school—and then they took it all inside for the reception. That's where the day really took on their personality.
For their first dance, they mixed two songs that symbolized their lives together. The first song, "Put It On Me" by Ja Rule, is something they often heard at clubs when they went out dancing. The second, "It's Your Love" by Faith Hill and Tim McGraw, is a song they listen to; it's a little slower and reflects how they've slowed down, sort of. That first dance as husband and wife made for one of the day's many special moments. For another, the DJ played a special mix the couple had created for their son, who was also their ring bearer, comprised of music from the Spongebob Squarepants and Cars movies. He took the stage, danced and had a ball, and got to be a big part of his parents' special day.
The DJ also pulled off one of the greatest miracles of any reception by getting everyone to do the silly stuff. It started with a rouse; she encouraged everyone to join the "non-embarrassing" circle of friends dance. Then, with everyone on their feet, she bought out some props and started cranking "YMCA."
"We got great pictures of my relatives dancing, having fun and being goofy that we wouldn't have gotten otherwise," Veronica says.
The reception ended at 10 p.m., but that was when the party really got going. Veronica and Joshua had a VIP reservation at the Dream Ultra Lounge, where they threw an after party for their entire bridal group. Needless to say, the couple closed the place down before catching a few hours of sleep and heading to Mazatlan for their honeymoon.
As fun as the whole day was, there was one serious aspect, which was most important for Veronica, whose father passed away in 2004. Veronica's brother, who also walked her down the aisle and danced with her during the father/daughter dance, joined her in lighting a memory candle at the start of the ceremony.
"The pastor announced the purpose of the memory candle and there was a poem reading; it was a beautiful way to introduce my dad to people who never knew him," Veronica says. "It made it seem like my dad was really there with us."
Veronica & Joshua's Wedding Resources
Tips
Veronica says, "I want to stress to them that it is their wedding. When planning of course you get input from everyone whether you ask for it or not, but all that matters is what you and your significant other may want.
Another very important part is the budget. Yes, one should always set a budget but if the difference in two cakes is only a little bit over your budget, please make the choice on what you like rather than price because, in theory, you only get married once and you don't want to have regrets or doubts about items especially the most important ones."
Changed
Veronica says, "I guess if there was anything that I could do differently it would be to stick with my first wedding location dream which was to get married at the beach. I loved Sun City Roseville, and I had a great experience, but I think I will always have wished our wedding was on the beach. Maybe that will be something for our 25-year anniversary. And, like Josh said, we got to spend a whole week on the beach in Mazatlan, Mexico."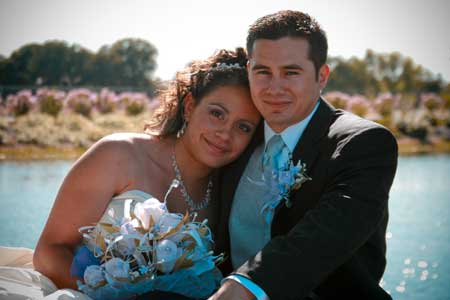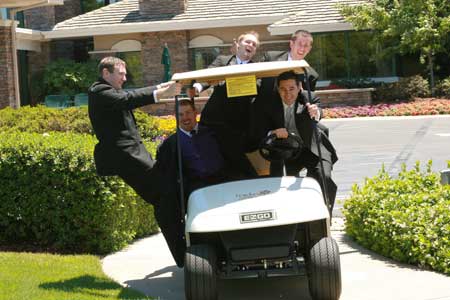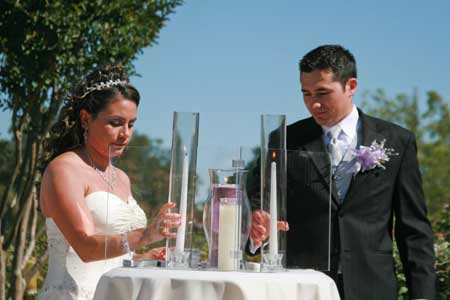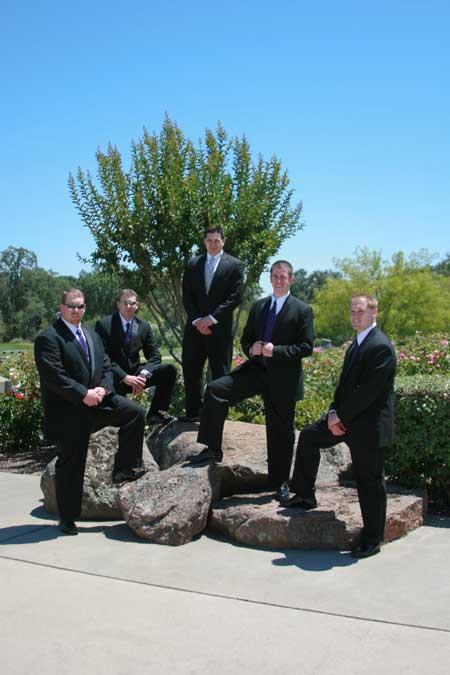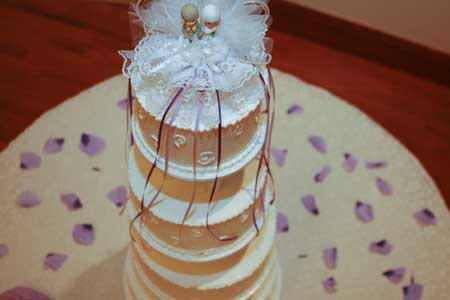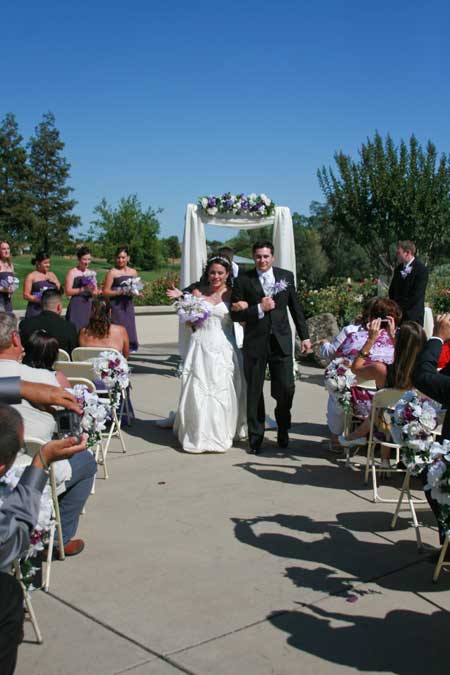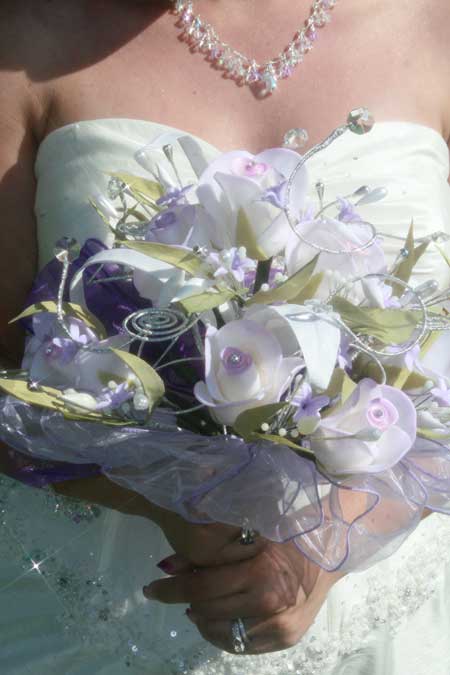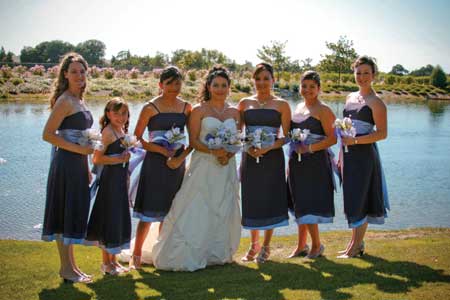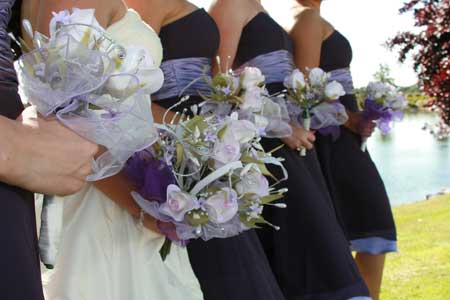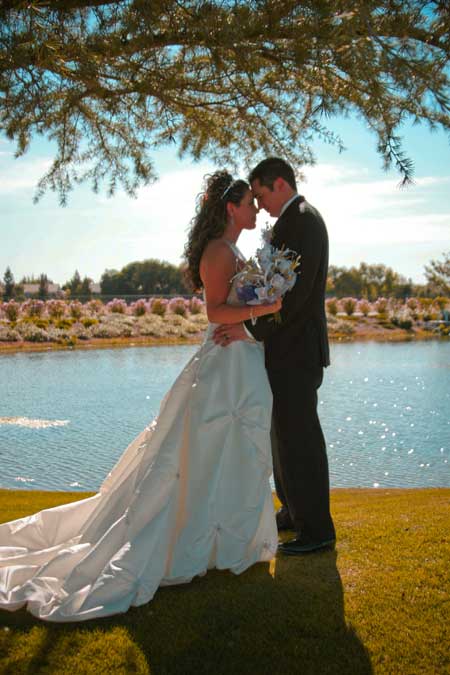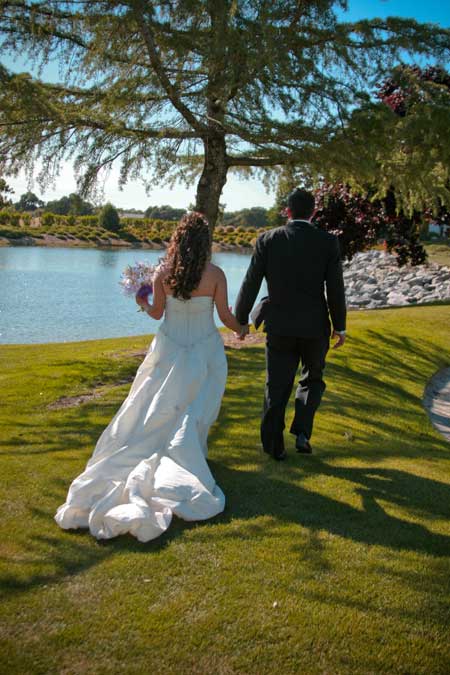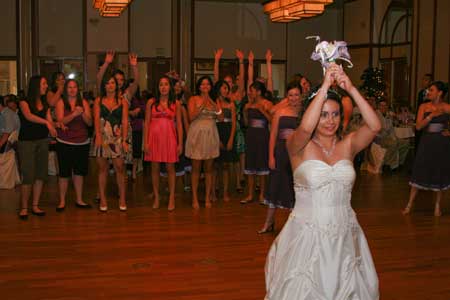 Ceremony Timber Creek Ballroom
Officiant Marriage Minister
Ceremony Music DJ Crooner & Associates
Flowers A Berry Special Event
Wedding Gown Camille La Vie by Group USA
Bridesmaid Dresses Bridal Mart
Groomsmen Men's Wearhouse
Ringbearer Men's Wearhouse
Cake Discount Wedding Cakes
Music Entertainment DJ Crooner & Associates
Transportation Universal Limo
Chair Covers A Berry Special Event
Garter Welcome to the Jungle by Guns n Roses
Bouquet Birls by the Beastie Boys