In the most recent — Summer/Fall 2011 — issue of Real Weddings Magazine, we teamed with pros Katie Edwards of Ambience Floral Design and Lora Ward of A Day to Remember Wedding & Event Planners to create four tabletop designs on four totally different budgets to give you an idea of what things cost. The results were nothing short of spectacular!
Last week, we featured more pictures and detailed the cost of Table #1, our Beautifully Basic tablescape.  This week, we feature Table #2, our Simply Stylish tablescape.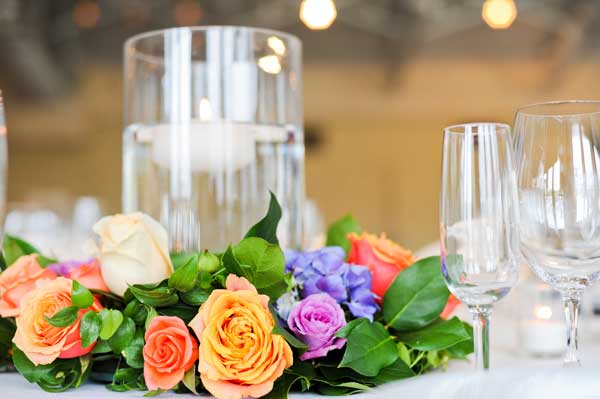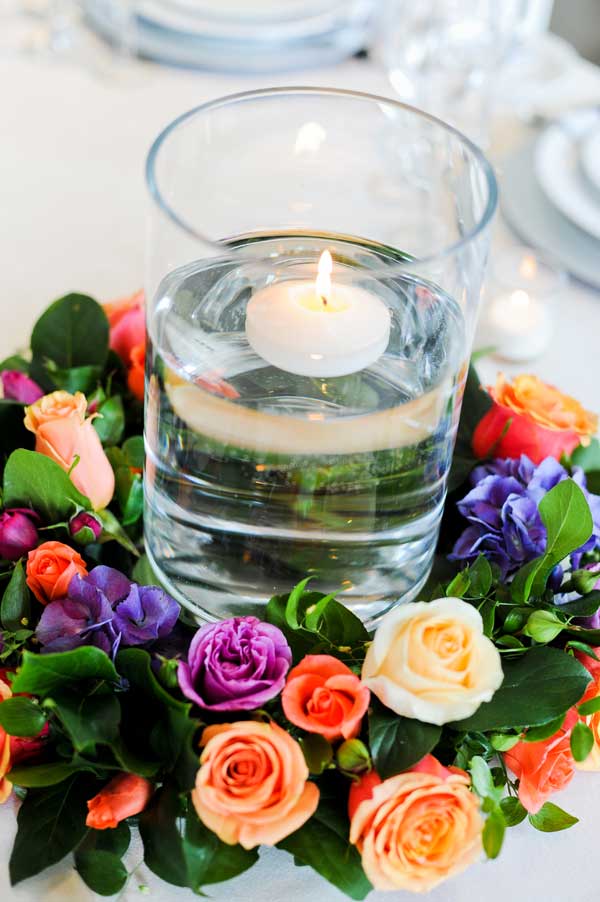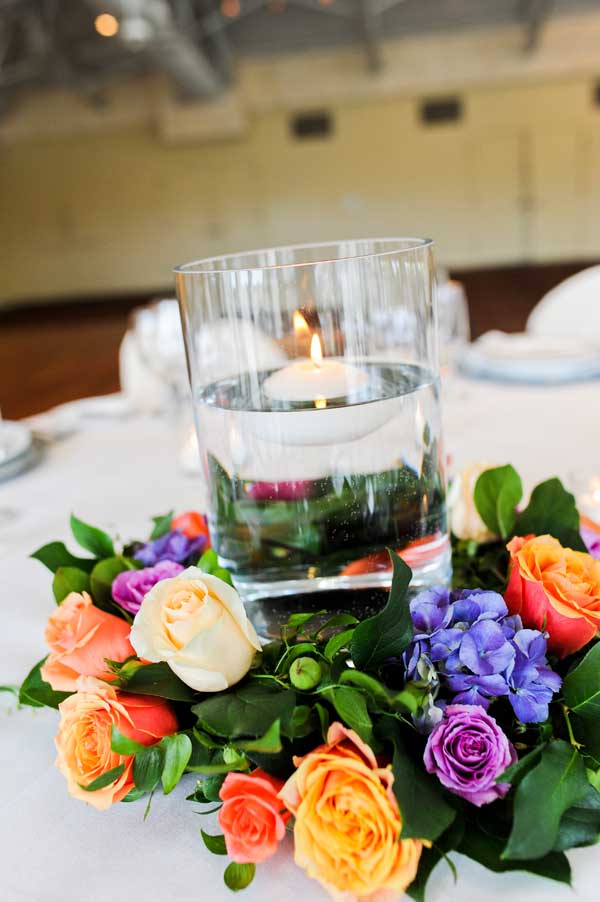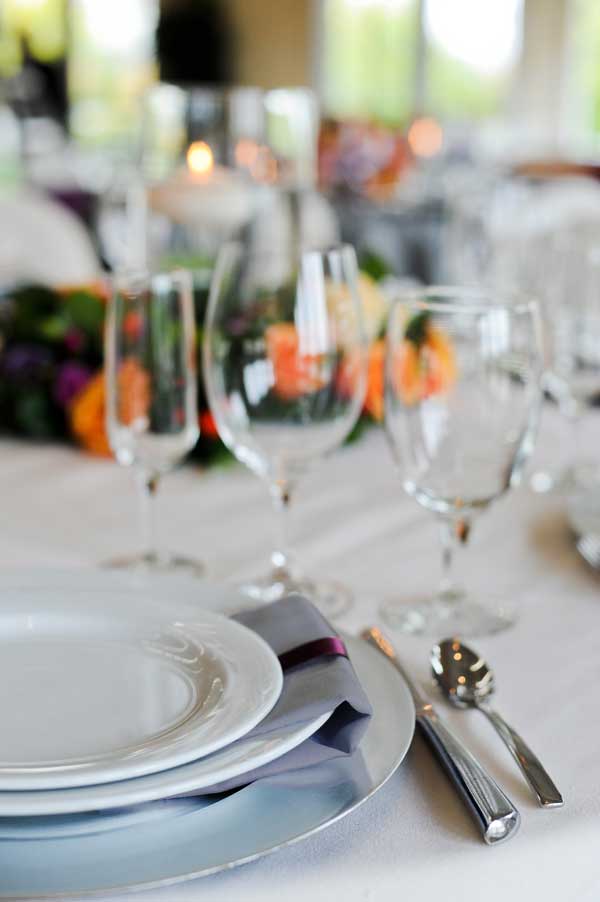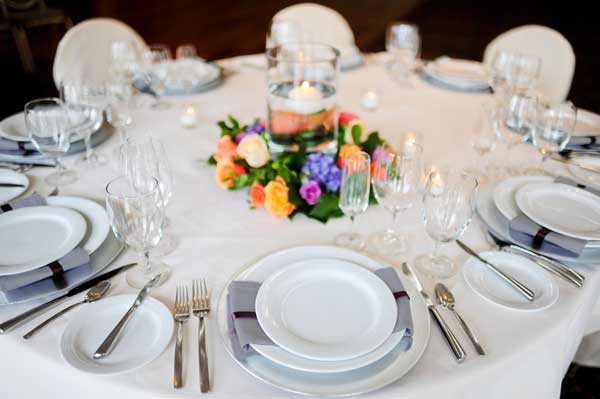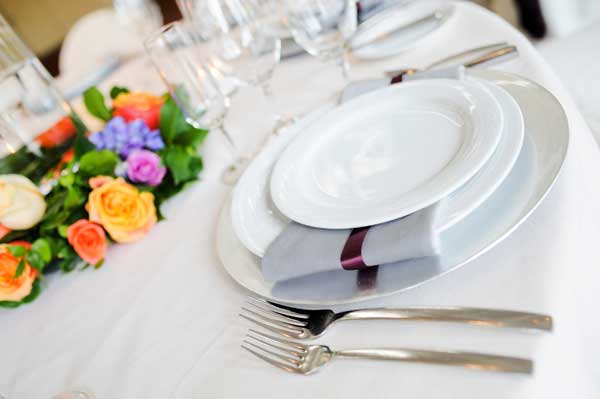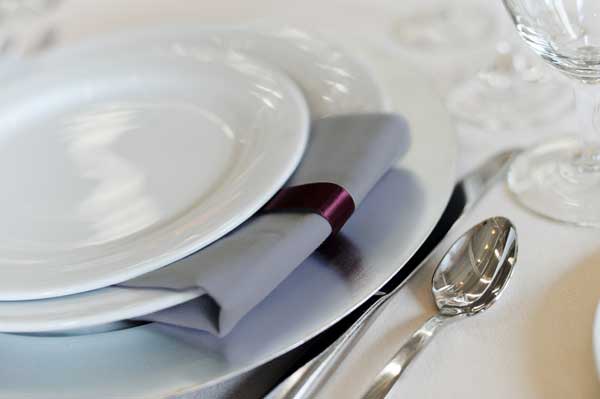 Table #2, our Simply Stylish tablescape, ups the glam factor with white chair covers, silver acrylic charger plates, oversized wine glasses and gray-colored napkins. The centerpiece, which uses the same hurricane vase as table one, now has a ring of peach, lavender and ivory roses, as well as hydrangeas around it. It's complemented by a floating candle. The look is finished with house votive candles on the table. "It's a modest centerpiece, but it's very pretty and adds a lot of color to the table," says Edwards. This design costs $113 to $133 per table.
Here are the detailed costs for this table's upgrades:
White chair cover rentals:  $2.90 each, eight chairs totalling: $23
Silver acrylic charger plate rentals: $1.50 each, eight place settings totalling: $12
Oversized wine glass rentals: $1 each, eight place settings totalling: $8
Gray-colored napkin rentals: $.62 each, eight place settings totalling: $4.96
Hurricane with floating candle and floral arrangement ring including peach lavender and ivory roses with hydrangeas: ranging from $65 – 85 each
Per Table Total:  $113 – $133

Thank you to all of the vendors who contributed to this piece:
Photographed on location at:
Granite Bay Golf Club
9600 Golf Club Drive, Granite Bay
916-791-7578, granitebayclub.com
Photography:916-802-8004, memoryjournalists.com
The Memory Journalists
Design, Coordination and Styling:
A Day to Remember Wedding & Event Planners
916-452-4373, adaytorememberca.com
Design, Floral Design and Styling:916-786-6851, ambiencefloral.com
Ambience Floral Design
Paperie:916-682-8226, bellavitainvitations.com
Bella Vita Invitations
Rentals:916-773-2133, celebrationspartyrentals.com
Celebrations! Elegant Party Rentals
Classic Party Rentals916-444-6120, classicpartyrentals.com
Mimi & Co.916-525-1235, mimiandcompany.com
Tune in next week when we feature more from our Delish Details table #3!
Blog post by Real Weddings Contributor Kristen Castillo.
Photos by The Memory Journalists.
Do you have the new Real Weddings Magazine iPhone and iPad App?
Download it from the Apple App Store Today: REAL WEDDINGS MAGAZINE!
---
---
Looking for local Sacramento wedding vendors?
---
Subscribe to the Real Weddings Magazine Blog!