So what are you doing on Saturday? Come to the Bridal Showcase presented by A Little Of Everything & Yocha Dehe Golf Club at Cache Creek Casino! And stop by our booth for a chance to win a goodie basket filled with all kind of fun bridal swag! Scroll down for the details for this event: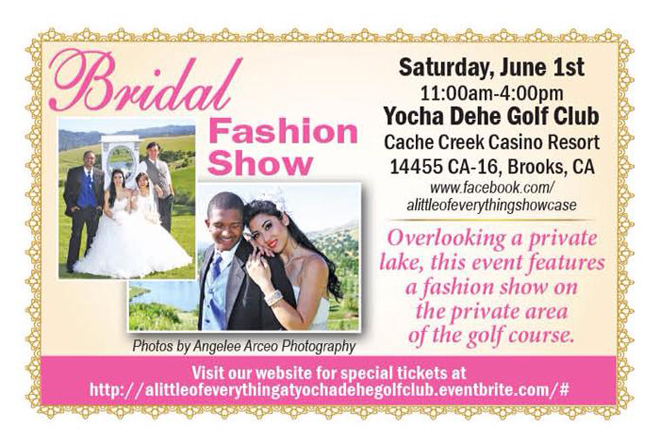 Event details:
When:  Saturday, June 1st, 2013
Time:  11 a.m. – 4 p.m.
Where:  Yocha Dehe Golf Club at Cache Creek Casino
Cost:  Admission is free for the first 100 brides — if you're not one of the first 100, the admission is $5;  register online by clicking here
What You'll Experience: Enjoy food and cake tastings, reception displays, prizes and giveaways, and a chance to meet outstanding wedding pros.
For more information, log on to alittleofeverythingatyochadehegolfclub.eventbrite.com, and be sure to "like" their Facebook page:  facebook.com/alittleofeverythingshowcase
And, of course we'll be there with complimentary copies of Real Weddings Magazine along with our newest wedding publication, Real Weddings Magazine's The Bride's Guide! Also, we always have our awesome (and reusable!) Real Weddings Magazine bags to help you carry all of your goodies!
PLUS, ENTER TO WIN A GOODIE BASKET FILLED WITH FUN BRIDAL SWAG (VALUED AT $100) AT THIS EVENT!
Be sure to tell them you found out about the event from Real Weddings Magazine!
Hope to see you there!