If you haven't already heard, there's a wedding happening tomorrow (well, the wee hours of the morning for us Yanks). Yes, the day that everyone has been buzzing about for months has finally arrived. Kate and William are tying the knot at Westminster Abbey, and the whole world will be watching. I remember my parents waking us up very early to witness Prince Charles and Lady Di exchange vows over breakfast. Thirty years later we have DVR, and I get to sleep in. But, you better believe I'll be watching!
What Kate will wear is a secret guarded more heavily than the crown jewels, but no doubt she will look stunning. Let's play fashion stylist for a bit and pair up some heels to the occasion. British designer Aruna Seth's divine creations are making the rounds both here and in Europe, drawing the attention of celebrities like Goldie Hawn and Sophia Bush.
In honor of the royal nuptials, we've chosen three heels — in the red, blue and white of the Union Jack — we could imagine Kate and party working down the aisle. Let's take a look: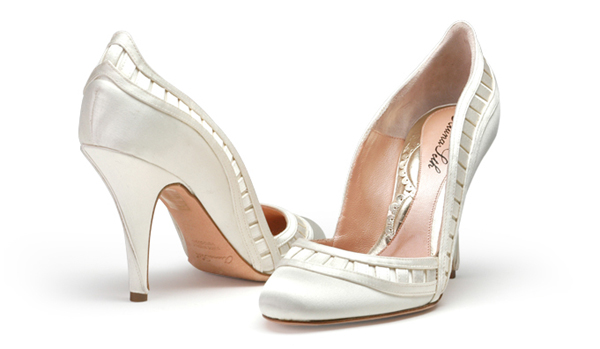 Byrony Ivory Satin Bridal Heel
These gorgeous heels feature Aruna Seth's elegant curve that elongates the leg. Plus, they are specially padded for comfort…something Kate will need for that LONG walk to the altar.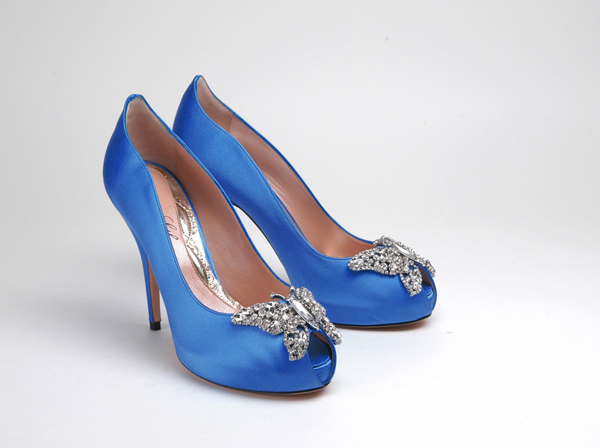 Farfalla Royal Blue Satin Butterfly Heel
Something blue? Perhaps maid of honor and lucky charm, sister Pippa, would sport these stunning shoes with dazzling butterfly embellishment and tiny peep toe platform.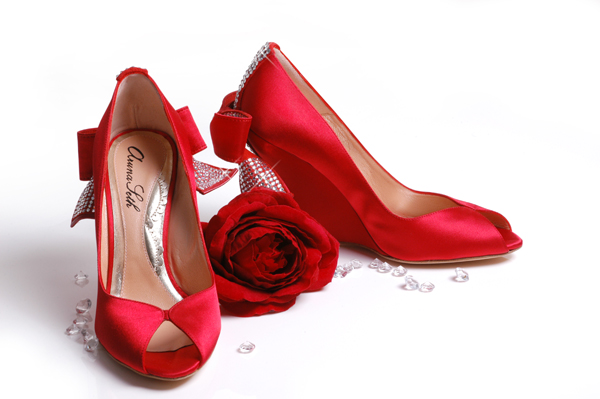 Cerise Heel Red Satin
Did you hear they are installing a disco ball at Buckingham Palace? If Kate's in the mood for a little sparkle, what better shoe to wear to the after party than these made-to-order red rockstars with Swarovski crystals and a signature red bow. Party on, Kate and William, and many more happy years to come.
For more on Aruna Seth, visit arunaseth.com.
Blog post by Always a Bridesmaid Columnist Darren Elms.
Photos courtesy of Aruna Seth.
Do you have the new Real Weddings Magazine iPhone and iPad App?
Download it from the Apple App Store Today: REAL WEDDINGS MAGAZINE!
---
---
Looking for local Sacramento wedding vendors?
---
Subscribe to the Real Weddings Magazine Blog!