Hello Real Weddings Magazine  brides!
Let's take a quick break from the gorgeous bridal gowns we've been posting as of late and take a look at some new styles for your fabulous bridesmaids.
We recently discovered a new name in the wedding biz, Caroline Long, a talented gal offering a gorgeous line of bridesmaid dresses on her Web site, carolinelongltd.com.
Here's what I love most about Caroline's dresses…the mix-match quality to her designs. She offers a variety of fun silhouettes in just about every color imaginable and a few matching prints.
Here's an opportunity to give your girls some options, start with a color of your choice and let them pick the style that best fits their body and taste. Check out her "happily ever after" link on the Web site to see bridesmaids modeling different styles in the same color side by side.
This edition, we're going to spotlight not only some of her gorgeous dresses — yes, she's giving new meaning to the words "a bridesmaid dress you can actually wear again!" — but also some of our favorite two-piece ensembles from Caroline, perfect for the bride and her maids who favor a two-tone look.
Let the runway show begin!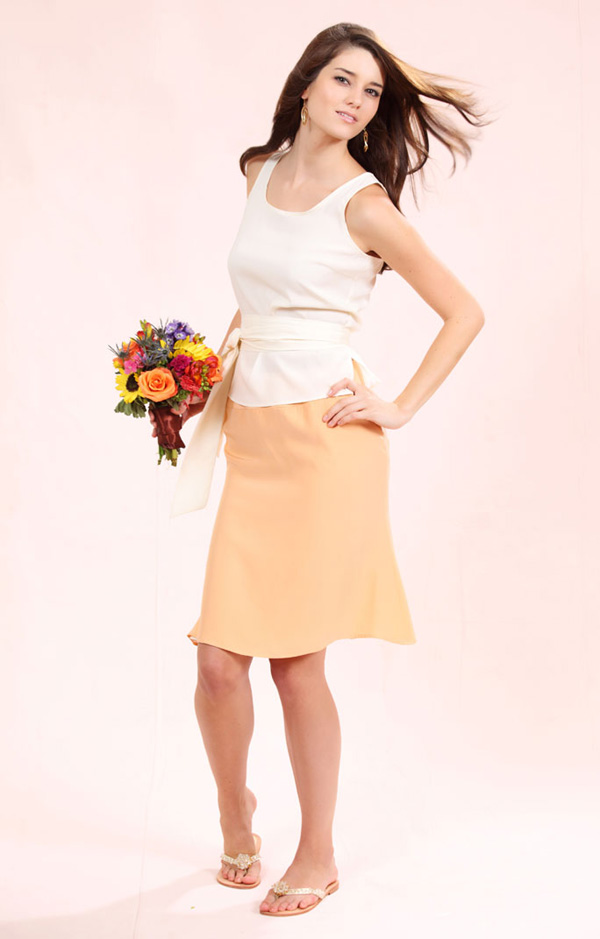 Barbados Top & Hyde Park Short Skirt
This sleeveless tank is Silk and Stretch Silk Charmeuse with a self belt that feeds through threaded belt loops. The short, drop waist skirt comes in the same fabric mix and is fitted at the hips with a flare hem. Both pieces come in a matte or shiny finish.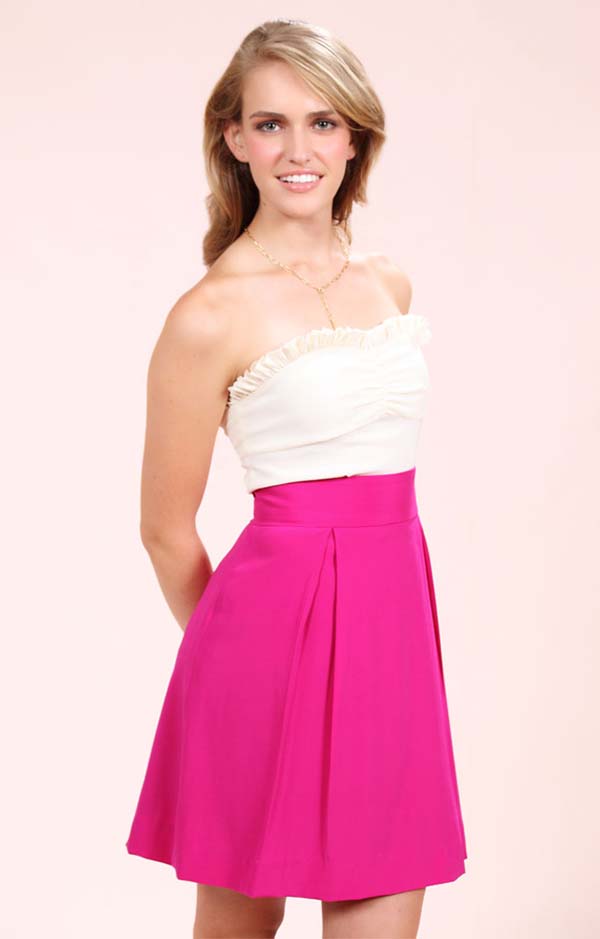 Paris Top & Belize Skirt
Also a Silk and Stretch Silk Charmeuse mix, this stylish, bustier top has a petite ruffle trim. The high waist, band skirt has a pleated front and self belt. Available in matte or shiny finish.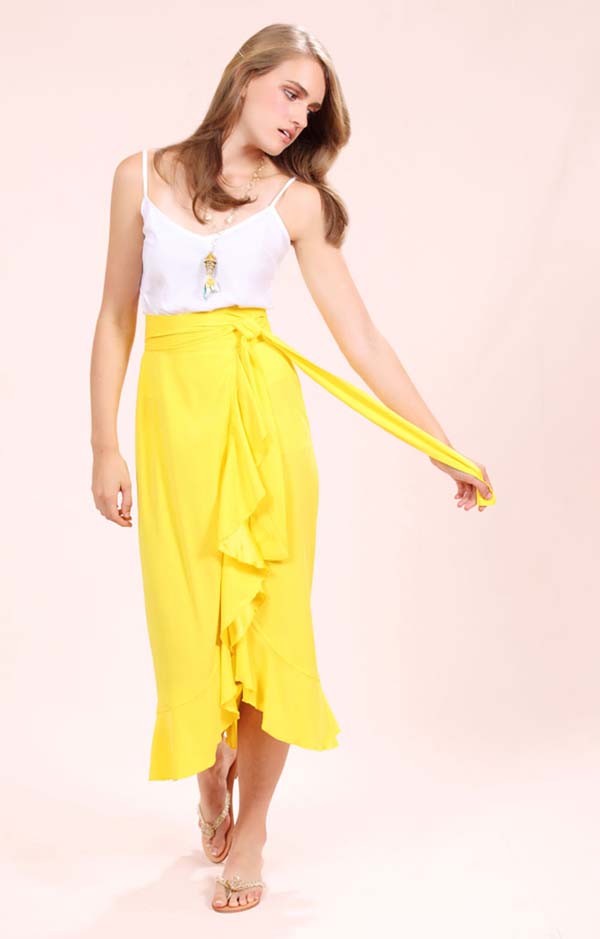 Sugarland Top and St. Kitts Skirt
This spaghetti tank with adjustable straps is similarly made of Silk and Stretch Silk Charmeuse. The wrap around skirt has a ruffle detail and belt that wraps twice around the waist. Also available in shiny or matte finish for both pieces.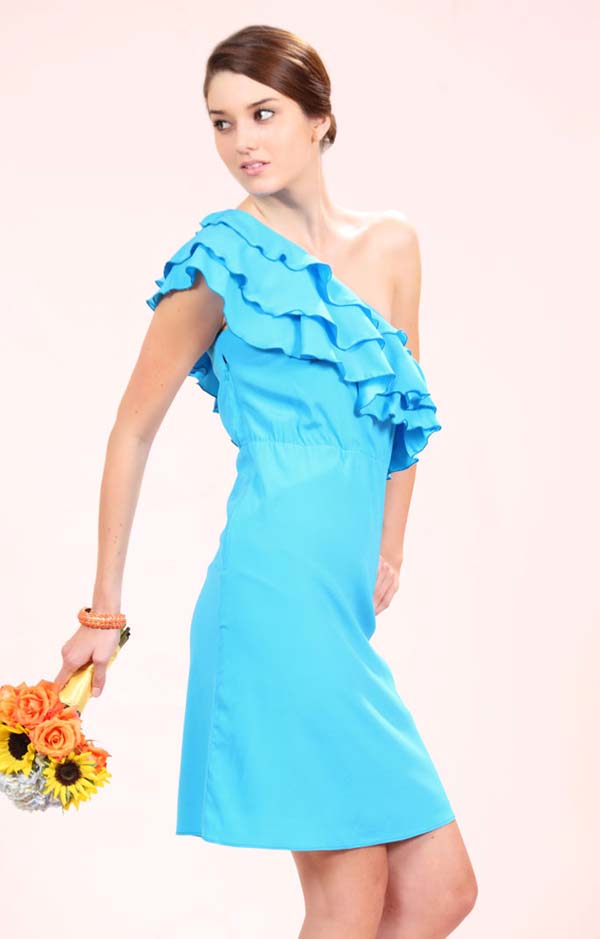 Montego Bay
This sassy Silk and Stretch Silk Charmeuse one shoulder number has a triple layer details and an elastic waist.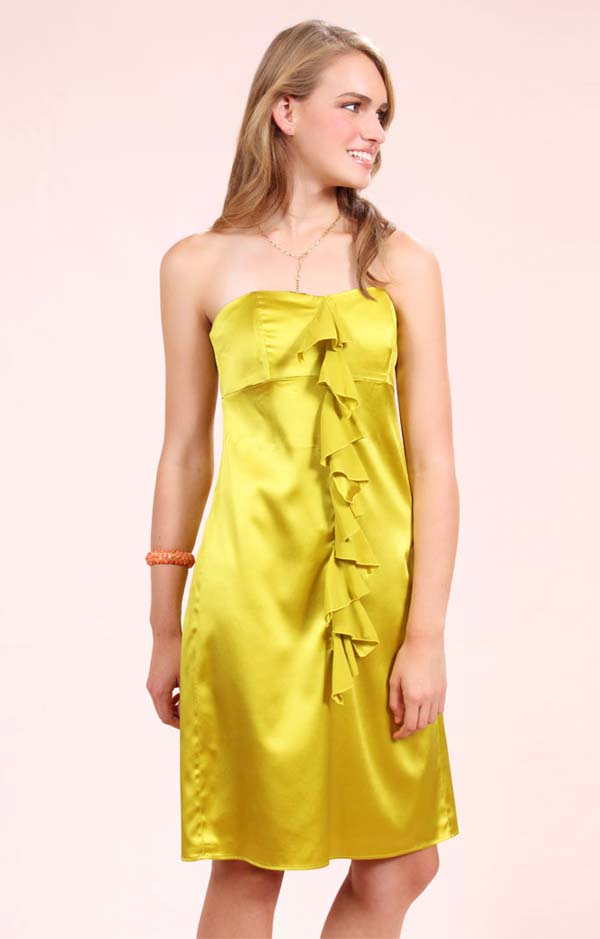 Park City
Silky and strapless, your girls will go gaga over the empire silhouette, front and center ruffle and shirred detail in the back.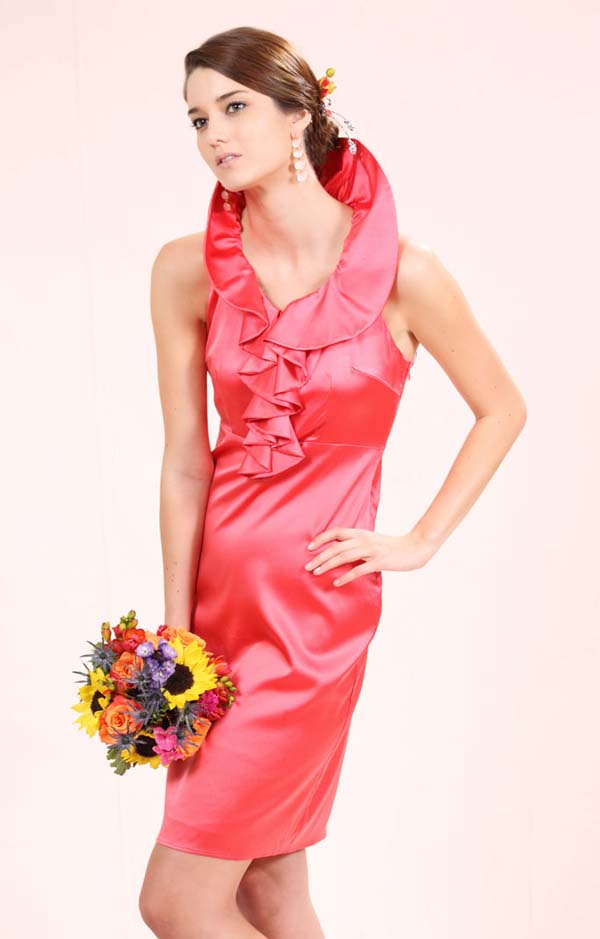 Stirling
A convertible collar highlights this cutie with an invisible center front zipper.
Find these fabulous frocks and more (check out the groovy necklaces!) on Caroline's Web site, carolinelongltd.com.
Blog Post by Always a Bridesmaid Columnist Darren Elms.
Photos courtesy of Caroline Long.
---
---
Looking for local Sacramento wedding vendors?
---
Subscribe to the Real Weddings Magazine Blog!