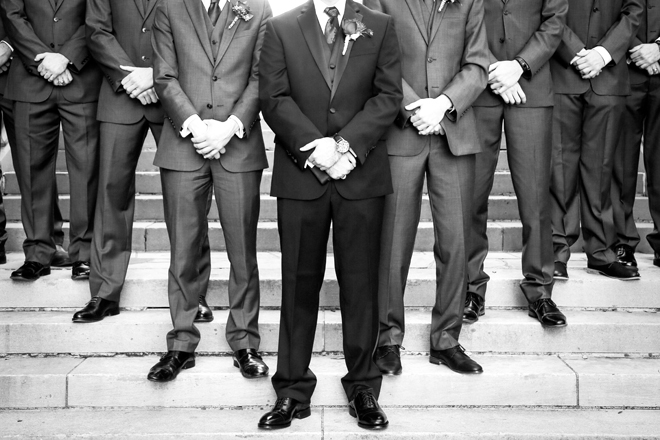 It is not only wedding etiquette that dictates that the groom should give gifts to his groomsmen, it is also a physical way of giving thanks for all the fun times and struggles you've been through with them by your side. You could not have arrived at that point in life, marrying the woman you love, if it weren't for your best buddies.
Now that you've assembled your posse of groomsmen for the special day, it's time to find gifts that are both useful and meaningful. Groovy Groomsmen Gifts offers various gift types that will suit many kinds of groomsmen. From sleek-looking cufflinks, decanters and flasks, to budget, but meaningful, trinkets—they also offer free personalization to make your gifts extra special and unique. If you are looking for more gift ideas, check out these:
Wallets are built to last—they're practical, classy and something that can actually be used daily. The best part is that high-quality wallets are not at all hard to find either online or in stores. And, they can cater to the different tastes for the groomsmen in your life.
Some of your boys may prefer a simple leather wallet with a minimalist design, others may prefer money clips, while others may appreciate a hybrid between the two that is multi-functional. Whatever style they may have, going the extra mile of embroidering their initials or having their wallets monogrammed is a surefire way to let them know they are appreciated.
Flasks may be a groomsmen cliche for the most part, but they never go out of style! They are a classic and essential gift for special occasions, but it is a gift that will be used time and time again. For any man who enjoys his spirits, this is both a must-gift and must-have.
Complement your groomsmen's quirks and personalities with these personalized flasks. There are stainless steel kinds that can be engraved and there are those that are covered in leather. There are some flasks that are built to give it a disguise and if you want to splurge, there are some that come in a set.
Cigars are a well-known indulgence after a round of feasting and drinking, during celebrations, or as a reward for an accomplishment. Giving cigar and lighter gift set to your groomsmen not only serves as a memento for your wedding celebration but as a reminder that friendship with them is something to always be celebrated.
For the cigar aficionado and the manliest of men, Groovy Groomsmen Gifts offers cigar and lighter packages that can be personalized to taste. Arm your groomsmen with custom cigar gear to complete the merriment of your joyous occasion.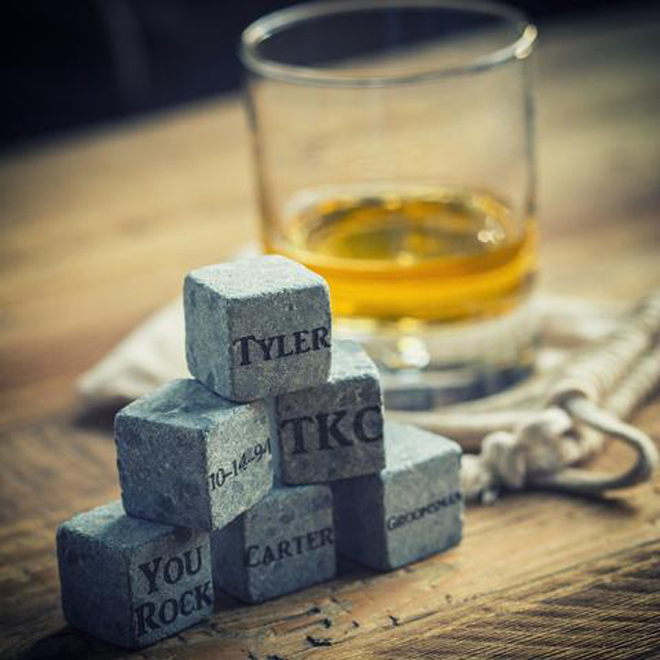 We all have a whiskey lover in our lives, and chances are your bro may be one of them. If you truly want something unique for the boys, consider getting them stone cold whiskey cubes. Whiskey tastes the best when it is ice cold, but actual ice cubes have the tendency to water down the drink. Prevent whiskey dilution and get them a set of soapstone that can be engraved to include whatever message you have for them. If whiskey's not up their alley, a custom caricature mug might just be the thing.
This traditional gift is a mainstay amongst grooms and their men because they are a necessary accessory for the fine occasion. Give your debonair posse a memorable gift that is both personal and fitting. You can customize each pair for individuality or make it uniform to go together with everyone.
As a groom, you are marrying the love of your life, but nothing makes the special day even more spectacular than with those who've been with you through life's adventures. Immortalize the friendship with your best friends with well-meaning, personalized gifts to serve as a symbol and reminder that best friends are truly for life.
Photos and text courtesy of and copyright Groovy Groomsmen Gifts.
Subscribe to the Real Weddings Magazine Blog! Click here:
[subscribe2]