Join us for His & Hers Wedding Affair at Veterans Memorial Auditorium in Grass Valley THIS FRIDAY AND SATURDAY, October 25 & 26, 2013.
Stop by our booth to get your FREE copy of Real Weddings Magazine, a copy of our wedding planner Real Weddings Magazine's The Bride's Guide, and register for a chance to win a $100 gift certificate to Time Out Resort & Spa! Scroll down for all the details to this great event!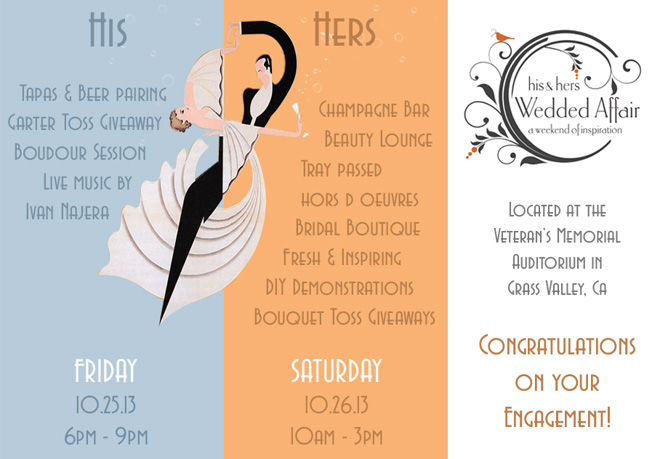 Event details:
When: October 25 & 26, 2013
Time: Friday, October 25, from 6-9 p.m. & Saturday October 26, from 10 a.m. – 3 p.m.
Where: Veterans Memorial Auditorium at 255 South Auburn Street in Grass Valley
Tickets: Buy your tickets here!
What You'll Experience: His & Hers Wedded Affair has been designed to inspire both the bride and the groom.
Friday's evening of events was created with couples in mind…with an emphasis on the His. It will be an intimate affair appealing to the senses in an elegant & tasteful way.
Your evening will begin with a complimentary cocktail and the opportunity to stroll through our wedding vendor booths.
Tapas and beer pairing will complete the evenings planned festivities. You will get the chance to meet and speak with each caterer as they present their Tapas & Beer pairing. This event has limited seating and a minimal fee to participate.
This evening is exclusively for Adults 21 & older.
Saturday's day of events was created with couples, their friends and families in mind…with an emphasis on the Hers. It will be a joyous affair, appealing to the planning and designing of your wedding day.
Your morning will begin with complimentary Mimosas as you stroll through our wedding vendor booths. The Beauty Lounge, exclusively for brides, will provide some special "Day of" pampering.
Specialty hors d'oeuvres and dessert tastings will also be available throughout the day.
DIY demonstrations will be showcased hourly by wedding professionals in a variety of wedding related design elements. Learn which projects you can DIY and which you may want to leave to the professionals.
For more information, click here!
And, of course we'll be there handing out complimentary copies of Real Weddings Magazine along with our wedding planner, Real Weddings Magazine's The Bride's Guide!
PLUS, ENTER TO WIN A $100 GIFT CERTIFCATE TO TIME OUT RESORT & SPA  AT OUR BOOTH AT THIS EVENT!

Be sure to tell them you found out about the event from Real Weddings Magazine!

Hope to see you there!
Blog post by Real Weddings Magazine's Social Media Maven, Aimee Carroll.
Photo courtesy of and copyright Joy of Life Events.
Subscribe to the Real Weddings Magazine Blog! Click here: [subscribe2]