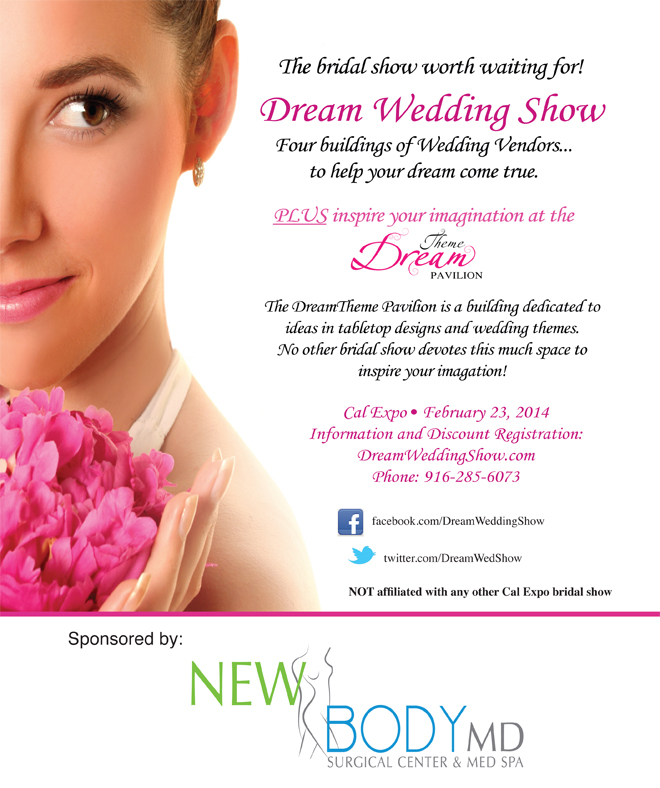 Join us for the Dream Wedding Show on Sunday, February 23rd, from 11 a.m. – 4 p.m.!
Stop by our booth at this event for your FREE copy of Real Weddings Magazine and our planning resource, Real Weddings Magazine's The Planning Guide, and register for a chance to win his and hers bike cruisers!
Scroll down to get your promo code for discounted tickets!
Here are the details for this exclusive event:
When: Sunday, February 23, 2014
Time: 11 a.m. – 4 p.m.
Where: Cal Expo in Sacramento
Cost: $10 admission. Online discounts are available for pre-registration.
Use promo code "RealWed" when registering here.
What You'll Experience: Make wedding planning easy! Everything you need to plan your wedding in one place in one day at the Dream Wedding Show! Plus, there will be 3 different bridal gown fashion shows at 10:30 a.m., 12:30 p.m. and 2:30 p.m.!
For more information, please visit the Dream Wedding Show online here. And, make sure to like them on Facebook here!
And, of course we'll be there handing out complimentary copies of Real Weddings Magazine along with our newest wedding publication, Real Weddings Magazine's The Planning Guide! Also, we always have our awesome Real Weddings Magazine bags to help you carry all of your goodies!
PLUS, ENTER TO WIN HIS AND HERS BIKE CRUISERS AT OUR BOOTH AT THIS EVENT!
Be sure to tell them you found out about the event from Real Weddings Magazine!
Hope to see you there! Subscribe to the Real Weddings Magazine Blog! Click here: [subscribe2]