Do you have the new Winter 2013 issue of Real Weddings Magazine yet? Well, what are you waiting for? Pick up your complimentary copy TODAY at one of our distribution locations throughout the Sacramento region (we're distributed from the Bay Area to Sacramento, Tahoe, Lodi and beyond!)!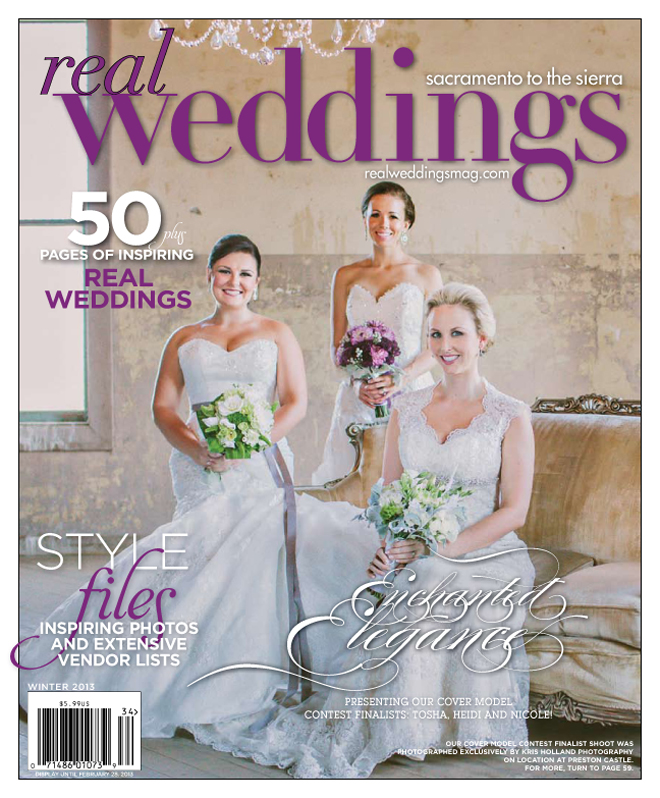 Here's a small sampling of distribution locations where you can pick up a complimentary copy — find more of our distribution partners by clicking the button "Get Your Copy!"
Sacramento:
The Citizen Hotel
926 J Street
Sacramento
916-492-4430
citizenweddingblog.com
The Delta King Hotel
1000 Front Street
Sacramento
916-444-8052
deltaking.com
Vizcaya
2019 21st Street
Sacramento
916-594-9285
vizcayapavilion.com
Roseville:
Timber Creek Ballroom
7050 Del Webb Blvd.
Roseville
916-774-3870
timbercreekballroom.com
Granite Bay:
Diamond Bridal Gallery
6963 Douglas Blvd.
Granite Bay
916-521-9856
diamondbridalgallery.com
Citrus Heights:
Sweet Cakes by Rebecca
7601 Sunrise Blvd., Suite 5
Citrus Heights
916-370-7760
sweetcakes.biz
Folsom:
Folsom Community Center
52 Natoma Street
Folsom
916-355-7285
folsomcommunitycenter.com
Lake Natoma Inn
702 Gold Lake Drive
Folsom
800-808-5253
lakenatomainn.com
Yuba City:
Always Elegant Bridal and Tuxedo
229 Clark Avenue
Yuba City
530-755-4282
alwayselegantbridal.net
Truckee:
Cedar House Sport Hotel
10918 Brockway Road
Truckee
530-582-5655
cedarhousesporthotel.com
Lodi:
Wine & Roses Hotel, Restaurant and Spa
2505 W. Turner Road
Lodi
209-334-6988
winerose.com
Rocklin:
Whitney Oaks Golf Club
2305 Clubhouse Drive
Rocklin
916-632-8333
whitneyoaksgolf.com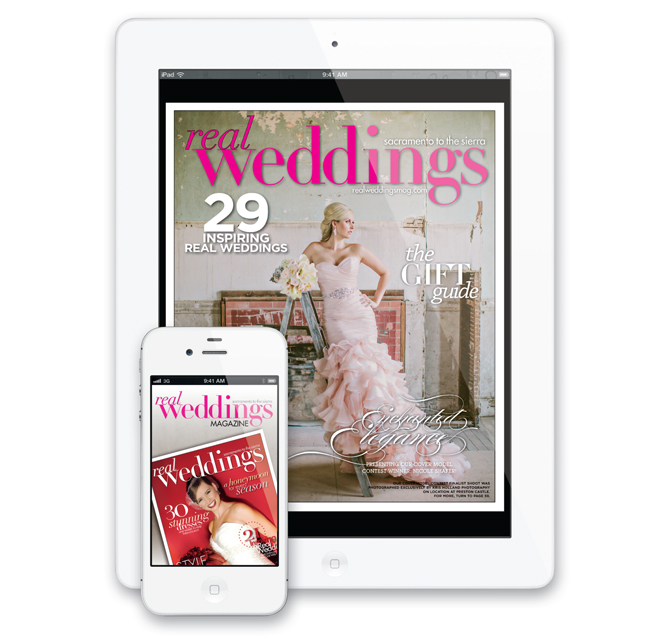 For a FREE digital copy of Real Weddings Magazine (that includes additional photos and content!) sent directly to your email inbox, please click here!
Do you have an iPhone or an iPad? Be sure to download the FREE Real Weddings Magazine app from the Apple store. Just enter "Real Weddings Magazine" in the search.
Blog post by Real Weddings Magazine's Social Media Maven, Aimee Carroll.
Subscribe to the Real Weddings Magazine Blog! Click here: [subscribe2]