Join us for the Weddings of the World – Multicultural Wedding Show at the Four Points Sheraton in Natomas THIS Sunday, January 6, 2013 from 2-6 p.m. Stop by our booth to get your FREE copy of Real Weddings Magazine, a copy of our wedding planner Real Weddings Magazine's The Bride's Guide, and register for a chance to win a $150 gift certificate to Laser Esthetica! Scroll down for all the details to this great event!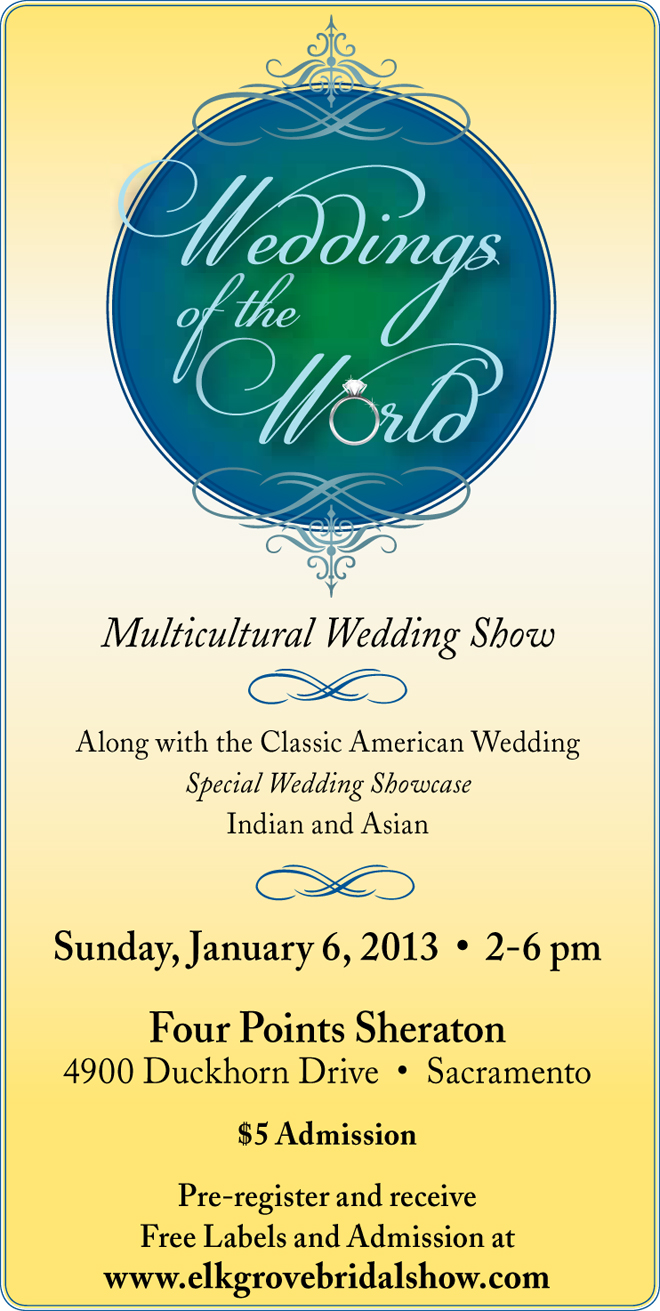 Event details:
When: Sunday, January 6, 2013
Time: 2-6 p.m.
Where: Four Points Sheraton in Natomas
Cost: $5 at the door or pre-register here for FREE admission and FREE pre-printed labels.
What You'll Experience: Start planning your stress free wedding at "the best little bridal show." Show features vendors for the Classic American Wedding, but also those who specialize in Indian, Asian and Russian weddings as well.
For more information, please visit Weddings of the World's Web site here, and be sure to "like" their event Facebook page here!
And, of course we'll be there handing out complimentary copies of Real Weddings Magazine along with our wedding planner, Real Weddings Magazine's The Bride's Guide! Also, we always have our awesome (and reusable!) Real Weddings Magazine bags to help you carry all of your goodies!
PLUS, ENTER TO WIN A $150 GIFT CERTIFICATE TO LASER ESTHETICA AT OUR BOOTH AT THIS EVENT!

Be sure to tell them you found out about the event from Real Weddings Magazine!


Hope to see you there!
Blog post by Real Weddings Magazine's Social Media Maven, Aimee Carroll.
Photos courtesy of and copyright Weddings of the World.
Subscribe to the Real Weddings Magazine Blog! Click here: [subscribe2]