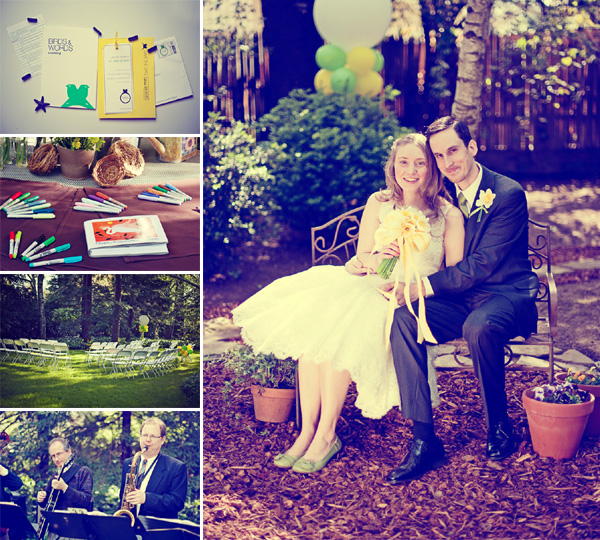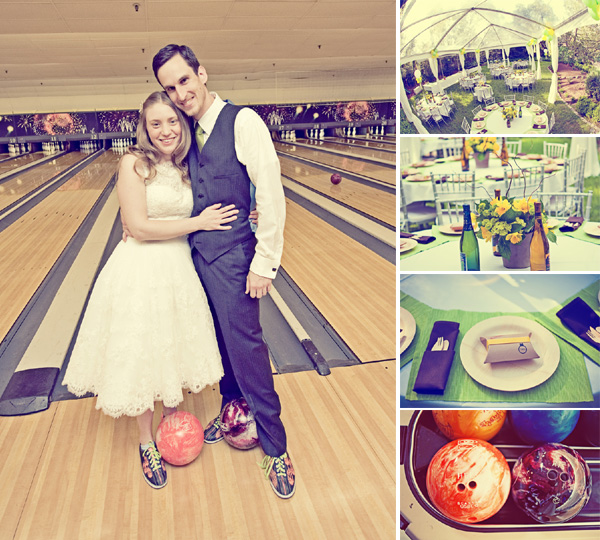 The Couple:  Elizabeth Kempton (a.k.a Tibby) and Thomas Wroten
Wedding Date: March 28, 2010
Photography by Sarah Maren Photography
Tell us a little about you and your beloved:  We're both from Sacramento and went to a small private school locally. Sacramento Country Day School was small enough that we were acquainted in high school even though we were two years apart. After attending college in Southern California, we both ended up back in Sacramento, working at the school we attended. Tom is the Director of Technology and I'm the Library Assistant. We met up again five years ago and started dating a little over two years ago. Since we started dating, we've become inseparable.
What was the most amazing part of your day?  The day was the culmination of six months of hard work, planning and organizing. Seeing it go off without a single hitch was probably the most amazing thing. The food was pretty spectacular too.
What else would you like to share about your big day?  Our whole wedding was book/library themed. Our save the date was a book mark. Our invitation was a mini book; Birds and Words which is a Charley Harper book. The RSVP card was a due date slip in a library pocket, like you see in old-school library books. Our favors were Media Mail packages. Our table numbers were Dewey Decimal call numbers. And our thank you cards were overdue notices.
I walked down the aisle to the Indiana Jones theme song. I'm a librarian now, but I started out as an archaeologist, so I harbor a love for Indiana Jones. When the song starts out, it's pretty unrecognizable, but as soon as the melody started everyone in the audience started laughing. It was a much needed moment of levity since everyone, including Tom, was sniffling.
We had our ceremony early in the morning, 10:00 AM, and on a Sunday. We really wanted to have a brunch with an omelet bar. It also gave us the afternoon to be with our out-of-town friends. Having it on a Sunday gave some of the guests some extra time to get to Sacramento, and they were able to leave early enough on Sunday evening to make it home for work the next day.
We decided that since we had all these friends in from out of town, we would spend the afternoon doing something fun with them. We rented out a bunch of lanes at Crestview Lanes. We had a blast bowling in our wedding clothes. Tom and I got our own bowling balls and had them engraved with "His" and "Hers."
Ceremony Site:  Private Residence
Reception Venue:  Private Residence
Photographer:  Sarah Maren Photography
Caterer:  Magpie Catering. The food was AMAZING. People are still telling us how good the meal was.
Cake:  We didn't have a cake or even cupcakes After some deliberation we decided cake at noon would be a little decadent, especially on top of a heavy brunch.
Flowers:  Our mothers arranged the flowers. We were able to buy them wholesale through a friend. The flowers were actually what set the color scheme for the whole wedding. We really wanted to do lots and lots of daffodils since it was early spring. That meant lots of bright green and yellow.
Favors:  Tom designed a little logo for our wedding with two little birds on top of a ring. We had it made into a stamp. This went onto the favor box with a "media mail" stamp. The actual favor was two or three daffodil bulbs. We didn't really want to give people something that they would want to toss at the end of the day. The bulbs could be planted and will come up next year right around our anniversary.
Wedding Dress: Priscilla of Boston, Vineyard Collection, "Trish" from Bella Donna Bridal.
Bridesmaid Dresses: We didn't have a wedding party.
Hair: Victoria Wotzka
Makeup: Victoria Wotzka
Invitations: Crazy people that we are, we made our own invitations. Tom designed them himself and we printed and assembled them. My dad owns an old Chandler and Price printing press, so we got it up and running and letter pressed the cover of the invitation. The invitations were truly handmade.
DJ/Entertainment/Band:  We used a faculty band from the school we work for. It was the French teacher, the two band teachers, one of the high school students, and a drummer from another band they play in.
Photo Booth:  Tom put one together with an app he bought for his Mac laptop. We hooked up a digital camera and a photo printer. It didn't look as swank as one of those old fashioned photo booths, but people had a blast and the result was the same. Plus we have all the pictures saved on the computer.
Honeymoon location:  We went to Napa for five days and stayed at Bardessono in Yountville. What a relaxing week!
Any other of your wedding vendor(s) you'd like to call out?  I want to reiterate, Sarah Maren, our photographer, was INCREDIBLE. And so was our caterer, Magpie. The two things we decided to spend the most money on were our pictures and our food. We were not disappointed with either.
Tom and his dad had custom suits made by Steve Benson. Steve was a wonder to work with and the suits were sublime.
Crestview Lanes, which has sadly closed. We rented out several lanes and had an open tab at the bar. They were very friendly and helpful.
First Dance Song:  We actually didn't have any officially planned dancing.
Any advice you'd give to our readers who are planning their weddings right now?  Try not to stress too much. In the scheme of things, it's one day and no one notices the blips. Plus they make for great stories later on. Tom forgot his shirt and his dad had to drive back to our house to pick it up. We still started on time and not a single person knew it had happened. Not even me!
Anything that you would have done differently if you were given the chance?  I don't really think there is anything I would have changed. It was as close to a perfect day as it could have been.
Photos courtesy of Sarah Maren Photography.
---
---
---
Subscribe to the Real Weddings Magazine Blog!