Calling all couples! Register to compete in the West Shore Café and Homewood Mountain Resort's couples event the 'I Do' Dash: Mountain Race for your chance to win over $3,000 worth of wedding day prizes and comps.
Doesn't that sound awesome? Join us on Sunday, August 30th, at the West Shore Café in Homewood, CA! Stop by our table at the Post-Race BBQ for your FREE copy of Real Weddings Magazine and our planning resource, Real Weddings Magazine's The Planning Guide! Plus, enter to win a fabulous prize from our booth at this event!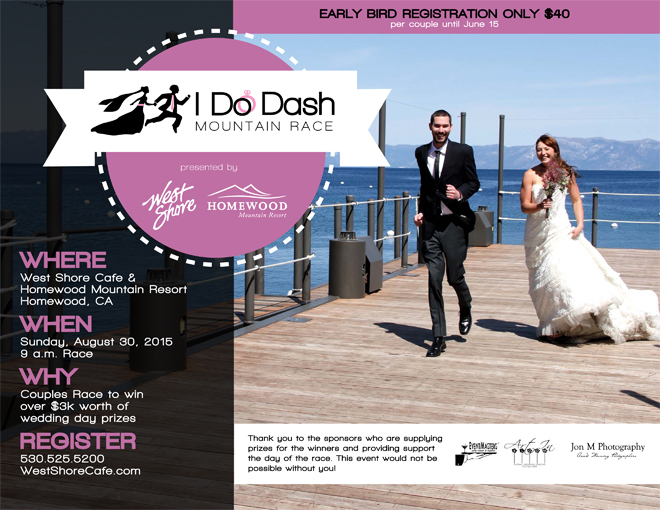 Here are the details for this fabulous event:
When: Sunday, August 30, 2015
Time: Registration and Check-in 8 a.m. at West Shore Café
* Race at 9 a.m.
* Participants are encouraged to bring their own paddleboards. Paddleboards will be provided if needed.
* The race will be ran in heats of 15.
* Post-Race BBQ from 10 a.m. to 1 p.m. BBQ will be served at the top of Quail Chair as participants finish the race. Beer, wine and cocktails will also be served.
Where: West Shore Café at 5160 West Lake Blvd. in Homewood, CA
About: At 9 a.m. on Sunday, August 30, 2015, participants will start off at the West Shore with a paddleboard race through a buoy course. The couple will test their balance and their ability to work as a team by navigating the course on the same paddleboard.
After they get off the water, couples will make their way to the West Shore's lawn, where they will need to complete the "wedding cake in the face" portion of the race. Each participant will have a designated line to stand on and one person will need to throw a cake at the other until they get a direct hit.
From there the partners will run a half a mile across the street and over to Homewood Mountain Resort's South Lodge where another challenge awaits. The couple will need to complete a "bouquet toss", and blindly throw a bouquet of flowers, from a designated distance, back and forth until they complete the pass.
Finally the participants will run together, carrying the flowers from the toss, to Homewood's wedding site, at the top of the Quail Chair. The final run will ascend approximately 900 vertical feet over 2 miles, where the finish line and alter awaits. Afterward Homewood and West Shore will be holding a BBQ at the finish line and all competitors and spectators are encouraged to take part in the festivities. The West Shore will be mixing up cocktails and serving beer and wine during the top-of-the-mountain celebration. From there everyone is invited to take a beautiful ride down the mountain on the Quail Chair.
The top three finishers will be awarded thousands of dollars of wedding day prizes from various Tahoe vendors. In addition to the race component, participants are also encouraged to wear a costume for the opportunity to get the "best costume" prize. Of course the judges are looking for outfits that are wedding related!
Local vendors will be supporting the race and supplying some of the essential items to make this event happen. Art in Bloom Floral will supply flowers for the toss and also be supplying prizes for the winners. Event Masters will be popping up a tent at the finish and also giving away a handful of rental gift certificates as prizes. Jon M Photography will be on site photographing the event and offering all participants photo specials and giving the top finishers some great prizes. Homewood Mountain Resort will be awarding the top finisher with $1,000 off their 2016 wedding day site fee and the West Shore Café will be giving away a two night stay and dining credits. Combined the participants have a chance to win over $3,000 worth of goods to put towards their special day!

Cost: After June 15th, registration is $50 per couple or day-of registration is $75. Fees include a Race Day Bag that includes 2 post race drink tickets. Prizes will be given away for the 1st, 2nd and 3rd place finishers with the fastest course times, along with a best costume prize. The couples that win will receive over $3,000 worth of prizes from local vendors. Winners will be announced at the top of Quail Chair at noon.
Please register over the phone by calling the West Shore's front desk at 530.525.5200.
Race Details:
1st Leg – Paddleboard Buoy Course
* The couple must both be on one board
* Course will be designated and be in West Shore's buoy field
2nd Leg – Cake Throw
* Each person stands on a designated line on the West Shore's lawn
* One person throws the cake and needs to hit the other person in the face
* Challenge is not complete until the person is hit with the cake
3rd Leg- Run to Homewood
* Couple runs across the street to Homewood and over to the South Lodge via a marked trail
* ½ Mile Run
4th Leg- Bouquet Throw
* Bouquet throw
* South Lodge Parking lot
* Each person stands on a designated line in Homewood's South Lodge parking lot
* Must turn around and blindly throw the flowers to the other person
* Challenge is not complete until one or the other catches the flowers
5th Leg – Mountain Run
* Couple runs to the top of Homewood's Quail Chair via a marked trail
* Ascends 900 vertical feet over 2 miles
* Must complete the run with the flowers from the Bouquet Throw.
Please register over the phone by calling the West Shore's front desk at 530.525.5200.
For more information, log on to westshorecafe.com/i-do-dash-mountain-race.
Be sure to tell them you found out about the event from Real Weddings Magazine!
Hope to see you there!
Photo courtesy of and copyright West Shore Café.
---
BRIDAL SHOW TIPS!
Before you head out to the area's bridal shows, check out this handy little list of tips to make the most of the experience:
Create a "wedding" only email— you'll want to have a specific email address just for your wedding business. You'll be getting a lot of information sent to the email that you register with at bridal shows, so it's nice to have it all in one place separate from your work and/or personal email.
Don't go it alone—bring a bridesmaid, your mom or a friend (or dare we suggest, your fiancé?). It will be helpful (and more fun!) to have their input and advice.
Bring labels—many vendors offer prizes and contests, and additionally, you may want to request more information from selected vendors. By bringing pre-printed labels, you will save time and the hassle of having to complete this information booth after booth. Information that you might want to include: your name, address, phone, email, fiancé's name and when you're getting married.
Bring a notebook—no matter how good your memory is, you'll want to take some notes on vendors and ideas that catch your eye.
Bring a sturdy tote bag—you'll be picking up business cards, brochures, etc. Or, come to the shows where Real Weddings Magazine will be and we'll give you one of our groovy reusable bags!
---
Blog post by Real Weddings Magazine's Social Media Maven, Aimee Carroll.
Subscribe to the Real Weddings Magazine Blog! Click here:
[subscribe2]