The Couple: Ashley & Austin
Wedding Date: April 20, 2018
Photography by Sweet Marie Photography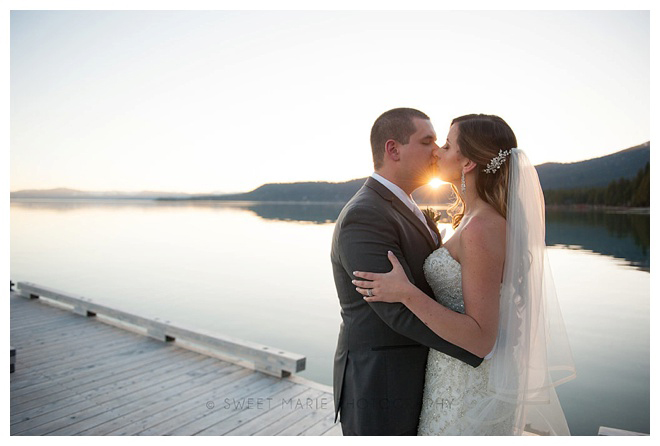 Tell us a little about you and your beloved: Austin and I met in 2012 while working at Nugget Market in Elk Grove. He was in the meat department and I managed the healthy living department.What started out as a great friendship quickly development to more than that.
While on a family Christmas vacation to Disneyland in December 2016, Austin proposed! We had walked into Disneyland after a nice dinner at the Disneyland Hotel, and went to the large Christmas tree on main street to take advantage of a great photo opp. While standing there smiling for the picture, in front of hundreds of people, Austin got down on one knee and asked me to marry him… and I said yes!
It didn't take us long to find a venue as we knew that we wanted to get married in Lake Tahoe. Austin and I have spent a lot of time up there, and really felt that we wanted it to continue to hold a special place in our lives. We toured many venues, but as soon as I walked into the ballroom at the Hyatt Regency Lake Tahoe Resort, Spa and Casino, tears filled my eyes. The Hyatt was everything that we had always dreamed of! We did all of the planning ourselves over the next 17 months. We did, however, use Alluring Events & Design for their day-of coordination package and it was one of the best decisions we made.
Looking back, there is literally nothing we would change about our wedding… it was a dream come true and the best day of our lives hands down!
What was the most amazing part of your day? Seeing each other at our first look! I will never forget the look on his face and how emotional he became. I had never seen Austin like that before! It was a moment for us to be alone, and really take in the fact that that day was our long awaited wedding day! Our photographers and videographers were able to capture the moment, and every time we watch it, we get all those amazing feelings all over again.
What else would you like to share about your big day? The day before our wedding, it actually snowed during our rehearsal (our ceremony was outside). April weather in Lake Tahoe can have a mind of its own! On Friday morning, when we woke up there was nothing but blue skies and sunshine, no snow on our big day! It was such a relief.
Ceremony and Reception Site; Caterer and Cake: Hyatt Regency Lake Tahoe Resort, Spa and Casino. Ceremony took place on the Cottage Green. Reception took place in the Lakeview Ballroom.
Officiant: Logan Murphy (Friend of the Bride & Groom)
Photographer: Sweet Marie Photography (She's amazing!)
Videographer: Darin Reyes Productions
Wedding Planner: Alluring Events and Design (Rachele's organizational skills, attention to detail, poise, and passion for wedding planning all make her an amazing person. I HIGHLY recommend her and the Alluring Events and Design team.)
Flowers: Petal to the Metal
Bridal and Bridesmaids' Attire: Trudy's Brides
Hair: Bridget Kasper (Bridget was on time, and got everyone done early…that never happens.) 
Make-up: Susie Castilone (Like Bridget, Susie was on time and got everyone done early. They are friends, so they work SUPER well together.)
Invitations: Minted
Signage: Shimmer and Stain
DJ/Entertainment/Band: SJ's Disc Jockey
Linen Rentals: La Tavola Fine Linens
Honeymoon Location: Punta Cana, Dominican Republic
First Dance Song: "I get to love you" by Ruelle
Any advice you'd give to our readers who are planning their weddings right now? It's never to early to finalize details. The sooner you get things done and figured out, the more you can relax as the day approaches.
Anything that you would have done differently if you were given the chance? Not one thing! The day was literally perfection! Best one of our lives.
Photos courtesy of Sweet Marie Photography.
Blog post by Real Weddings Magazine's Social Media Maven, Aimee Carroll.
Subscribe to the Real Weddings Magazine Blog! Click here: