In honor of Veteran's Day, we found this great story of generosity to share with all our lovely Real Weddings brides.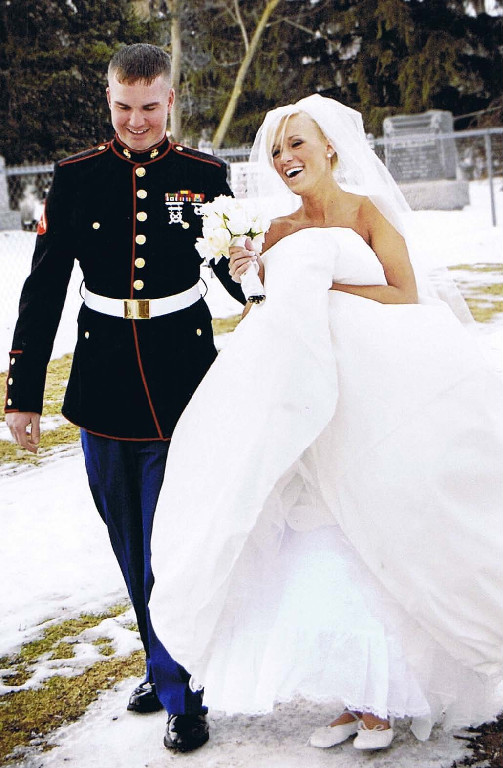 "Heidi Janson is the founder of Brides Across America, a national charitable organization uniting military brides and bridal salons across the country for a common purpose by supporting our troops and their families.
Growing up in the bridal industry, Heidi came across an article about a young soldier in Afghanistan who felt that they were 
forgotten. At that moment it was time to take a stand and do her part in making a difference. The nationwide program was born in 2007 when a network of stores and suppliers donated time and resources to head up the program. Fifty gowns were 
given away at Heidi's bridal boutique in New Hampshire. Word spread and 
got national media attention, the program grew rapidly giving over 5,000 gowns to date.
Military Brides don't always get their dream wedding. Some brides have to give up their wedding due to their fiancées
 getting deployed quickly. In other cases, brides have a civil ceremony and then wait years for their fiancée to return home to finally have their wedding day. Heidi wants to make a difference by helping those troops who are fighting for our country get the wedding they deserve. Brides Across America efforts is part of the Oprah Winfrey's Angel Network and teaming up with Smiles across the Miles charity."
For more on the great effort, visit bridesacrossamerica.com.
Blog post by Always a Bridesmaid Columnist Darren Elms.
Photos courtesy of Brides Across America.
Do you have the new Real Weddings Magazine iPhone and iPad App?
Download it from the Apple App Store Today: REAL WEDDINGS MAGAZINE!
---
---
Looking for local Sacramento wedding vendors?
---
Subscribe to the Real Weddings Magazine Blog!