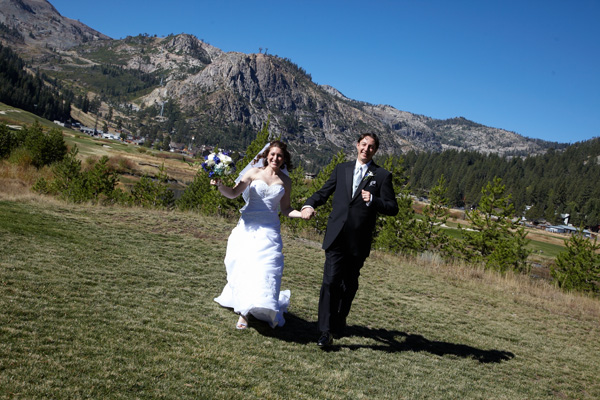 The Couple:  Julia Cohn and James Willsie
Wedding Date:  October 10, 2010 starting at 10:10 am (Editor's Note: Happy Almost-One Year Anniversary!)
Photography by Christopher Kight Photography
Tell us a little about you and your beloved:  James and I met in the outdoor adventure club at our university. For more than two years, he was that great guy friend who would not only drive me to the train station when I needed a ride, but would wake up an hour early and take me out to breakfast before my trip!
He asked me out in February of 2005. At the time we lived five hours apart, and I wasn't sure about doing a long distance relationship. I said, "I'll give it a shot!" And I did. He truly is my best friend and my lover. I couldn't ask for anything more. True to our outdoor nature, James and I were on a trip to Yellowstone National Park when we got engaged. He told me he would take a picture of me looking at the hot-springs, and when I turned around he was on his knee with a ring. I said, "Yes! All I want to say is Yes!" (He had told me that if I said 'I'd give it a shot' he would take the ring back).
We incorporated a lot of our love for the outdoors in the wedding. The site was stunning and overlooked the Squaw Valley Mountains and grassy meadows. Our reception tables each had a picture and name of the various locations/adventures that we've had together.
What was the most amazing part of your day?  Both the men in my life — my father and my new husband — are not typically emotional. Yet, they both were tearful in their speeches. James was choked up during his vows. The words were so sincere and loving that it barely left a dry eye in the house. I was so touched that I wanted to kiss him right then!
My dad actually started crying during his father of the bride speech. It was so cute since James, my mom and I each came up to support him. He was laughing and crying and saying, "It's okay — I can do this!" I'm so glad I got it on video so I can watch it time and time again.
What else would you like to share about your big day?  I really enjoyed having a morning start to the whole day. The wedding started at 10:10 a.m. We had lunch and dancing until 4 p.m. Then I hung out with a bunch of my close friends that I rarely see until 8 p.m. that evening. And I still had time for my new husband and me to relax in the hot-tub under the stars and have a nice evening together. It felt like I had time to really enjoy the best day of my life.
I also loved staying at my wedding location. It made everything so relaxed! Everything was in one spot. We got there a couple days in advance and stayed three days after. The resort service was impeccable. They took care of the set-ups, all the foods, favors and more. We were the only wedding that weekend and the staff knew us by name. We didn't have to worry about wedding clean-up, since the staff brought all the flowers, gifts and extras to our room after.
I would like to share this funny story; I ended up buying two wedding dresses. I went to the Brides against Breast Cancer Gown Sale and got a lovely dress for $300. (I highly recommend them. One hundred percent of the proceeds go to breast cancer research.) Then I ended up exercising more and eating better, and l lost 30 pounds before the wedding! I completely shrunk out of the original dress and had to get a new dress 6 sizes smaller. It's OK, since I adore the Mori Lee dress that I bought, and it came two weeks before the wedding!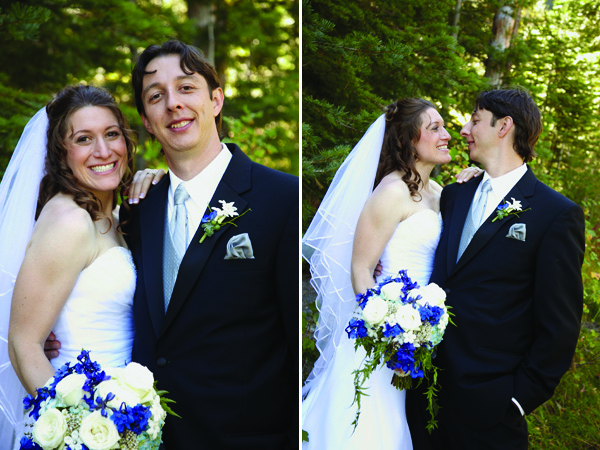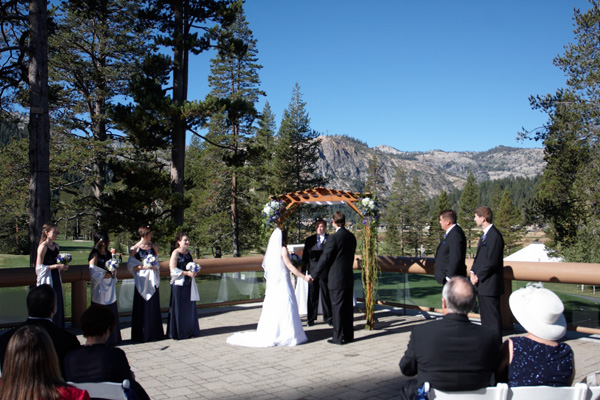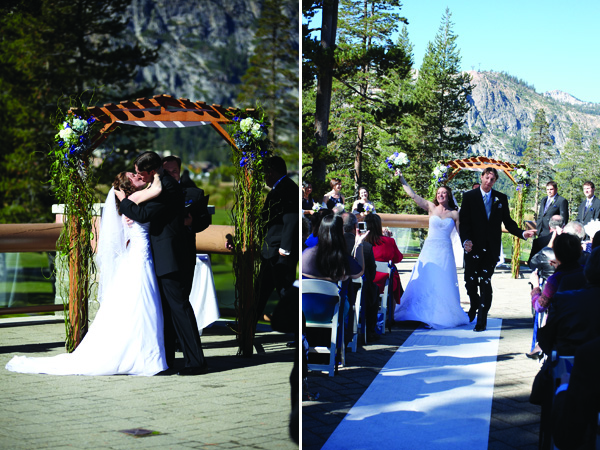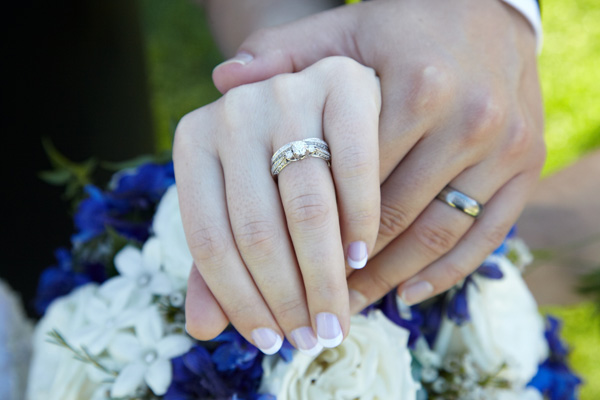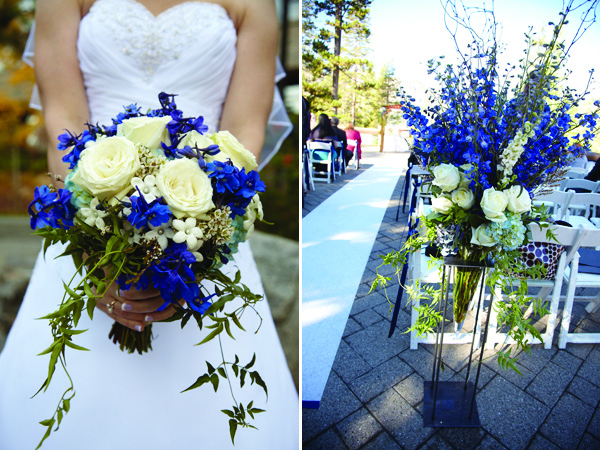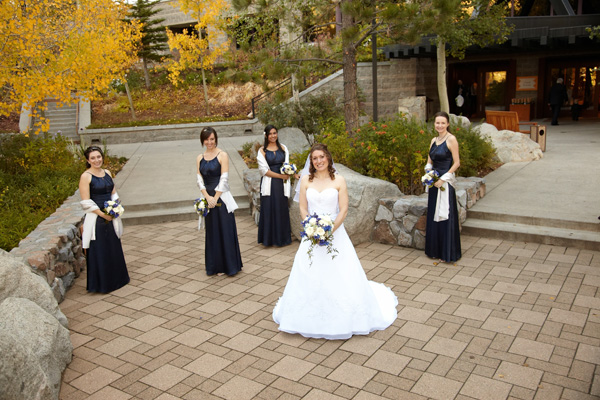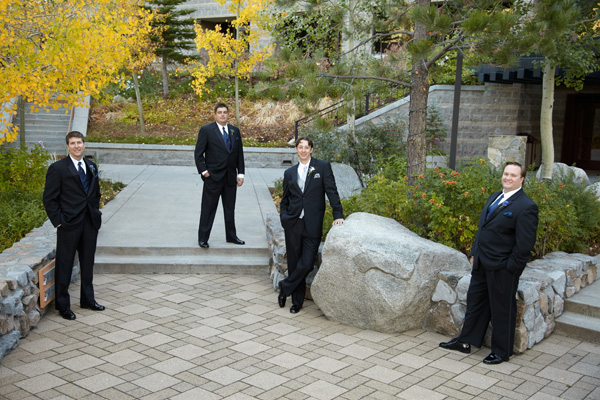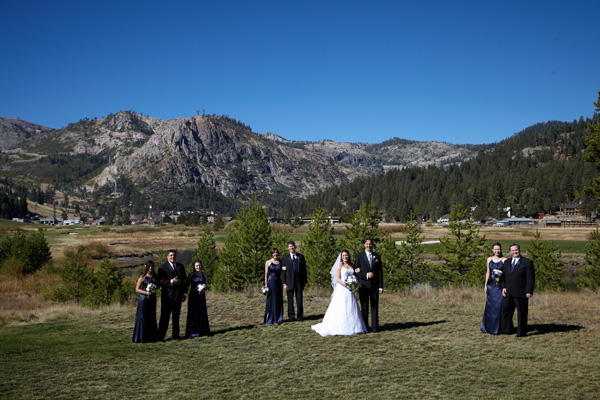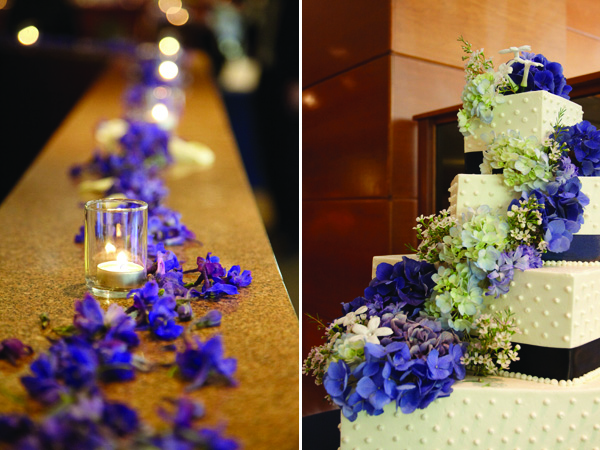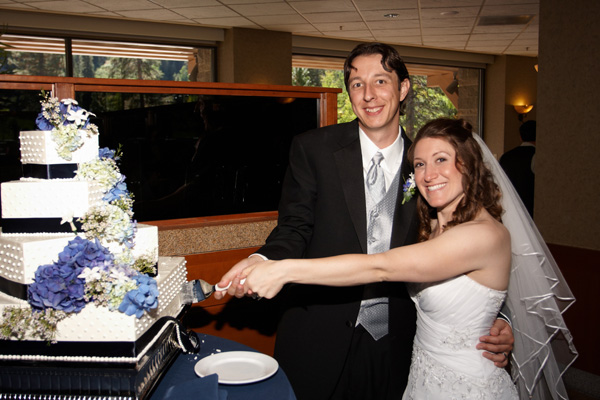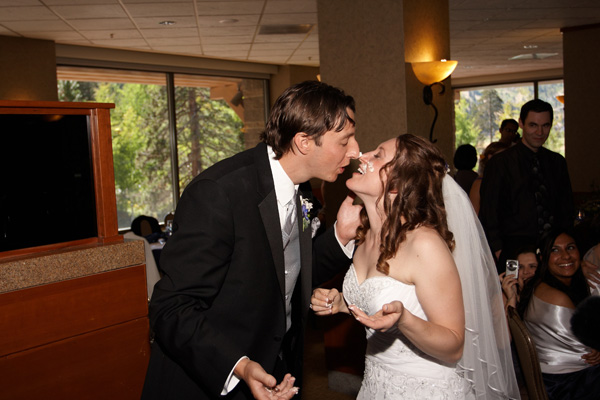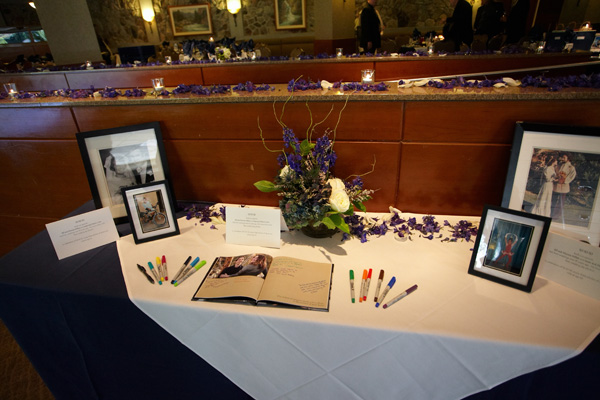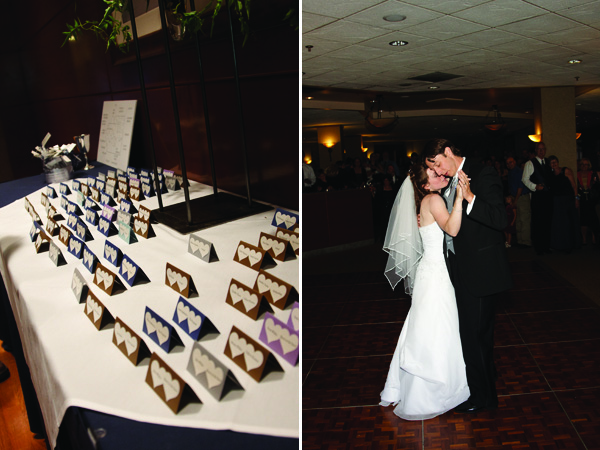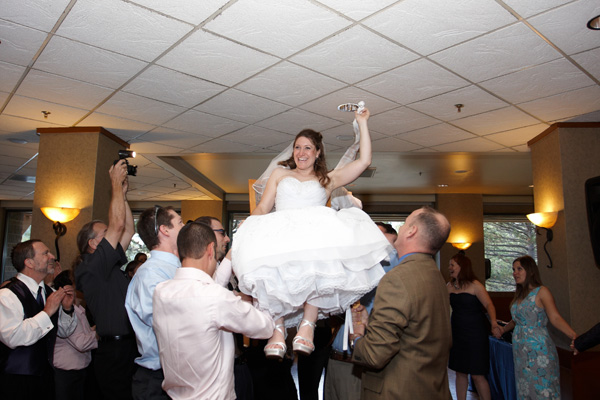 Ceremony Site:  The Resort at Squaw Creek
Reception Venue:  The Resort at Squaw Creek's Cascades Restaurant
Photographer:  Christopher Kight Photography
Videographer:  Jordi MacFife (Friend)
Flowers:  Bellisima Floral Creations. The flowers were absolutely spectacular. It was as if the florist Sara read my mind as to what I wanted and then created that into a beautiful atmosphere.
Favors:  efavormart. We gave out glass coasters that were very popular. I wanted personal favors, so each person got a box with the coasters, a bag of Swedish fish candies and a mini Clif bar with a little note saying how these were our favorite foods and why.
Wedding Dress:  Dress #1- David's Bridal, purchased at Brides against Breast Cancer Gown Show. Dress #2 – Trudy's Bridal.
Bridesmaid Dresses:  Novella's Bridal
Hair & Makeup:  Elyssa Lee
Invitations:  Printed by RR Donnelley (I work for the print company RR Donnelley. I really enjoyed making the stationery. I bought all the paper, dark shimmer-blue envelopes, an embosser and wax stamps with our J&J initials. I had a couple friends come by and we had a party to put everything together.)
DJ/Entertainment/Band:  North Shore Entertainment
Honeymoon location:  Fiji Islands. We took a four day cruise, and then spent eight days on a small island called Qamea.
Any other of your wedding vendor(s) you'd like to call out?  Rings: Skalet Jewelers ­in Old Sac Sacramento. Phenomenally high quality rings and great service. They've already cleaned my ring several times for free. I now consider them my jeweler for life. Both my rings and the groom's rings were bought here.  Officiant: our Brother-in-law, Ian. He did such a perfect job of making the ceremony personable and loving. I will forever treasure the words he said. And I can't thank my friends enough!!! My wonderful friends, Katharyn, Lauren, Kelly and Derek and Harold really made my day a success. I gave them each a list of items to check on to make sure everything was in place. The result was that I didn't have to worry about a thing on my wedding day! Every item was in place and the day flowed like smooth silk.
First Dance Song:  "Have I Told You Lately that I love you?" by Rod Stewart
Any advice you'd give to our readers who are planning their weddings right now?  Enjoy the planning! And try not to stress. There will always be something that is not perfect. That's okay. There will always be someone else who's not exactly happy about your choices. That's OK. The choices are hard to make because, really, whichever way you go it'll be a great day and hopefully you'll have the time of your life!
Also, I'm sure you've heard it before, be sure to not to skimp on the photographer and/or a videographer. The day only lasts 24 hours, but the pictures will last forever.
Anything that you would have done differently if you were given the chance?  Nothing. My day was fantastic. I was so incredibly happy and I wouldn't change a thing. Even the little things that weren't one hundred percent made the day that much more memorable.
Photo courtesy of Christopher Kight Photography.
Do you have the new Real Weddings Magazine iPhone and iPad App?
Download it from the Apple App Store Today: REAL WEDDINGS MAGAZINE!
---
---
Looking for local Sacramento wedding vendors?
---
Subscribe to the Real Weddings Magazine Blog!