Here to inspire you, it's Real Weddings Wednesday! Today, we present Aidalix and Andrea!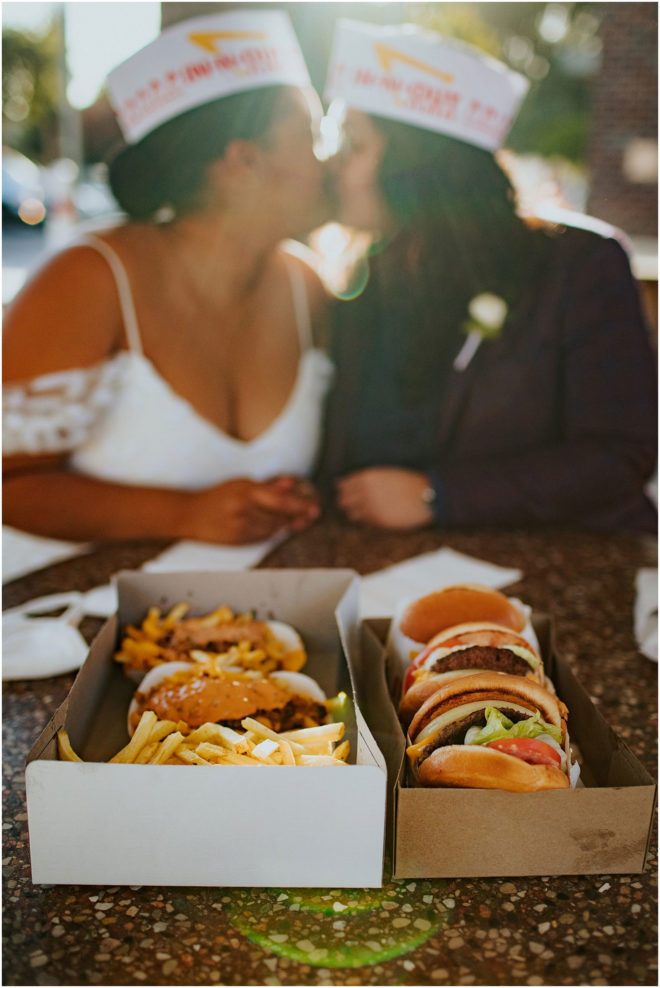 Tell us a little about you and your beloved: We actually met on OkCupid! We started talking there and didn't actually meet until a few months later since Aidalix was still getting her undergrad and was studying abroad in France. Our first date was at the Shake Shack in Madison Square Park in NYC, and the rest is history. We lived together in Brooklyn for two years, then moved out to the Bay Area where we've been living in Oakland for the past six years. We got engaged in July 2019. We had made a pit stop in NYC before heading to Mexico for vacation. Andrea planned a surprise day in NYC for Aidalix to hang out with her closest friends (who surprised her from Maryland). Their night ended with a surprise proposal at Madison Square Park (yes, where we had our first date!). We were joined by our sisters and best friends that night, in the city where it all started! 
We wanted to enjoy being engaged, so we really didn't start planning until January 2020. We knew we wanted to have our wedding on the east coast, since our closest family and friends are there, so we anticipated making multiple trips out there throughout the year to plan. Suddenly the pandemic hit and made us re-evaluate everything. We weren't planning on having the wedding until 2021 anyway, but with everything going on with the pandemic and also the political climate (RBG had just died), we didn't want things that were out of our control dictate when we were going to get married. That's when we decided to elope. We had to do a bit of research to see where in the Bay Area we could get a marriage license (the pandemic really limited our options). There just so happened to be some openings in the Sacramento County Clerk's office, so we made an appointment for two weeks later. 
We still wanted to make the day as special as possible for us. We booked a nice suite in the Kimpton Sawyer Hotel, which is close by to the clerk's office. Additionally, supporting LGBTQ+/female/BIPOC vendors had been important to us in the wedding planning process, so we wanted to uphold that in planning the elopement as much as we could. Andrea's clothes are from the LGBTQ+ brands Kirrin Finch and Wildfang, and our photographer, Kate, is also part of the LGBTQ+ community. 
We got married on Wednesday, October 14, 2020. It was almost 100 degrees in Sacramento and we didn't start the day until mid-afternoon. We got ready with each other in our suite, except our photographer helped Aidalix get her dress on so we could do a "first look." The rest of the day consisted of a trip to the county clerk's office, late lunch at In-N-Out Burger, and sunset vows at the rose garden at Capitol Park. We ended our day with a delicious dinner at Kru and a chill night back at the hotel as wife and wife.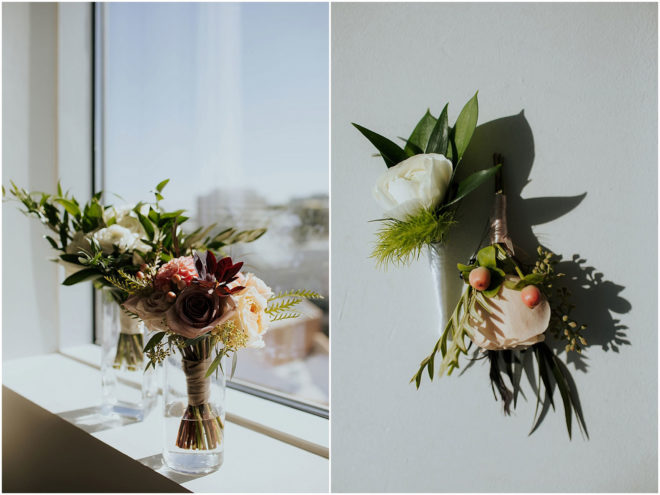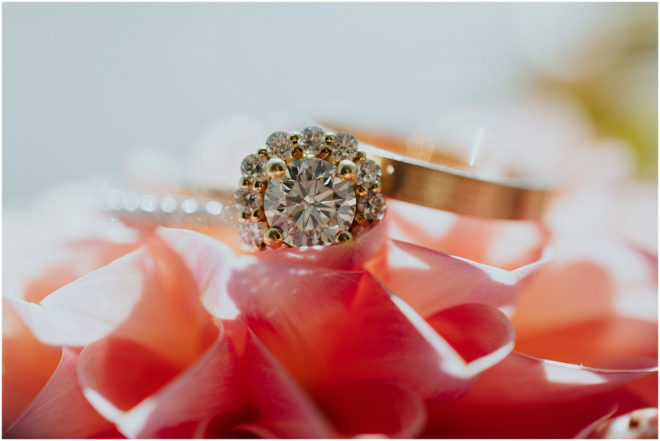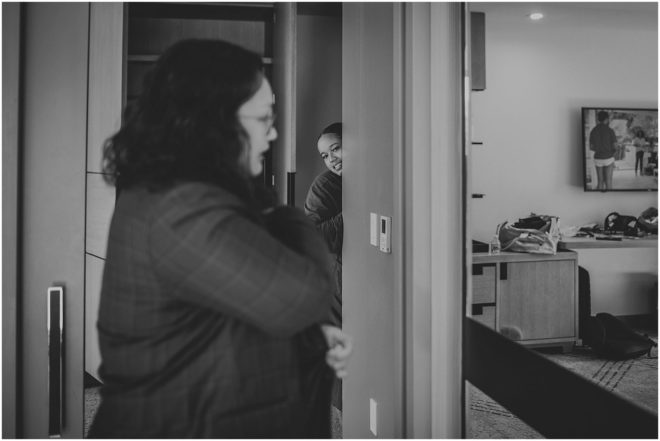 What was the best part of your day? Honestly, the whole day. Since we eloped, it was just us two and our photographer. We were really able to just focus on each other and the things we were doing in the moment. It was a nice escape from the everyday distractions.
What else would you like to share about your day? When we decided to elope here in California, we wanted to take photos around things that were California-centric to commemorate our west coast life and contrast the east coast wedding celebration we hope to have once the pandemic clears. Our photographer Kate, who is AMAZING, was on board with our vision, and lucky for us, she knew exactly where to go in Sacramento to capture the California vibes we wanted: succulent garden at Capitol Park, In-N-Out Burger, graffiti wall of golden poppies, etc. We did quite a bit of traveling around that day, but the photos made it well worth it. We now have amazing photos of our special day (that could have easily just been a trip to the county clerk's office) to share with our friends and family that couldn't be there. Oh, and it also didn't hurt that as a queer couple, our photographer Kate made us 100% comfortable the entire time we were with her, and the day overall was very easy-going because we got along with her so well.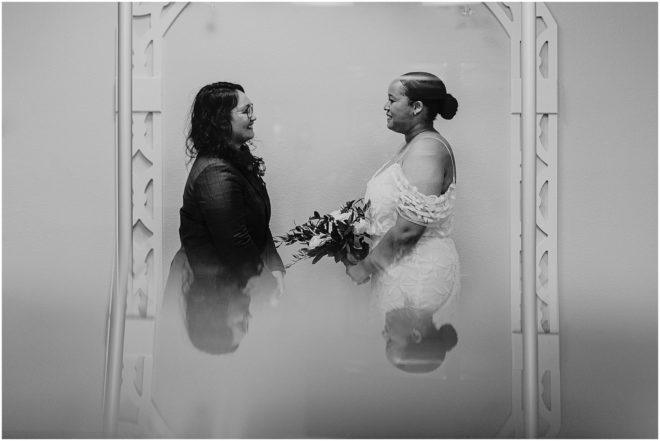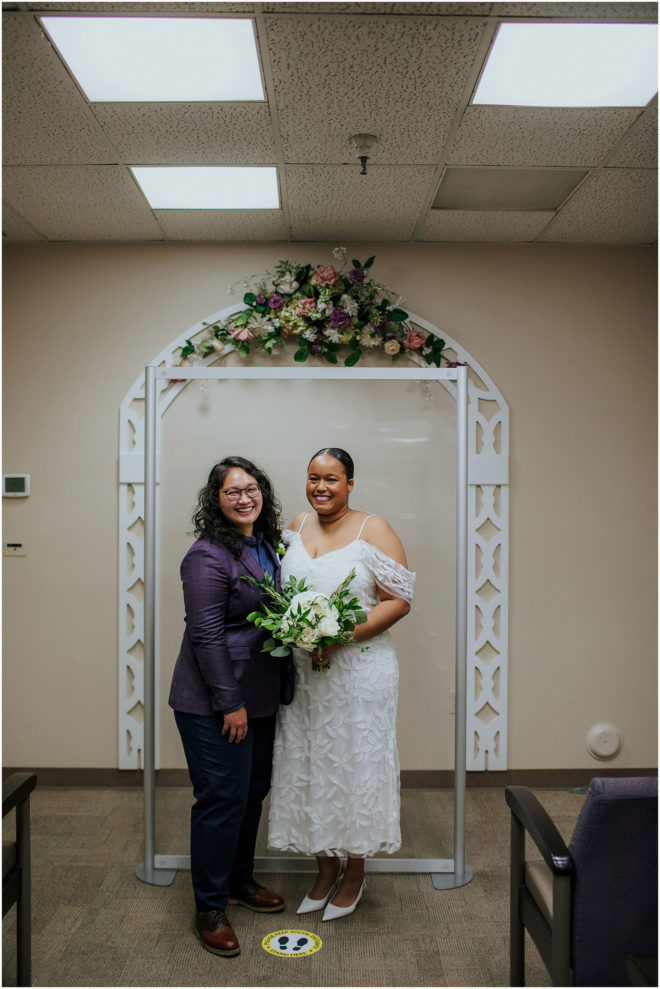 Photographer: Katherine Elyse Photography
Ceremony Site: Sacramento County Clerk's Office
Reception Site: Does In-N-Out Burger count? We took photos there and grabbed a bite after we got married.
Officiant: A woman at the county clerk's office who was so personable and kind. She made the "ceremony" feel more lively for us.
Florist: We had friends and family surprise us with two beautiful sets of bouquets and boutonnières. They were from Twigg's Floral Design and Ambience Floral Design.
Andrea's Attire: Kirrin Finch and Wildfang. Everything was bought online, but luckily Andrea had a local tailor that she frequents who was able to do a rush job on the garments and make everything fit perfectly.
Aidalix's Attire: Nordstrom Rack. She found a dress she liked but had a different vision for. She mocked up a new design and within two weeks worked with a local seamstress to create a dress she loved. The dress was shortened to a midi/tea-length and the extra fabric was used to create draping sleeves. We were also able to find her beautiful shoes last minute at the Jimmy Choo outlet store in Livermore.
Any other of your wedding vendor(s) you'd like to call out? Kimpton Sawyer Hotel. We got ready and took some photos there.
Honeymoon Location: To be determined! We are waiting until it's safer to travel so we can really relax and enjoy our honeymoon.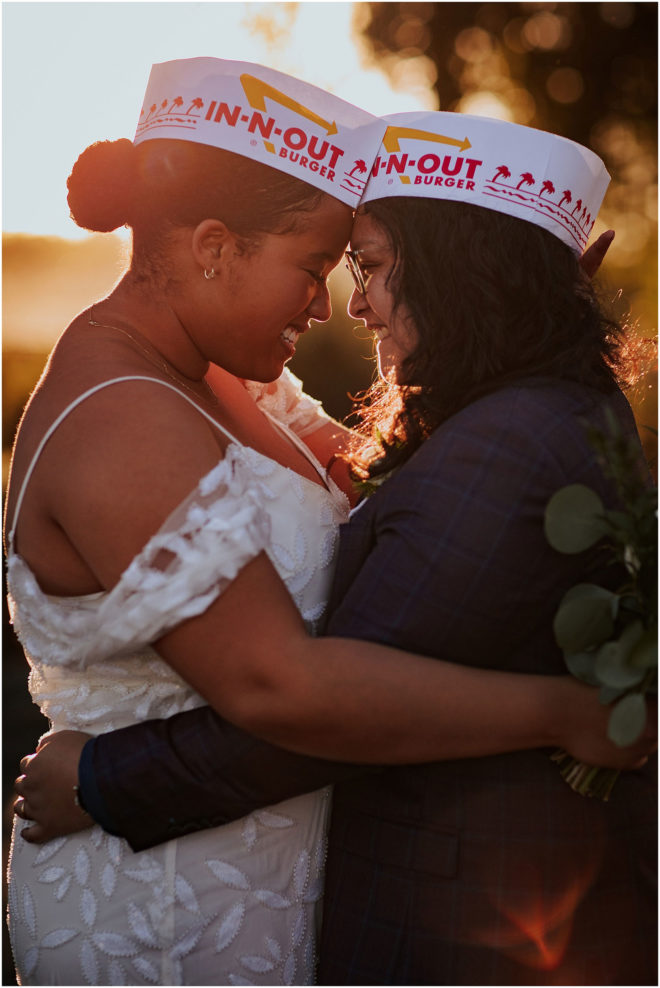 Any advice you'd give to couples planning their wedding right now? Elope if you can! Planning around a pandemic seems super stressful and unpredictable. We decided that the most important thing about getting married was for us to have a special day together, and the party can come later when it's safe for everyone to be together.
Anything that you would have done differently if you were given the chance? We obviously would have loved to have our family and friends with us, but we didn't want to take any risks. That said, we were happy to have a special day with just the two of us.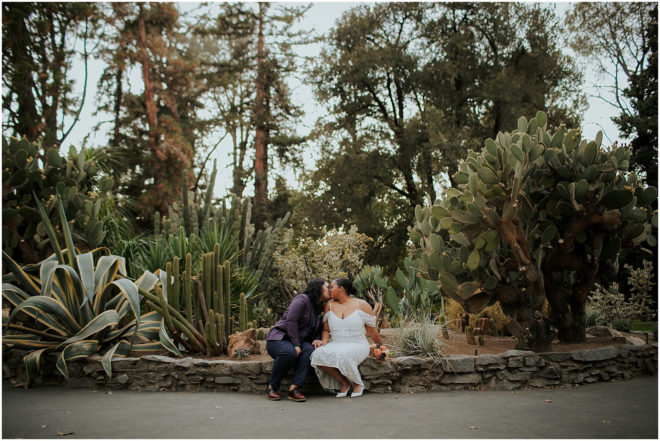 Photos courtesy of and copyright Katherine Elyse Photography, used with permission.
Want more Real Weddings Wednesdays Inspiration? Click here