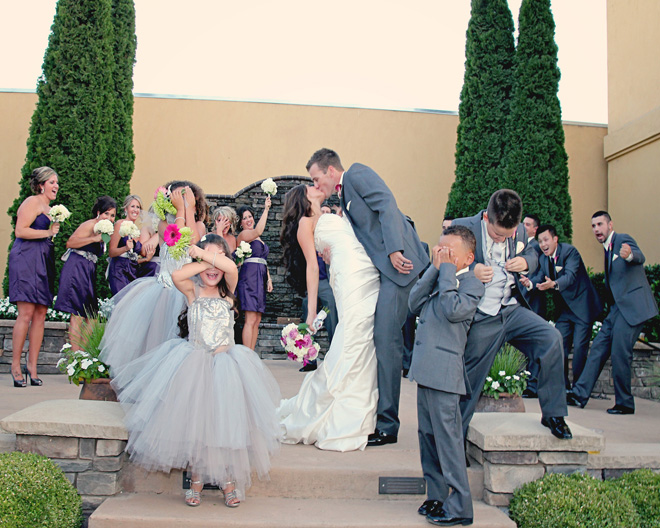 The Couple: Elizabeth & Matthew
Wedding Date: September 29, 2012
Photography by KM² Photography
Tell us a little about you and your beloved: We met 2001 at one of my basketball games. He went with a friend who was dating a teammate of mine. He saw me and we've been together ever since.
The proposal was very special to me. I now coach at my old alma mater so he proposed January 14, 2012, after our morning practice. The whole team knew except for me. I was completely shocked!
I didn't waste any time planning the wedding. The very next day my mom, aunt and I went to a wedding show and found some of my vendors.
What was the most amazing part of your day? The best thing for me, besides marrying my best friend, was being around the people we love and admire. It was a very precious moment in life because my husband's grandmother passed away 5 days after our wedding. We had one last amazing day with her!
What else would you like to share about your big day? It was over in an instant. There was so much going on and we enjoyed every single second of it!
Ceremony and Reception Site, and Caterer: The Reata
Officiant: Our friend, Travis Ross
Photographer: KM² Photography
Cake/Desserts: My Aunt, Debbie Henderson
Favors: Our friend, Ken Halseth
Bridal and Bridesmaids' Attire: David's Bridal
Hair and Make-up: Marisa Garcia from La Ti Da
DJ/Entertainment/Band: Sounds In Motion
Honeymoon Location: Orlando, Florida (3 days/2 nights); Nassau, Bahamas (6 days/5 nights); New York City, NY (4 days/3 nights).
Any other of your wedding vendor(s) you'd like to call out that we missed in the above questions? My uncle, Armondo Reza Jr., sang our father/daughter dance. It was a very pretty mexican song.
First Dance Song: "Differences" by Genuine
Any advice you'd give to our readers who are planning their weddings right now? Enjoy every moment. Even when you are so stressed out planning and trying to please everyone, it's all gonna be worth it. Always make time during the stressful planning time for your fiancé. Date nights are still a must. Even if you stay in and make dinner together.
Anything that you would have done differently if you were given the chance? I had a friend video the wedding but I have yet to see it. I would pay a videographer so I know I would be able to see it for years to come. Everything happens so fast that the memories aren't what they used to be and I wish I could watch it!

Blog post by Real Weddings Magazine's Social Media Maven, Aimee Carroll.
Photos courtesy of and copyright KM² Photography.
Subscribe to the Real Weddings Magazine Blog! Click here: [subscribe2]