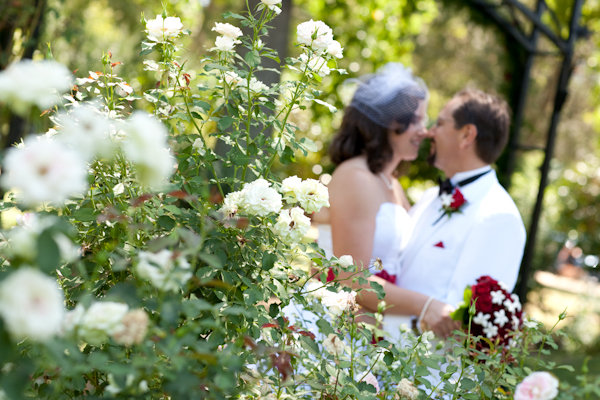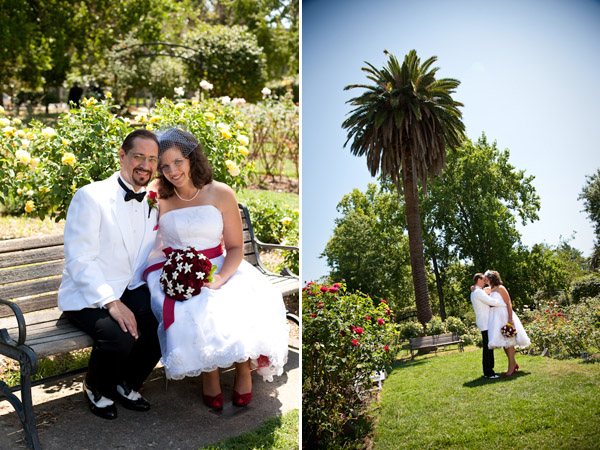 The Couple:  Jeannie and Bill Bradley
Wedding Date:  August 7, 2010
Photography by The Studio
Tell us a little about you and your beloved:  Both busy professionals (me, a health care business attorney, him, the then Sports Editor of the Sacramento Bee and now publisher of his own sports blog, 27×7.com), we met online and then over a cup of coffee at Starbucks. He boldly kissed me at the end of our first night, which left me thinking, boy is this man confident! Being a former reporter, his charming and probing nature put me at ease and elicited a lot of conversation, which made me fall in love with him. Together, we enjoy cycling, going to sporting events (go Kings!) and movies. Even after a full year of marriage, Bill runs to Starbucks every morning to bring me a latte and brings me flowers at work once a week. He is a real romantic, and I am lucky to have him as my husband.
What was the most amazing part of your day?  Seeing my almost husband, tears in his eyes, as I walked to meet him in front of the altar. I will forever remember that very special moment. My husband recalls the beautiful sun beaming down over the palm trees, our arch in the garden, and the two of us in the garden during the ceremony.
What else would you like to share about your big day?  We had the mildest August day for our morning outdoor wedding. We were very fortunate not to have unbearable heat! The jazz band, beautiful rose garden, beautiful, simply elegant decor and very meaningful ceremony performed by our parish priest, coupled with my fantastic partner, of course, made for a perfect wedding. Our children looked lovely and my daughter (the youngest of our three) graced us with the gift of not talking through the ceremony. Surely this was a gift from her and from God.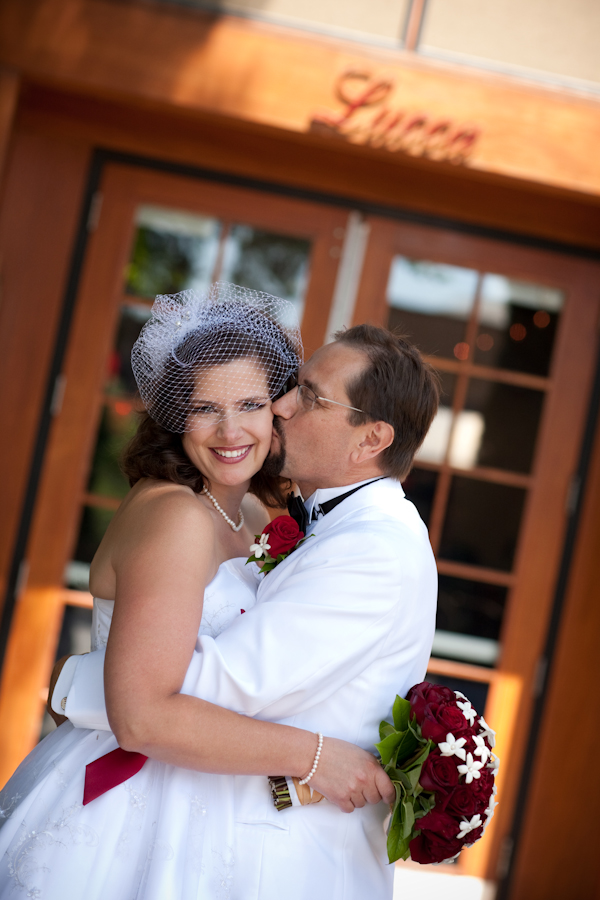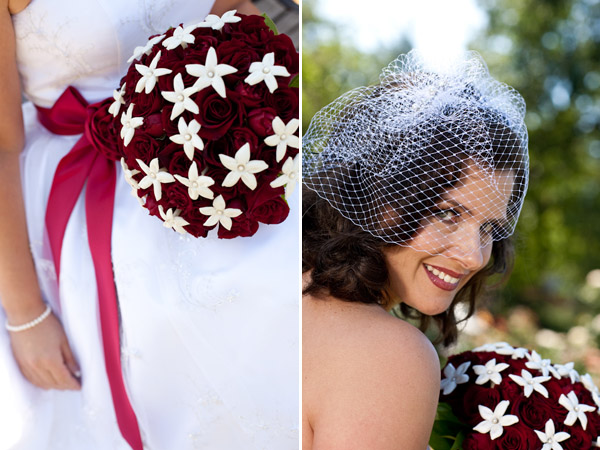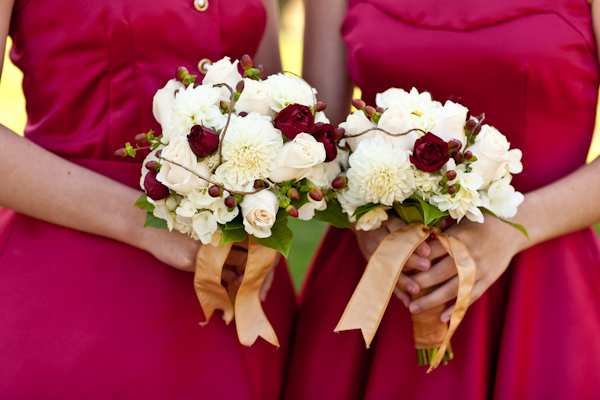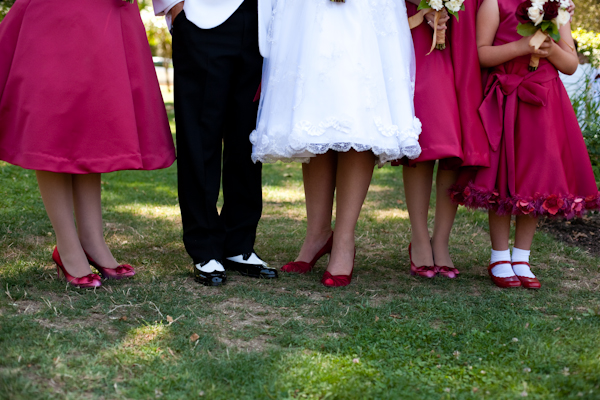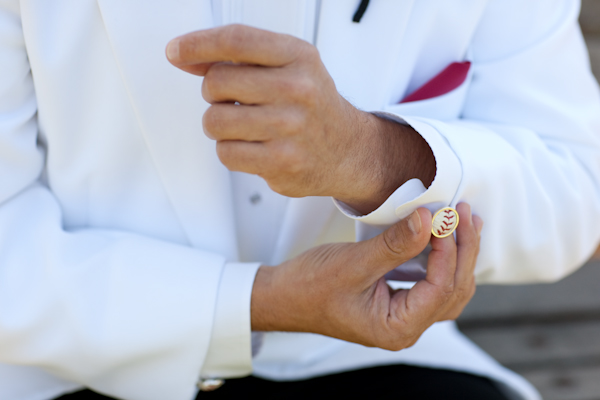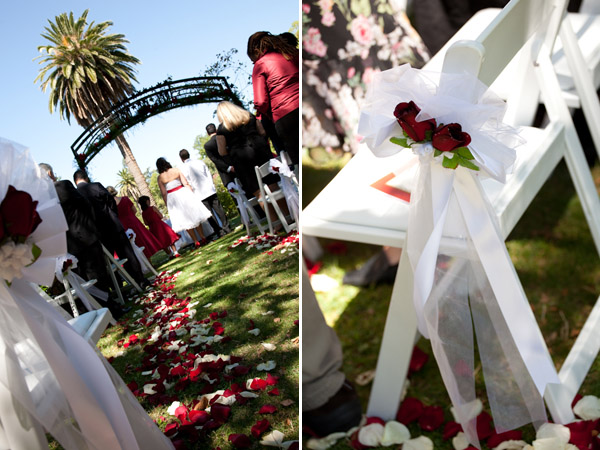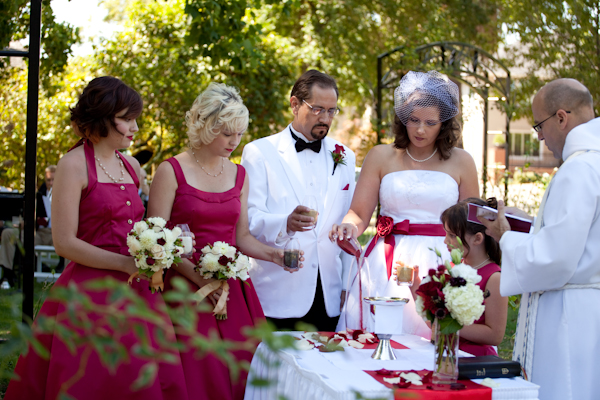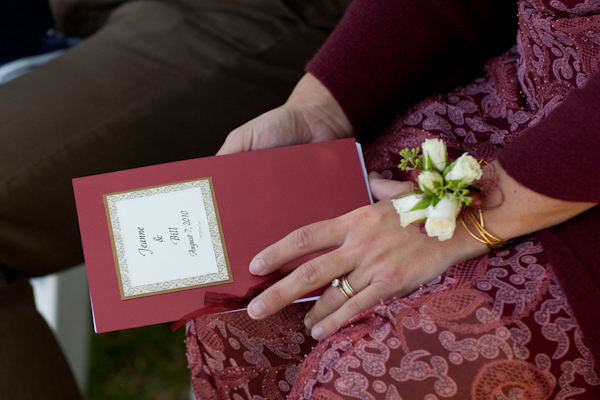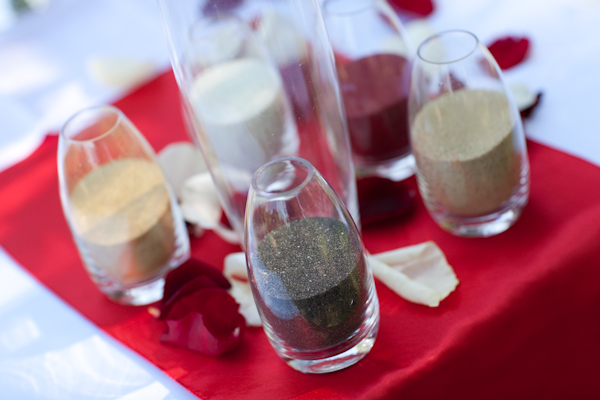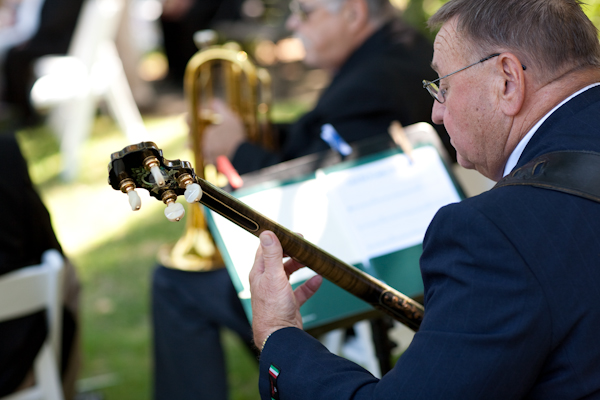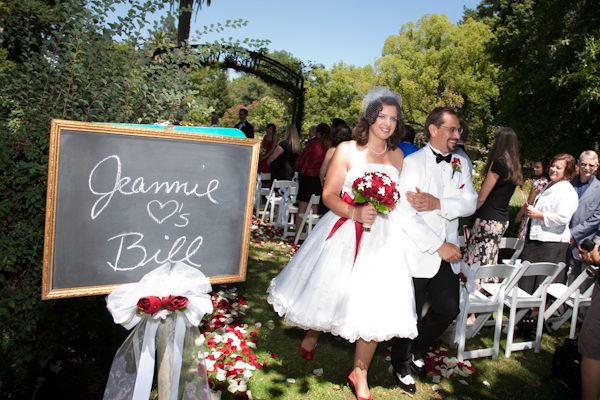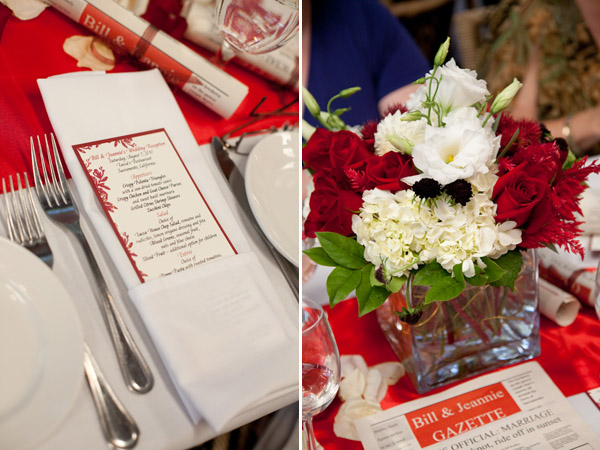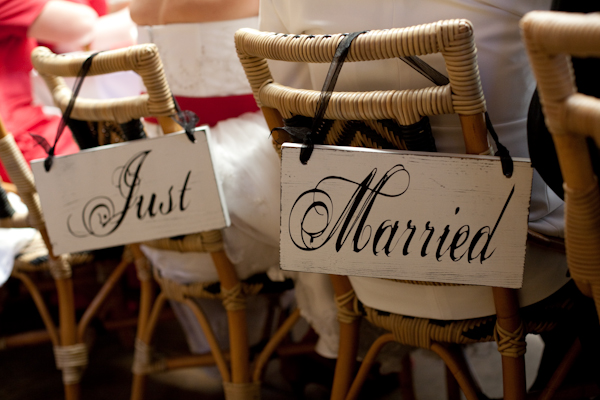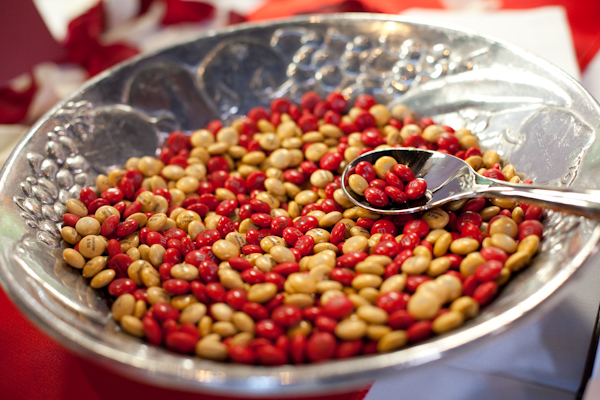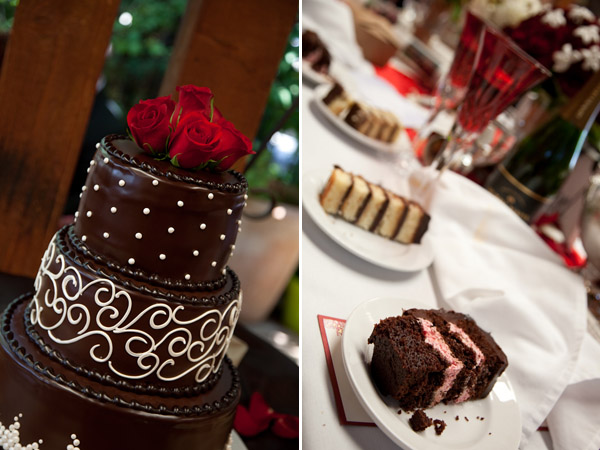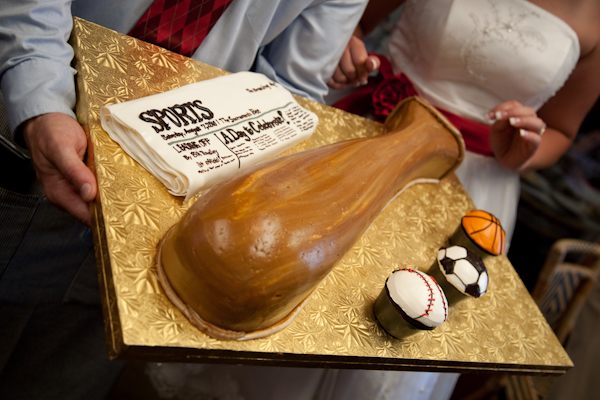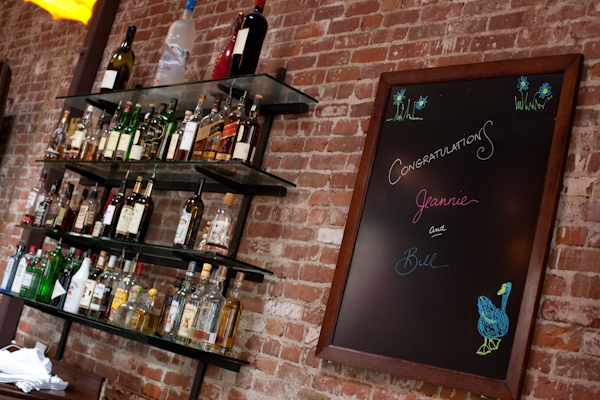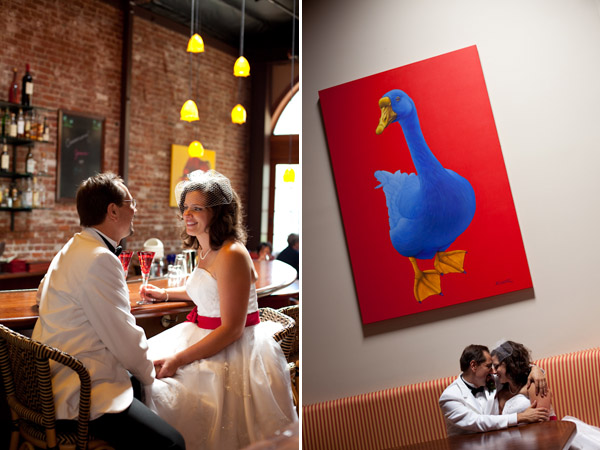 Ceremony Site:  McKinley Park Rose Garden
Reception Venue: Lucca Restaurant & Bar
Photographer:  The Studio
Wedding Planner:  Carol Ann Riley
Cake:  Freeport Bakery
Flowers:  Flourish
Favors:  Made by the bride and her awesome tribe
Wedding Dress:  Dolly Couture — purchased from Dolly herself!
Bridesmaid Dresses:  Custom made by the mother of the bride
Hair:  Aubrey Jacobson from Salon Blonde
Makeup:  MAC Consultant
Invitations:  Handmade by the bride and her awesome tribe. Thanks to Stephanie Nishikawa of The Paper Garden for the ideas and beautiful paper products.
DJ/Entertainment/Band:  Dutch Deutsch and the Grammercy Six performed traditional jazz tunes for the ceremony.
Honeymoon location:  The Big Easy (NOLA, or New Orleans, Louisiana, whatever you want to call it. It was fantastic!)
Any other of your wedding vendor(s) you'd like to call out?  We had a very festive rehersal dinner the night before at Maalouf's Taste of Lebanon, who gave us a feast fit for the proprietor's own daughter. They treated us like royalty. Contrasting this with the more elegant Lucca's for our wedding reception was perfect for us. We ate some of the best food in town over the two days.
Any advice you'd give to our readers who are planning their weddings right now?  Love your partner and find ways that you can each see yourselves in the wedding. All of the things that go wrong are meant to be, and when the wedding is over you just get to focus on being married, which takes about as much effort as putting on a wedding.
Anything that you would have done differently if you were given the chance?  No.

Photos courtesy of The Studio.
Do you have the new Real Weddings Magazine iPhone and iPad App?
Download it from the Apple App Store Today: REAL WEDDINGS MAGAZINE!
---
---
Looking for local Sacramento wedding vendors?
---
Subscribe to the Real Weddings Magazine Blog!