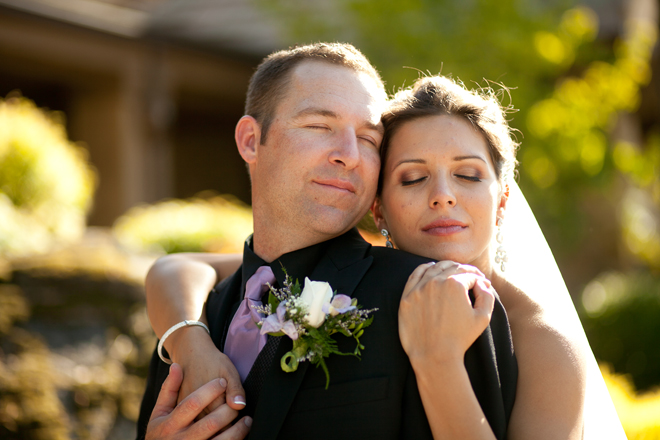 The Couple: Jessica & Scott
Wedding Date:  August 19
Photography by Kim J Martin Photography
Tell us a little about you and your beloved:  It was LOVE at first sight. I was at a St. Patrick's Day party with my roommate, Jenna, when, across the yard, walking up the stairs I spotted him.  I immediately teased with Jenna and said "I got the one on the right!"  With a little liquid courage, I skipped up to him and introduced myself.  When we laid eyes on each other, it truly was love at first sight.  From there on we have been inseparable.  And on the last day of that year we welcomed our beautiful daughter Brooklyn.  Once life begun to settle down, Scott got down on one knee with our daughter in his arms holding the ring, and asked me to be his wife. The rest is history…
What was the most amazing part of your day?  I have two memoriable moments on our wedding day.  First was the expression on my husband's face when he first saw me, it was priceless.  And second was, after the ceremony, my daughter running down the aisle into my arms (she was 18 months old at the time and was on meltdown mode that day). The best part is that both of these amazing moments where captured by our photographer.
What else would you like to share about your big day?  We choose to have a smaller wedding with about 70 guests. Everyone we invited had a special place in our life and hearts. We wanted to make sure that we had a chance to hang out and talk to everyone and not be pulled in a million directions. We kept it close and personal.
Ceremony and Reception Site, and Caterer:  Winchester Country Club — a beautiful venue and amazing scenery, and best food I have ever had at wedding: tri— tip, salmon, roasted vegetables and mashed potatoes. Everyone raved about the food and still do to this day.
Photographer:  Kim J Martin Photography — she captured the most beautiful moments of the day!
Bridal Attire:  David's Bridal
Bridesmaids' Attire: David's Bridal — I picked the color i wanted and let each Bridesmaid choose the style of dress they wanted to wear. I wanted them to feel comforable and condifent in their dresses too!
Invitations: DIY
Flowers: Bel Air Floral department — it was a family friend and she did an amazing job.
Cake: Sweet Cakes By Rebecca — the best part was that each layer of cake was a different flavor!
Favors: DIY — bird houses and bird seed
Honeymoon Location: South Lake Tahoe
First Dance Song: "If Tomorrow Never Comes" by Garth Brooks
Any advice you'd give to our readers who are planning their weddings right now? Hire a wedding planner! I wish I would have!  It would have helped relieve some of the stress, ecspecially with having an 18-month-old.
Anything that you would have done differently if you were given the chance? I have no regrets!
Photos courtesy of and copyright Kim J Martin Photography.
Subscribe to the Real Weddings Magazine Blog! Click here: [subscribe2]