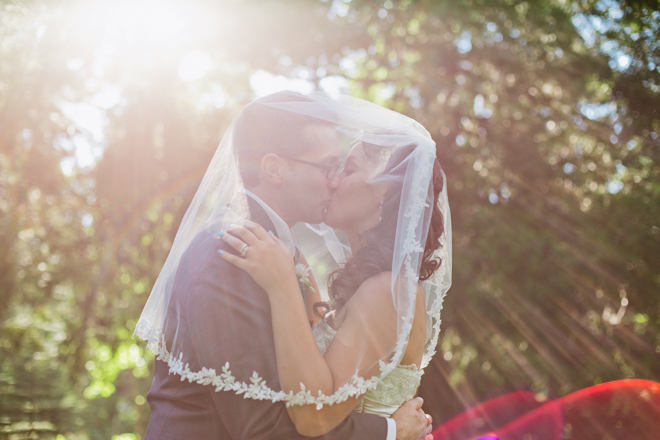 The Couple: Michelle & Charles
Wedding Date: June 8, 2013
Photography by Lixxim Photography
Tell us a little about you and your beloved: Charlie and I met on June 8, 2010 at a bar in Sacramento called Old Ironsides. He wasn't the type to go out to bars on weeknights and I had never been to that bar before.
I knew from the moment I met him and talked to him that he was going to be the one I married. I jokingly proposed to him throughout our courtship, the first time being only a couple weeks after I met him. He said yes every time I asked him. I know those actions would scare most guys off, but not him. He knew I would wait for him until he was ready and I did.
He proposed to me on my birthday, October 26, 2012 in Apple Hill. We had made plans to go up there like we did the year prior, to keep our tradition going. Before leaving for the day, he pulled over to a small apple orchard to "take a picture of the sunset." When I got out of the car, I went over to look at the little apples, meanwhile he was getting down on bended knee. He called to me and when I turned around, he was on his knee holding my ring. I couldn't believe it, it was so unexpected. The first thing I said was "Are you sure, are you positive?!" I had only been waiting since day one for that; I was in so much shock I didn't even know what to say. Of course I said yes, cried a bit, and kissed my future hubby.
The planning was stressful to a point, but that's only because I'm very indecisive and I thought everything was cute. My mom helped me pick out my dress, which ended up being the last dress I tried on after going back for another dress. Charlie was hands on when I needed him, even up until the day before the wedding. He was very supportive, but also knew that I needed to make decisions too since it was a special day for me as well. The key is to surround yourself with supportive and helpful people who will give their opinion, but not force it.
What was the most amazing part of your day? The most amazing part of my day was the ceremony and reception. I loved getting all dolled up, but seeing all of our family and friends there was perfect. Getting to talk to everyone, hug and dance with everyone was just amazing. The feeling that I got looking around and seeing everyone having a good time and enjoying all the planning we had done was perfect.
The ceremony started off 45 minutes late. My mom walked me down the aisle and we laughed the entire walk down. I can't even put into the right words how amazing it was to see Charlie when I got up there. He escorted my mom to her seat and came right back to me and held my hand. He was all smiles and we would alternately squeeze each others hands as our way of saying I love you. I cried during my vows even though I read and re-read them about ten times. Even though the day had imperfections, everything about that day was perfect.
What else would you like to share about your big day? Everything turned out just as I imagined it to be. The market lights I rented set the mood and everyone danced the night away. As long as you are surrounding yourself with positive people, you will have the most amazing day. It was a record setting day in terms of temperatures in Apple Hill and in Sacramento. I believe it was 100 degrees in Camino, which is unheard of during June and it was about 113 degrees in Sacramento. It was always going to be an outdoor wedding so it was either going to be perfect or something was going to go awry. You cannot predict the weather ahead of time, so there is no need to try. I was worried there would be snow, not 100 degree weather. Eventually it cooled off, but even during the hottest moment, which was the ceremony, it didn't matter. It was overshadowed in a great way by everything else going on.
Ceremony and Reception Site: Patrick's Mountain Berry Farm
Officiant: Reverend Jennifer Tan
Photographer: Lixxim Photography
Caterer: Urbano's Mexican Restaurant and a family who brought in different types of salads
Cake/Desserts: Michele's Confectionary Design
Flowers: Camino Flower Shop
Favors: Charlie's mom, Nancy, took wine glasses and etched our love bird motif onto each one with the date of our wedding, in addition to some with a monogram, our initials, and the date. The photo booth also provided a photo strip as a favor to those who used it, in addition to providing us with the best guest book.
Bridal Attire: Dreamnette Bridal
Bridesmaids' Attire: Three of my five bridesmaids purchased their dresses from David's Bridal. The two others found their dresses online, one at Nordstroms and the other at Prom Girl. I wanted the ladies to be in different hues of blue and different styles of dresses. They looked so beautiful.
Hair: Sarah Bailey (Binsfeld) from Be-You-tiful Salon
Make-up: Brittany Nichole Sieben
Invitations: Purchased the stationary at Michael's and designed/printed myself.
DJ/Entertainment/Band: DJ Krave Deez Beats
Photo Booth: Temple Photography
Lighting: Simple Country Weddings & Vintage Décor Rentals
Décor Rentals: Provided by the Bride and Groom
Furniture and Linen Rentals: America's Party Rental
Other Rentals: The dance floor was rented through Party Royale. Our chandelier was rented through Chandelier Girl.
Transportation: Galaxy Limousine
Honeymoon Location: Kauai, HI
Any other of your wedding vendor(s) you'd like to call out that we missed in the above questions? No other vendors, just a huge thank you to our family who helped out financially and with food/beverages, and set-up/break-down of our decorations and venue. Thank you, thank you.
First Dance Song: "Hold Me, Thrill Me, Kiss Me" by She and Him
Any advice you'd give to our readers who are planning their weddings right now? Relax and enjoy your engagement. This is the fun time to plan the wedding you want. Take each day as it comes, try to enjoy each moment and not stress about it. In the end, it is all about you and your fiance…don't let anyone else get the best of you. It's your wedding. Take suggestions and opinions, but when the decision comes down to it, do what makes you happy. It is going to be your day. You want to remember it as being you two. Enjoy all of your engagement days! They go by way, way too fast.
Anything that you would have done differently if you were given the chance?
Choose your wedding party carefully. Surround yourself with friends/family that will be there to help you out and who want to celebrate with you.
I wouldn't try to do so many DIY projects. With any that are chosen, plan ahead so that you won't be stressing out the day before.
Seating arrangements go out the door on the day of, people will move around and sit where they want unless you have people there to tell them not too. I wouldn't waste too much time figuring out the perfect seating arrangement.
I let my girls get ready before me, so in the end I was stressing out about finishing my hair and putting on my dress. I think my sister and I were putting my shoes on 30 minutes past when we were supposed to get there. We ended up being 45 minutes late, some of which was because the limo overheated. Try not to stress about the small things and take care of yourself first. This is one of the only days where you are the main focus.

Blog post by Real Weddings Magazine's Social Media Maven, Aimee Carroll.
Photos courtesy of and copyright Lixxim Photography.
Subscribe to the Real Weddings Magazine Blog! Click here: [subscribe2]