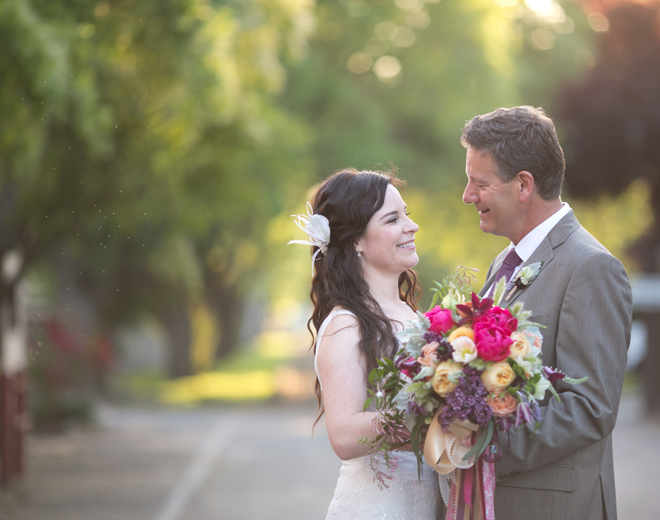 The Couple: Rebecca & Nick
Wedding Date: April 27, 2013
Photography by Nicole Cook Photography 
Tell us a little about you and your beloved: The proposal was a complete surprise. Nick had a weekend getaway planned, and without telling me made reservations at our favorite bed and breakfast, Black Bear Inn in Arnold. The owners Bruce and Wendi helped Nick pull it all off.
When we arrived we had a glass of wine and visited with them before they showed us to our room. It was there that I found two front row center tickets to my favorite country music artist who was performing Saturday night. Honestly, I thought that was the big surprise and reason for that weekend getaway. It was the next morning after breakfast when Bruce brought over what I thought was more fresh warm pastries but when he set the plate down in front of me I saw a perfect little blue cake, shaped like a Tiffany box with a beautiful ring in the middle and a little note at the bottom that read "Will you marry me?" Nick got down on one knee and you know my answer!
What was the most amazing part of your day? Of course the entire day was amazing and we were so fortunate that everything went as planned. If we had to pick one part that stood out it would be the first dance as husband and wife. It felt like it was just Nick and I in the room, the music was beautiful and reality had caught up with us…we were finally married!
What else would you like to share about your big day? I would like to share a special idea that I had read about and that I did before my wedding. I wrote letters to Nick, my dad Fred and my step dad John, thanking them and telling them how much they mean to me and how special it was for them to be in my life and part of the wedding. I hid the letters inside their suit pockets the night before. They found them the next day while they were getting ready.
Also, since we had a lot of guests traveling to us we wanted to spend as much time with them as possible. We arranged a casual outdoor taco bar at our house for when guests arrived in town on that Friday night. While the few of us in the wedding took an hour to rehearse at the winery my aunt helped the caterers with anything they needed. West Coast Events went above and beyond and ended the evening with warm churros. It was so nice to visit with everyone the night before and not have to worry about clean up!
Ceremony and Reception Site: Frasinetti's Winery. This is a small family operated winery and just a few miles from our house. We had the ceremony outside in the courtyard and immediately after the ceremony they opened up the wine tasting room with appetizers for our guests while we finished up a few family photos. this way people can eat what they wanted and as much as they wanted.
A tip from our married friends, "Have someone make you a dinner plate that you can take home." Great advice! We served ourselves but did not eat much because we were visiting with everyone. At the end of the night, when it was all over we were hungry and were able to have a nice quiet dinner out of take-out boxes.
Ceremony Musicians: The most amazing gift was from my Aunt Diana and Sean Michael Clegg, they offered for Sean to play at our wedding! This guy is a music genius! He entertained our family and friends with acoustic guitar while they found their seats outside in the small courtyard. When my dad walked me down the aisle Sean played an Irish wedding march (that he suggested and we fell in love with). He also added a unique touch when he later played and sang our first dance song, "Marry Me" by Train. It was perfect! It was so very special to Nick and I. We will never forget that moment.
Officiant: We had the honor of my second dad (step-dad), John Eschardies, perform the ceremony that Nick and I wrote together.
Photographer: Nicole Cook Photography. I cannot thank her enough! Very talented, extremely knowledgeable and makes you feel comfortable when being photographed. When setting up an appointment to meet with her SHE suggested we meet at the winery, over an hour drive for her, so she can get a feel of the venue and lighting. Not being a photographer, I would not have given this a second thought and it also helped nailing down the timing of our wedding schedule.
Another thing I want to share is Nick and I were adamant about not seeing each other before the ceremony…until we met with Nicole. She suggested First Look Photos. We had no idea what this was until she told us and we read up on it. After she explained that the First Look Photos were before the ceremony, before our guests arrived and were just between Nick and I, we decided to change our mind and have her capture that personal quiet time. Not only did we have fun with it we got too take a lot of pictures around the winery. Taking our photos before did not take us away from our party for hours by waiting to take all of our pictures after the ceremony. We did take 30 minutes after the ceremony for our family pictures.
Cake/Desserts: We are ice cream fanatics, so when it came to dessert we wanted an ice cream sundae bar!  The hard part was picking the flavors. There is an amazing ice cream parlor here in town where we spent many nights sampling flavors. We ordered four 5-gallon tubs in strawberry, vanilla, chocolate and a vanilla cashew with raspberry ribbon that we labeled True Love. The ice cream was delivered in a small freezer cart and our brothers stepped in and scooped to order.
Flowers: Scarlett & Grace. It is simple, if you want AMAZING flowers contact Erin with Scarlett & Grace! Erin is naturally gifted and incredible to work with. We had taken her one picture of a mixed bouquet that we were inspired by and Erin took it to an entirely different level.
The fact is Nick and I know nothing about flowers or what would be in bloom in April. We gave Erin our wish list and she took it from there. We could not have been happier.
Another special added touch came from my mom and Aunt Laurie. They had made memory charms, little framed pictures of family who have passed. Erin tucked them into my bouquet so they were there close to me. Honestly, you cannot order arrangements like these from the florist down the street. Erin's designs are unique and truly artistic.
A fabulous idea Erin suggested (and apparently everyone is doing now) is ordering a "Toss Bouquet" so you get to keep your bouquet!
Favors: Another fun project were our favors! Nick and I made wooden gift tags with a caricature drawing of us, our names, date and added, "Love is Sweet" at the top. We tied them to a clear bag with our favorite cookie that we ordered and had shipped frozen to us 2 weeks before the wedding. We put them together a week before and put them back in the freezer until the day of, then Nick placed one on everyone's plate. These were some serious gourmet cookies, they each weighed a half-pound.
Bridal Attire: David's Bridal. An Oleg Cassini A-line beaded lace dress.
Bridesmaids' Attire: Because this was a very small, intimate wedding, and because we have a lot of close family and friends we decided not to have an actual wedding party. We kept it simple and made it feel like they were all very much a part of the wedding. We did ask our brothers to seat our parents and grandparents.
Hair: Hana. Initially, I was thinking to have my hair up but when I asked a few friends and family for their ideas or opinion, they said to leave it down. My aunt said without hesitation, "You have long hair, leave it down." Hana came highly recommended and after a trial run we decided on leaving it down. I made a little feather clip to pull back one side. This style gave it a soft dreamlike look that fit the mood. Hana also cut Nick's hair a couple weeks before the wedding and styled his hair the day of.
Make-up: Shana Beals Makeup Artistry & Skin Studio did airbrush make-up for me! I had never had my makeup airbrushed before but a good friend who was married the year before recommended Shana Beals Makeup Artistry & Skin Studio. My photographer suggested we schedule my final makeup trial the day of engagement photos. This was a great idea because I was able to see how it would photograph. Shana was great and came out to the house the morning of to do my make-up. She is very personable and a true artist.
Invitations: I had a certain look in mind and wanted something personal and unique to us and our wedding, so we made our own invitations. I decided on a tri-fold with a little caricature painting of Nick and I on the first page and that opened up to panorama painting of the winery. The insert matched and had all the information for the wedding and detail to the Friday dinner that everyone was invited to the night before.
Signage: Scarlett & Grace does more than flowers, she had very cute vintage signs we used for the wedding site and reception. She also had given me some other ideas! Nick and I made an ice cream board for our ice cream sundae bar listing our flavors (using chalkboard paint, chalk and an old picture frame) and stenciled our last name on the flower boxes we were using as centerpieces.
DJ/Entertainment/Band: Full Throttle. We were looking for a DJ that was professional, friendly and easy to work with and that's exactly what we got. Joe, with Full Throttle in Elk Grove, was perfect! What I did not realize is not only are the DJ's handling the music but they are also keeping the flow of the wedding and events in order and on time. I never had to ask what time it was or what to do next. Joe had complete control of the reception and did a fantastic job.
Furniture Rentals: Frasinetti's Winery. All rentals were included in the rental of the facility. This made it incredibly easy. We just paid a small fee and requested ivory linens to lighten up the room.
Honeymoon Location: The Caribbean. We booked a 7-night cruise for the following weekend so we could relax had have more time to visit with guests who traveled to see us.
Any other of your wedding vendor(s) you'd like to call out that we missed in the above questions? I just want to thank our friends and family for all of their help, love and support.
First Dance Song: "Marry Me" by Train, performed acoustically by Sean Michael Clegg.
Any advice you'd give to our readers who are planning their weddings right now? Take your time when researching your vendors. This is why you start planning a year in advance…you will be surprised how fast this time goes by. We went online and found our flower designer and photographer that shared our style and look we were going for, then set up times to meet them. We were very blessed because not only were they very nice but they were incredibly talented. Give them your ideas and then listen to what ideas they might have. Yes, it is your wedding but they are the professionals. You do not have to agree with every idea but together you can brainstorm and deliver more than imagined.
Anything that you would have done differently if you were given the chance? I think we would have ordered the final photo book from the photographer. The package we picked came with an engagement setting and all the photos. My plan was to put together our wedding album but that has been very time consuming. So even if you plan to put your own album together later, order the professional book if offered.

Blog post by Real Weddings Magazine's Social Media Maven, Aimee Carroll.
Photos courtesy of and copyright Nicole Cook Photography.
Subscribe to the Real Weddings Magazine Blog! Click here: [subscribe2]