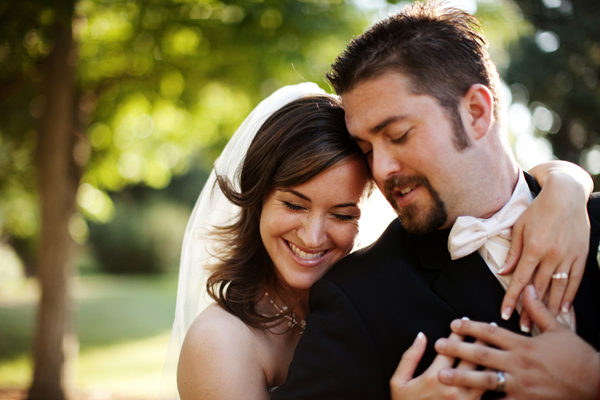 The Couple:  Teresa and Michael Enrico
Wedding Date:  June 25, 2010
Photography by Jacqueline Photography
Tell us a little about you and your husband:  We met while at Sacramento State.  He was studying to become an accountant and I was studying to become a teacher. Mike is my best friend, and we love being with each other. We are very active outdoors people. Snowboarding, softball, camping, hiking, wake boarding and biking are some of the things we like to do together. He is now an accountant and I'm now a teacher.
What was the most amazing part of your day?  It is too hard to pinpoint one moment. There are so many moments that were amazing. It was a wondering feeling to be finally united with my love and celebrating with our friends and family.
What else would you like to share about your big day?  The entire morning and afternoon dragged on for what seemed forever. I just couldn't wait to get to the church and be with Mike. Getting ready and taking pictures was fun and exciting, but it was also in slow motion. After the ceremony, it felt like everything sped up to hyper speed. There was so much to do and so many people to talk with, it was like being in a whirlwind.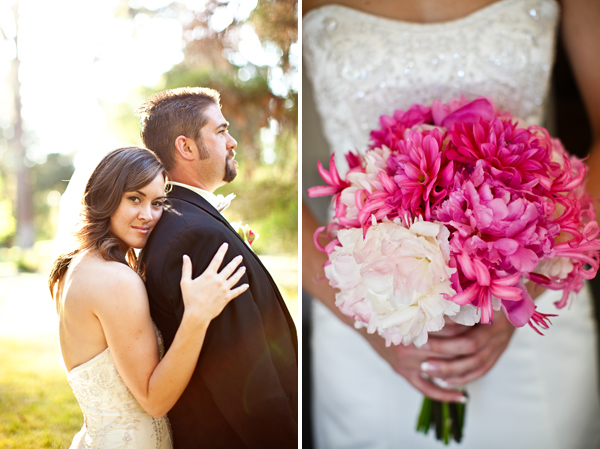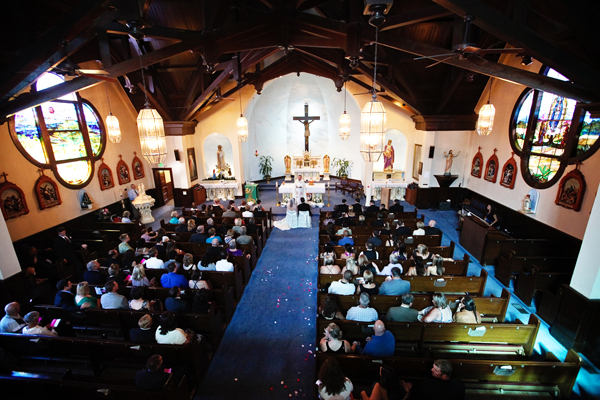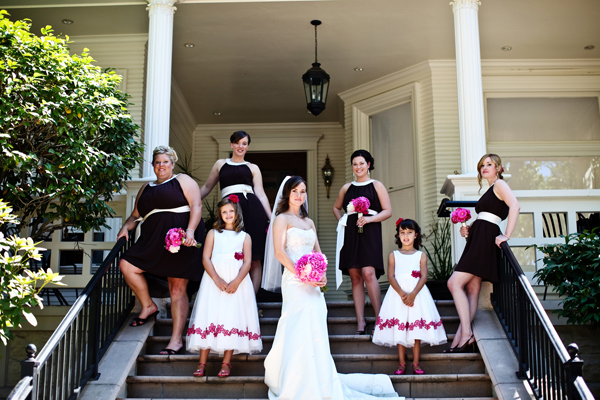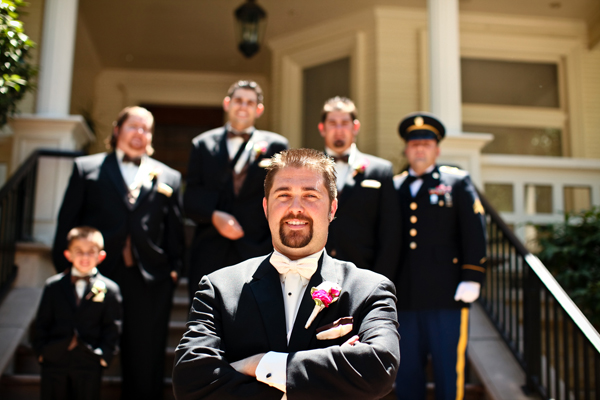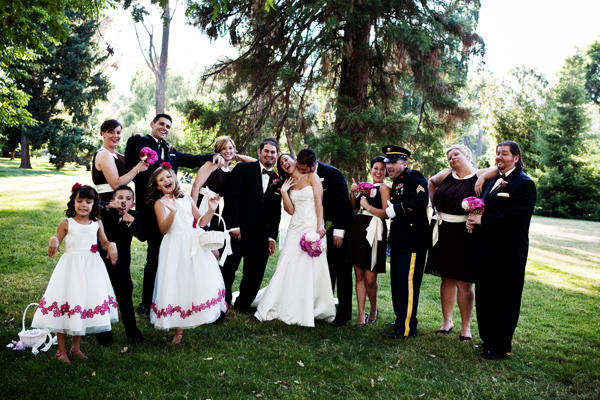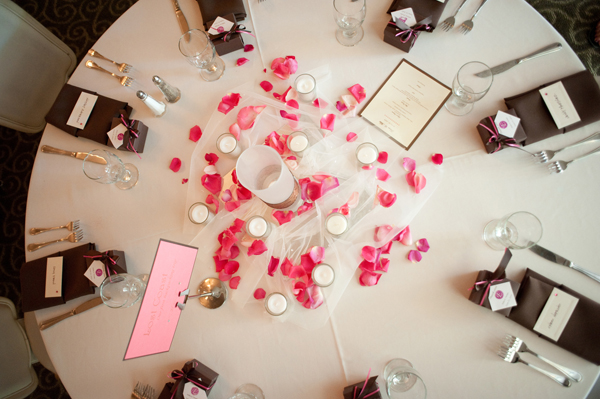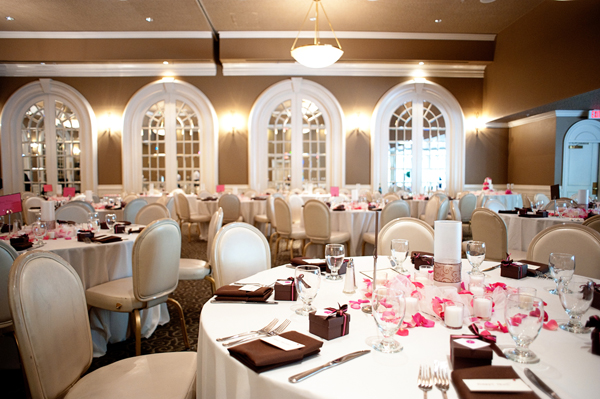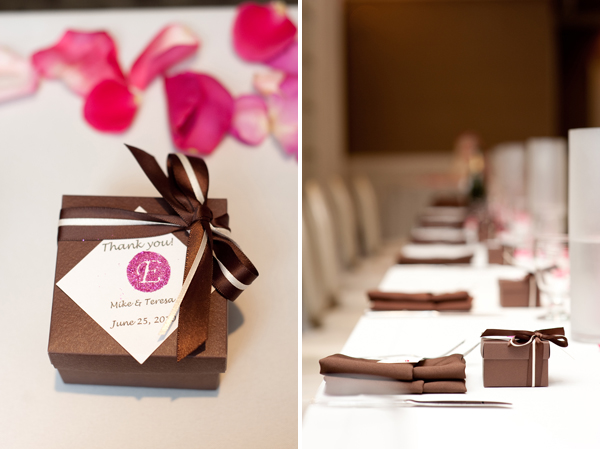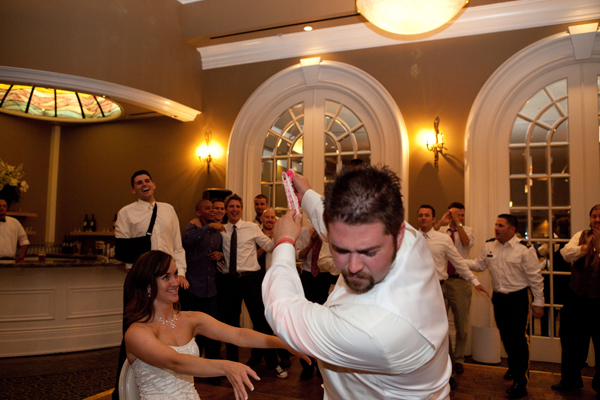 Ceremony Site:  St. Elizabeth's Catholic Church.  It's a small little church with a lot of personality. Very intricate woodwork and stain glass windows.
Reception Venue:  The Sterling Hotel. A great victorian hotel, beautiful ballroom and amazing bedrooms!
Photographer:  Jacqueline Photography. She is extremely talented and versitile. She did our engagement photos, a boudoir session as a wedding present to my husband and our wedding photos. Everything she takes is amazing, and you'll have a hard time choosing which ones you want.
Wedding Planner:  Plantium Planning. Amber is a life saver! When the Sterling had said they might close months before my wedding, she found many other locations that would have worked out perfectly. She helped plan all the details and kept me on track with what needs to be taken care each month. She knows many amazing vendors, and I could go on and on about her.
Caterer:  Hannibal's Catering
Cake:  Village Cake Shoppe. The cake was delicious and moist. Patrick is very talented!
Flowers:  Visual Impact Design. Beautiful flowers, the girls that work here are great! They have many good ideas and are extremely helpful.
Favors:  Little boxes filled with salt water taffy in our wedding colors.
Wedding Dress:  La Soie Bridal (formerally Bella Donna Bridal).  I love my dress! It's ivory, strapless, trumpet, with a sparkly design on the bodice which is mirrored on the train.
Bridesmaid Dressess:  Diamond Bridal Gallery.  We went to about five shops and couldn't find anything. Here we found bridesmaids dresses that were very cute.
Hair:  Jessica from Spanish Hair Fly Garage. She has a lot of experience and did a beautiful job with my hair and many other women in my bridal party.
Makeup:  Breanna Morris of JillyBreez salon.  She does a great job of making you look gorgeous without caking on the makeup. It's still you under all of it.
Invitations:  My wedding planner helped me pick these out, I can't remember it's name, but they turned out wonderfully.
DJ/Entertainment/Band:  Exquisite Events and Entertainment. Sonny Gallardo is amazing and I highly recommend him. I've been to weddings where the DJ runs the show and it's all about him instead of the couple. Sonny does a great job of giving individualized introductions, and has the night flow so smoothly and effortlessly. He really works with you to make sure your night is one to remember for all the right reasons.
Honeymoon location:  St. Lucia at a Sandals resort in the Southern Caribbean. It was amazing and I highly recommend an all inclusive resort for a honeymoon! After all the work that you've put into planning your wedding, you deserve to be spoiled and pampered
First Dance Song:  "I Get a Kick Out of You" by Frank Sinatra.
Any advice you'd give to our readers who are planning their weddings right now?  Make sure you taste everything you want to serve. I made the mistake of serving bruchetta thinking how could anyone screw that up, and it turned out aweful and no one ate it. Also, make sure your bartenders know how to work a keg and count bottles of wine. All my guests were sufficiently serviced, but when there is plenty of alcohol to drink and the bartender tells you they're out, that's not ok.
Anything that you would have done differently if you were given the chance?  I wouldn't stress out as much. Everything will turn out wonderfully, and there is no reason to give yourself a heart attack about bows not being tied right or any of the other details.
Photo courtesy of Jacqueline Photography.
Do you have the new Real Weddings Magazine iPhone and iPad App?
Download it from the Apple App Store Today: REAL WEDDINGS MAGAZINE!
---
---
Looking for local Sacramento wedding vendors?
---
Subscribe to the Real Weddings Magazine Blog!