Reminder for Bridal Expo on Sunday, February 16, from 1-5 p.m. at @theGrounds in Roseville! Will you be joining us?
Stop by this great event for your FREE copy of Real Weddings Magazine and our planning resource, Real Weddings Magazine's The Planning Guide! Plus, enter to win $100 to Fat's Asia Bistro from our booth at this show!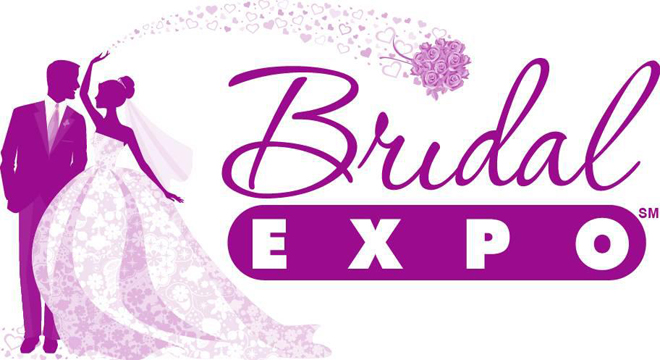 Here are the details:
When: SUNDAY, February 16, 2020
Time: 1-5 p.m.
Where: theGrounds at 800 All-America Blvd., Roseville, California 95678
Cost: Admission is $10 online, $20 at the door.  Parking is $10 per car.  If you prefer to buy at the door, but would like a discount, pre-register for a $5 coupon on the website where it reads coupon.
What you'll experience: 
Thinking about your wedding? 2020 will be a great year for weddings as you can "See Clearly" the date you want. Let us assist you with the top 5 things you need the most.
1. The Venue – Inside? Outside? A castle? A park? Wherever you dream of your wedding, we can assist.
2. The Photographer – the better ones get booked quickly find them here.
3. The Wedding Gown – you really need to order this item in advance. Especially if it is a designer gown.
4. The DJ – Here is your chance to meet them face-to-face.
5.  Decor, Design, Coordination – The basics to your wedding can be found at Bridal Expo.
You'll have time to talk to the professionals and get answers to your questions. (They will even answer the questions you do not know to ask.)
If you're in the early stages of planning your wedding, this is the place to get ideas and book the professionals you want.  If you're in the late stages of planning your wedding, this is where you can find those last-minute services that you need (and maybe forgot to book sooner).
We have several great door prizes – including honeymoon stays in Mexico and Italy.
Weddings require lots of people to work together, many of our exhibitors are members of the Association for Wedding Professionals Int'l and will follow their code of ethics. see http://afwpi.com/code.html
For more information, log on to bridal-expos.com.
Be sure to tell them you found out about the event from Real Weddings Magazine!
Hope to see you there!
Photo courtesy of Bridal Expo.
---
BRIDAL SHOW TIPS!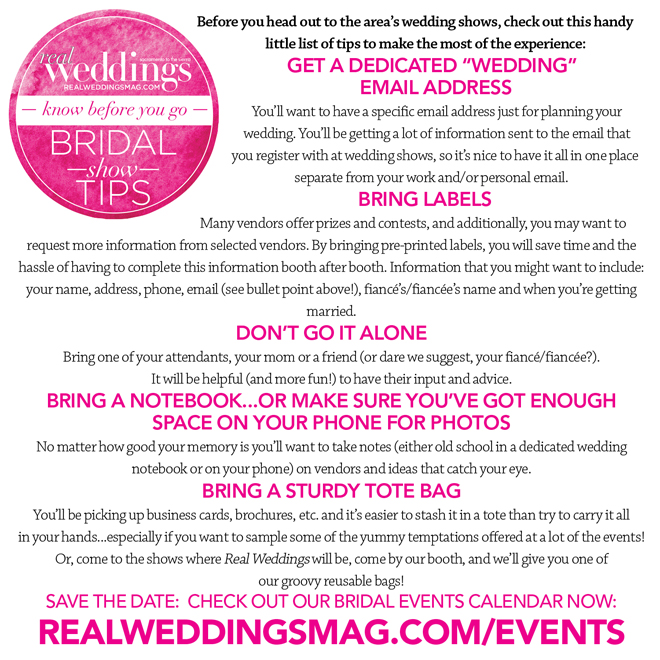 Before you head out to the area's wedding and bridal show event and venue open houses, check out this handy little list of tips to make the most of the experience:
Create a "wedding" only email— you'll want to have a specific email address just for your wedding business. You'll be getting a lot of information sent to the email that you register with at bridal shows, so it's nice to have it all in one place separate from your work and/or personal email.
Don't go it alone—bring a bridesmaid, your mom or a friend (or dare we suggest, your fiancé?). It will be helpful (and more fun!) to have their input and advice.
Bring labels—many vendors offer prizes and contests, and additionally, you may want to request more information from selected vendors. By bringing pre-printed labels, you will save time and the hassle of having to complete this information booth after booth. Information that you might want to include: your name, address, phone, email, fiancé's name and when you're getting married.
Bring a notebook or make sure you've got enough space on your phone for photos—no matter how good your memory is, you'll want to take some notes (either old school in a dedicated wedding notebook or on your phone) on vendors and ideas that catch your eye.
Bring a sturdy tote bag—you'll be picking up business cards, brochures, etc. Or, come to the shows where Real Weddings Magazine will be and we'll give you one of our groovy reusable bags!
---