It's no secret that planning a wedding is a big commitment, and takes lots of time, energy, money, resources and preparation. It's also no secret that planning your dream wedding can try your patience, strain your relationships with family members and future in-law's as you work to meet their expectations, and take a toll on you emotionally and physically too.
Wouldn't it be amazing if you were able to be a Blissful Bride and not endure this unnecessary suffering and stress that often comes while planning your wedding?!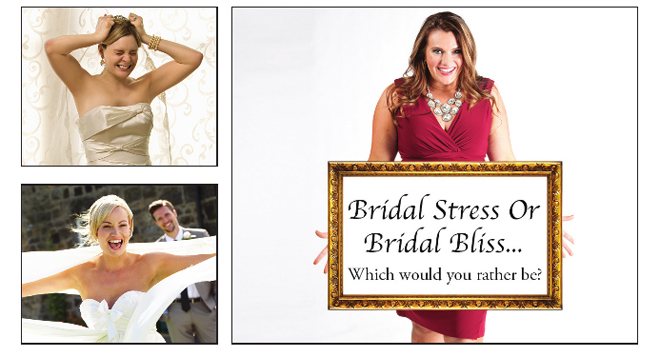 Jennifer Gilchrist The Blissful Bride Coach would love to support you in having your entire wedding experience – from your Engagement to the Big Day – be a dream come true by helping you feel like a Blissful Bride!  Below are her top 5 tips for feeling Blissful throughout your engagement!
Bliss Tip 1: When planning your wedding, make self-care a priority! If you don't, you will be a ball of stress and unable to enjoy anything….which often leads to weight gain, break outs, anxiety and lack of energy! Balance is the key to making clear decisions and enjoying what I know you want to be the happiest time of your life. Planning your dream day, which ultimately is setting the tone for your next chapter in life, is a huge deal, and self care needs to be part of the process!
Bliss Tip 2: Be prepared to stand up for what you want! Brides often cave to others expectations and demands because they want to avoid drama and keep the peace. Be sure to stand up for what you want when planning your dream wedding. If you don't stand up for what you want, you're going to end up spending a lot of money planning someone else's dream wedding.
Bliss Tip 3: Know what you're not willing to compromise on! When it comes to planning your own dream wedding, write down your most important desires (your non-negotiables) and write down one action step you can take to ensure that you'll not compromise on this.
Bliss Tip 4: Know what to do to relieve stress when it starts to show up! I've noticed it is an accepted belief to most brides that when you are planning your wedding it is inevitable that you will have meltdowns and be totally stressed out!  The truth is, meltdowns can be avoided if you change your pattern. Journaling can be a great way to prevent bridal meltdowns.
Take a minute and think of a time when you were cranky, irritated or angry. Journal answers to these questions. How did that make you feel? Really get to the feeling place (not the specific situation). What is the core issue that is triggering these feelings? What would be the most empowering response here? If there is something to take action on, write that down so you can begin to deal with it.
Bliss Tip 5: Ask for help! A big problem I see is that brides often feel they can't ask for help.  That can look like micromanaging others out of fear "others will mess it up and not do it right?"  Truth is there is way too much to do on your own. It is absolutely vital to get the support you need!
To get started, think of 3 things you didn't have to deal with by yourself. What are 3 things you know you need support with? What is really causing you angst and keeping you up at night?  Now, make  a list of the things that came up for you and circle your top stressor. Write down who or what you need to get support with on this and then ask for it.
Did you find these 5 Blissful Bride Tips helpful? Comment below with the tips you plan to start using throughout your wedding planning experience.
Want more Bridal Bliss? Be sure to grab your complimentary Stress-Less Bridal Kit NOW available at www.Jennifer-Gilchrist.com.

Do you want a chance to work one-on-one with Jennifer Gilchrist? Enter the Blissful Bride Contest! Hurry, the deadline is coming up soon on March 30th!
Real Weddings Magazine and Jennifer Gilchrist The Blissful Bride Coach, are thrilled to offer this special contest exclusively for local Real Weddings readers with a fabulous prize package valued at $2,997!
One lucky couple will be chosen to work with Jennifer Gilchrist The Blissful Bride Coach throughout their wedding planning experience, and their Blissful Bride journey will be shared with the Real Weddings Magazine community.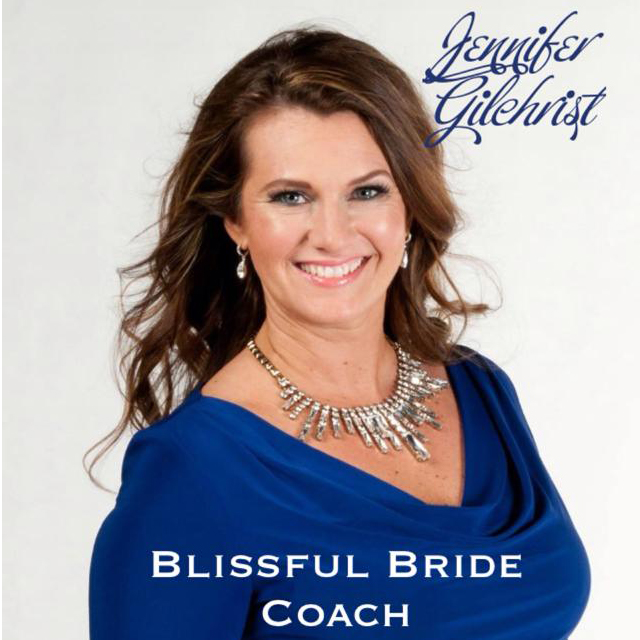 The winning prize package includes:
Blissful Bride Coaching Package. {Module 1 – Blissful Breakthrough} Take a look at what's causing you stress and find out what's in between you and your dream wedding. {Module 2 – Blissful Clarity} Get crystal clear on what YOUR dream wedding looks like so that a plan can be created that supports you in having it. {Module 3 – Blissful Resourcing} Review your hair and make-up vision, learn how to create a balanced self-care schedule in which you are making time for your wedding , play, workouts, etc., hiring a support team of professionals, and creating a family and friends plan that supports you. {Module 4 – Blissful Bridal Plan} Create your Blissful Bridal Plan, including your Wedding Week Bliss Plan, your Wedding Day Bridal Bliss Plan, building your Day-Of support team and a photography plan so you can embody radiance in your photos. {Module 5 – Blissful Life}
Follow up after wedding to set the tone for your success in your marriage as you begin a new chapter in your life.
(8) 60 minute 1-on-1 coaching sessions with Jennifer Gilchrist The Blissful Bride Coach.
(8) guided healing meditations downloads to support you throughout our coaching sessions and beyond.
Topics include: Clarity of Vision, Clear loving communication with others, Bringing in more peace, Letting go of worry, Good nights sleep, Day of Wedding Intention Setting, and Releasing Stress from body.
Training series teaching you easy mediation tools and intention setting.
(4) 15 minute SOS laser coaching calls to be used anytime though out your engagement when you need a little support.
From Bridal Stress to Bridal Bliss 2 part Audio Training Download.
– Call 1: "4 Secrets to Avoiding Massive Meltdowns While Planning the Wedding of YOUR Dreams"
– Call 2: "How to Make Every Moment of Your Wedding Day Blissful"
Total Value of Prize: $2,997
DEADLINE TO RECEIVE ENTRIES IS MARCH 30, 2015. PLEASE EMAIL YOUR COMPLETED APPLICATION, ALONG WITH ONE PHOTO OF YOU AS A COUPLE TO: Contest@Jennifer-Gilchrist.com OR MAIL APPLICATION TO ADDRESS LISTED ON APPLICATION. ANY ENTRIES RECEIVED AFTER MARCH 30, 2015 WILL NOT BE ACCEPTED.
Doesn't this sound amazing? Who wants to win?
For more information about Jennifer Gilchrist The Blissful Bride Coach, log on to Jennifer-Gilchrist.com.
Also, make sure to follow Jennifer Gilchrist The Blissful Bride Coach on Facebook HERE, Twitter HERE, Pinterest HERE, YouTube HERE, LinkedIn HERE and Google+ HERE.
Photos and information courtesy of Jennifer Gilchrist The Blissful Bride Coach.
Subscribe to the Real Weddings Magazine Blog! Click here:
[subscribe2]