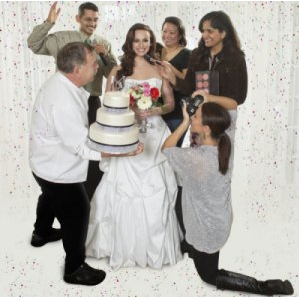 Happy holiday weekend, Real Weddings readers! How would you like to attend a bridal show that puts YOU in the "driver's" seat? Take a break from shopping and join us for the Reverse Bridal Expo THIS Sunday, November 29th, from 10 a.m. to 5 p.m.!
Stop by this great event for your FREE copy of Real Weddings Magazine and enter to win $50 to The Firehouse Restaurant from our booth at this show!
Here are the details:
When: Sunday, November 29, 2015
Time: 10 a.m.-5 p.m.
Where: The Falls Event Center at 8280 Elk Grove Blvd. in Elk Grove
Cost: Register for free HERE.

A Note from the Show Producer: One of the challenges a bride has is you do not know what may be the norm for a wedding like when to order the gown, how far in advance to book the venue or photographer. This is just one of the reasons for developing this unique bridal show.
If you are planning the wedding you will be making appointments with the professionals you may be interested in knowing more about. In most cases several in the same category. When you register you will be asked to mark services you are interested in. You will be able to view the professionals bios giving you more information.
We will have refreshments, a fashion show is scheduled plus some exhibit tables. We ask you to keep all your appointments. A few of the appointments will be by the professionals. When you do keep your appointments you will be given your registration fee back.
You will also receive a gift card for a Free ready-to-hang glass/acrylic Custom print (a $200 value), just for registering online or at the show! The print is by Impressions, compliments of SymbolizeIt.com.
For more information, log on to reversebridalexpo.com.
Be sure to tell them you found out about the event from Real Weddings Magazine!
Hope to see you there!
Photo courtesy of Reverse Bridal Expo.
---
BRIDAL SHOW TIPS!
Before you head out to the area's bridal shows, check out this handy little list of tips to make the most of the experience:
Create a "wedding" only email— you'll want to have a specific email address just for your wedding business. You'll be getting a lot of information sent to the email that you register with at bridal shows, so it's nice to have it all in one place separate from your work and/or personal email.
Don't go it alone—bring a bridesmaid, your mom or a friend (or dare we suggest, your fiancé?). It will be helpful (and more fun!) to have their input and advice.
Bring labels—many vendors offer prizes and contests, and additionally, you may want to request more information from selected vendors. By bringing pre-printed labels, you will save time and the hassle of having to complete this information booth after booth. Information that you might want to include: your name, address, phone, email, fiancé's name and when you're getting married.
Bring a notebook—no matter how good your memory is, you'll want to take some notes on vendors and ideas that catch your eye.
Bring a sturdy tote bag—you'll be picking up business cards, brochures, etc. Or, come to the shows where Real Weddings Magazine will be and we'll give you one of our groovy reusable bags!
---
Blog post by Real Weddings Magazine's Social Media Maven, Aimee Carroll.
Subscribe to the Real Weddings Magazine Blog! Click here:
[subscribe2]