Don't miss the Grass Valley Wedding Fair, A Wedding Affair for All Seasons, at the Nevada County Fairgrounds in Grass Valley on Sunday, January 24th!
Stop by this great event for your FREE copy of Real Weddings Magazine and our planning resource, Real Weddings Magazine's The Planning Guide!
Plus, enter to win a $100 gift certificate to Time Out Resort & Spa from our booth at this event.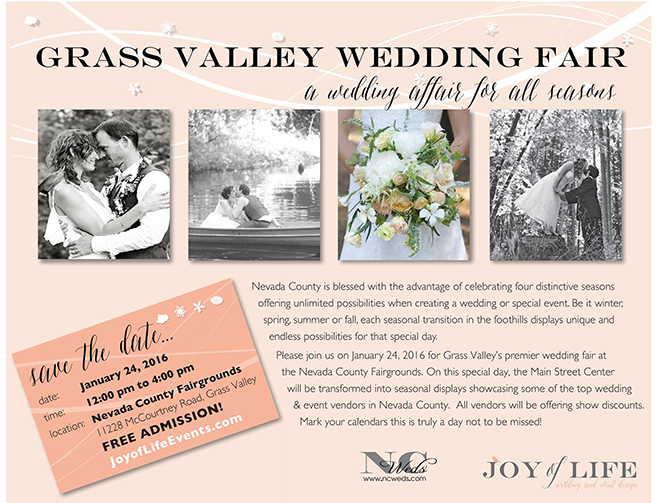 Here are the details:
Date: January 24, 2016
Time: 12-4 p.m.
Where: Nevada County Fairgrounds at 11228 McCourtney Road in Grass Valley
Cost: Admission is free!
About: Nevada County is blessed with the advantage of celebrating four distinct seasons, offering unlimited possibilities when creating a wedding or special event. Be it winter, spring, summer, or fall, each seasonal transition in the foothills displays unique and endless possibilities for that special day.
Planning a wedding or special event? Please join us for on Sunday January 24, 2016 for Grass Valley's Premier Wedding Fair produced by Joy of Life Events at the Nevada County Fairgrounds.
On this special day, the Main Street Center will be transformed showcasing some of the top wedding and event vendors in Nevada County. The Grass Valley Wedding Fair is returning to its original location at The Nevada County Fairgrounds after 30 years! Mark your calendars, this is truly a day not to be missed!
Find everything you need in one relaxed atmosphere. Wedding shows are a great way to meet wedding vendors that will work to achieve the goals you have set for your wedding day as well as a great way to compare services, styles, and prices.
For more information, log on to joyoflifeevents.com.
Be sure to tell them you found out about the event from Real Weddings Magazine!
Hope to see you there!
Photo courtesy of Grass Valley Wedding Fair.
Blog post by Real Weddings Magazine's Social Media Maven, Aimee Carroll.
Subscribe to the Real Weddings Magazine Blog! Click here:
[subscribe2]