Don't miss the Old Sugar Mill Wedding Showcase on April 19th from 6-9 p.m. at Old Sugar Mill in Clarksburg.
Stop by this event for your FREE copy of Real Weddings Magazine and our planning resource, Real Weddings Magazine's The Planning Guide! Plus, enter to win a $100 gift certificate to The Firehouse Restaurant from our booth at this event!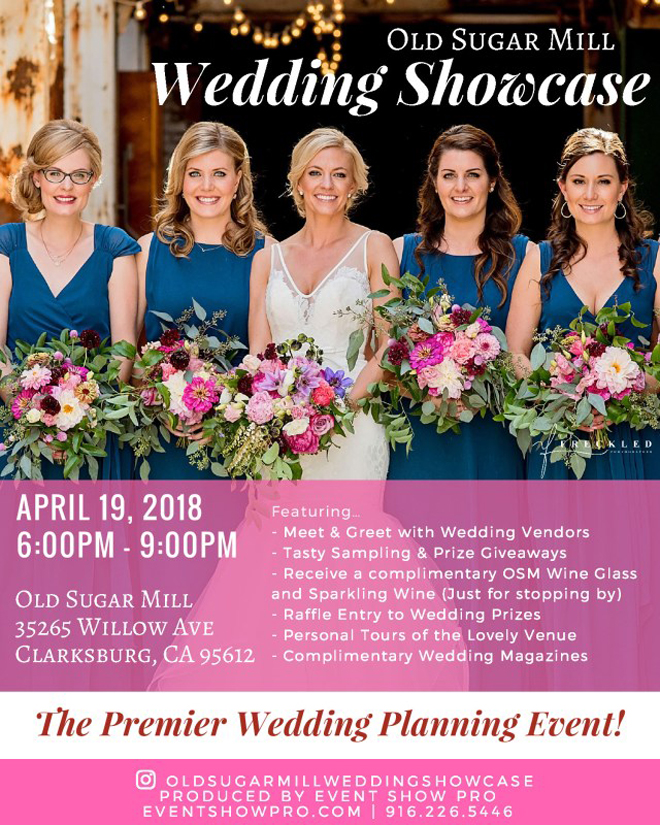 Here are the details:
When: April 19, 2018
Time: 6-9 p.m.
Where: Old Sugar Mill at 35265 Willow Avenue in Clarksburg.
About:
– Meet & Greet with Wedding Vendors
– Tasty Sampling & Prize Giveaways
– Receive a complimentary OSM Wine Glass and Sparkling Wine (Just for stopping by)
– Raffle Entry to Wedding Prizes
– Personal Tours of the Lovely Venue for the Wedding of Your Dreams
– Complimentary Wedding Magazines
Get tickets here:  http://eventshowpro.com/oldsugarmillweddingshowcase/
Follow the event on Facebook:  https://www.facebook.com/events/117991832251270/
Be sure to tell them you found out about the event from Real Weddings Magazine!
Hope to see you there!
Photo courtesy of The Freckled Photographer.
Blog post by Real Weddings Magazine's Social Media Maven, Aimee Carroll.
Subscribe to the Real Weddings Magazine Blog! Click here:
[subscribe2]