Have you ever wanted to gain a deeper knowledge of French food, wines, and cooking techniques? Then Stella's four part lunch-lecture series, "Culinary Tour de France," is for you! Join The Cedar House Sport Hotel in Truckee for this fabulous series!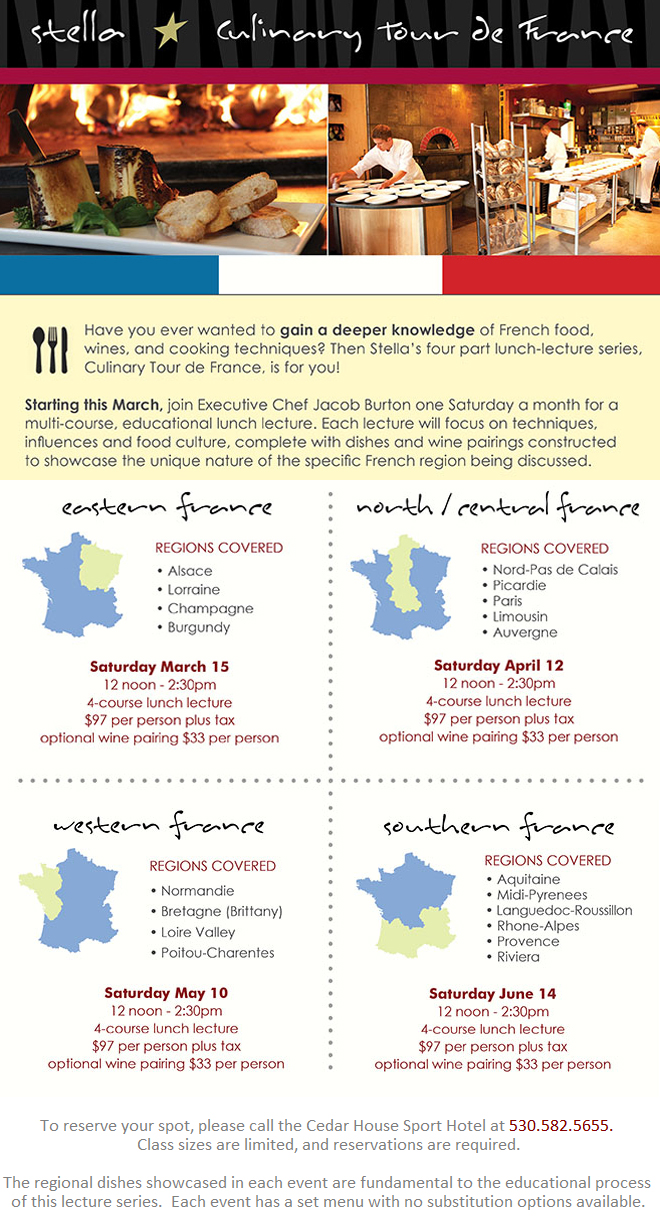 Join Executive Chef Jacob Burton one Saturday a month from March through June 2014 for a multi-course lunch lecture. Each lecture will focus on techniques, influences and food culture, complete with a dish and wine pairing constructed to showcase the unique nature of the specific French region being discussed.
March 15, 2014 – Eastern France: Alsace, Lorraine, Champagne, Burgundy, Franche Comte
April 12, 2014 – Northern and Central France: Nord Pas de Calais, Picardie, Paris, Limousin, Auvergne
May 10, 2014 – Western France: Normandy, Brittany, Loire Valley, Poistous Charente
June 14, 2014 – Southern France: Aquitaine, Midi Pyrenees, Languedoc Roussillon, Phone Alps, Provence, Riviera
The educational sessions take place from noon to 2:30 p.m. The cost is $97 per person (plus tax) and an additional $33 per person for wine pairing (per session).
For reservations contact The Cedar House Sport Hotel by phone (530) 582-5655 or email Stay@cedarhousesporthotel.com with "Culinary Tour De France" in the subject line.
For more information, please click here.
Be sure to tell them you found out about the event from Real Weddings Magazine!
Photo and blog post information courtesy of The Cedar House Sport Hotel. 
Blog post by Real Weddings Magazine's Social Media Maven, Aimee Carroll.
Subscribe to the Real Weddings Magazine Blog! Click here: [subscribe2]