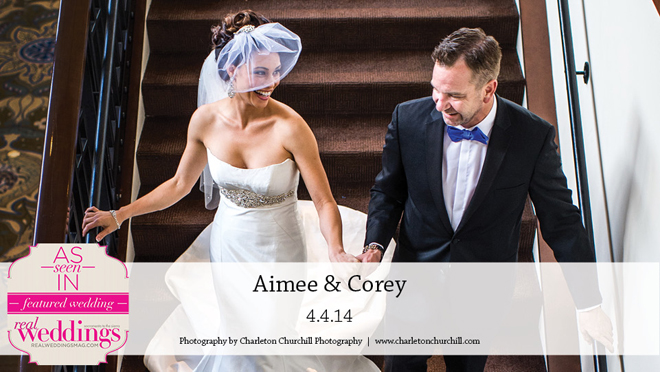 Aimee and Corey's history is a great example of the importance of timing. When they first met 15 years ago as coworkers at a gym, sparks didn't fly. Twelve years later, she walked into a yoga class he was teaching, and they connected on Facebook. At the time, however, they were both unavailable. Several months down the road, they connected once again—getting together for a few chats, which became a few dates, and eventually a lifelong love.
After Aimee's last semester at Sacramento State, Corey planned a weeklong Hawaiian getaway complete with paddleboarding and swimming with dolphins. Little did she know that he also planned a romantic sunset proposal, with the words "Will You?" carved into the sand, and him on one knee. "It was an unforgettable day. Just that afternoon, I had screamed to him and another paddleboarder [that] it was the best day ever because I got to swim with the dolphins and turtles, and I could die [happy] now," Aimee recalls.
The tone for their wedding echoed the style of his proposal: classic, timeless elegance. They both knew that they wanted the "wow" factor, and once Aimee found her '40s-inspired gown reminiscent of old Hollywood, they knew that The Sutter Club was the perfect backdrop for their celebration.
During the 10 months they spent planning, there were ups and downs. Aimee mentions particularly enjoying the shared adventure of visiting so many cool places with her future husband when they were scouting venues, and the singularly special experience of dress shopping with the important women in her life. Some of the not-so-glamorous moments involved budgeting woes and seating-chart complications. "Having a wedding planner was a gift to both Corey and [my own] sanity, and I'm sure prevented a few quarrels," Aimee says.
All of the creativity and effort from the happy couple, their wedding planner and vendors culminated in an elegant affair sprinkled with thoughtful personal touches that truly made the day their own. Among those unique flourishes was the fact that Corey's father acted as the officiant, and Aimee walked down the aisle to an instrumental version of a David Guetta song, rather than the traditional wedding march. Watching a slideshow Corey made turned out to be an especially poignant moment for the bride. "It was both of us growing up. He had put music to it and also included my family and my deceased sister Erin. I sobbed in my mom's arms for a minute," Aimee says.
There was a lot of love and emotion that evening in that hall," remembers the bride.
All of the emotional moments (Corey getting teary-eyed during the vows included), mixed with the timeless elegance of the ceremony and reception, leant the day an old-world luxe hue that would make even the most hopeless romantic swoon—a perfect way to celebrate this couple finding each other at just the right time.
—Jennifer Resnicke