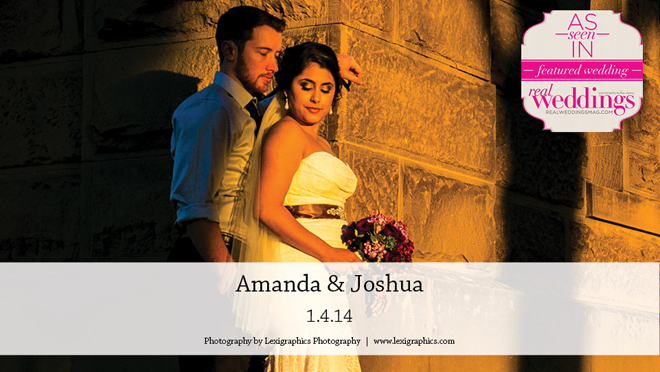 The transition from friends to fiancées was effortless for Amanda and Josh. After five years of building a solid foundation of trust, honesty and support for one another, love quickly followed. "She was breathtakingly beautiful and was warm and friendly, so of course I made it a point to not look at or talk to her," Josh jokes.
Though they never actually dated, the bond they shared was undeniable. "We were outside at a softball game one evening watching friends play, and I mentioned something kind of off-hand about having Queen's Greatest Hits album but not Classic Queen," Amanda says. "He ran to his truck, and returned with Classic Queen in hand. He's the Classic Queen to my Queen's Greatest Hits." For Josh, he cherishes the quiet moments he shared with Amanda as they got to know each other. "There were always little things that she got like nobody else, exchanged glances or moments that made it feel like everything good or funny was an inside joke just for the two of us," he says.
As their friendship grew, the idea of getting married was something they both wanted. "I knew we were going to get married, but hadn't picked a specific time frame in which to propose," Josh says. "She straight up asked when we were going to get around to it, so I did it right there, on the spot, in her car. I didn't have a ring, so I gave her the slice of pie I had with me." Adds Amanda, "He somehow got on one knee in the front seat of my Jetta and asked! Let's just say neither one of us started the day thinking we would be engaged by the end of it."
And so, the wedding planning commenced. Neither Josh nor Amanda had a dream wedding in mind, which gave room for discussions, compromises and hours on Pinterest. "We would sit on the couch and go through pictures on her laptop, sometimes for hours at a time. And even though she probably thinks I was mostly zoning out, I would imagine how it all would look when everything came together—minus the wedding dress…I was never allowed to see that!" he says.
Both the ceremony and reception were held at the Benicia Clock Tower. The couple liked the mix of rustic and chic and added their own DIY décor. The bride wore earrings her mother wore at her own wedding, as well as one of her mother's rings, covering the tradition of wearing something old and borrowed. Her dress covered new, and she skipped the addition of blue.
To this day, Josh still believes that the day wouldn't have been quite as special without their family and friends surrounding them.
"Walking outside together before anybody came out to join us, I remember feeling like we had really just started something big," the groom remembers.
As for advice for other soon-to-be newlyweds, Josh and Amanda say that you'll learn a lot about your relationship during your engagement. "Being married has definitely been better than being engaged, but having eight or nine months to plan allowed us to work together in a way we never had to before," Amanda says. "You learn about compromise, collaboration, patience, forgiveness. It was a learning experience that was really important for us to have."
—Kourtney Jason