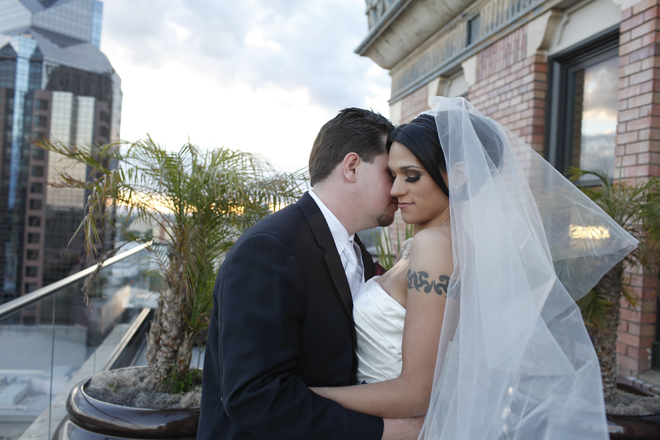 Some couples meet at bars or on blind dates, but Andrea and Chris can thank their kids for introducing them, literally. The two met at a preschool run by Chris's parents and soon enough they found themselves lingering just a little bit longer at drop-off. Chats turned into coffee dates, and the rest is history.
Ten months later, while on a vacation in Maui, the two hiked down to a majestic cliff. "It was really romantic, so secluded, you could here the waves crashing in the background," Andrea says. "I was at the end of the cliff, he could have pushed me off, but instead he gave me a ring!" she laughs.
The two envisioned an Asian-inspired theme and set about to create a Zen-like feeling through the decorations. One thousand and one paper cranes graced their ceremony and reception—symbolizing a future of prosperity and happiness. "With every design aspect, we wanted everything to have meaning behind it," she says. "Chris built the altar with a pagoda in mind—having the same architectural lines." The altar now stands in their backyard among bamboo that was also used in the centerpieces and along the aisles. The couple found their favors—fans, chopsticks and river rocks—during a romantic weekend away in San Francisco.
With the breathtaking Citizen Hotel as their location, they were able to combine the ceremony and reception into one for a seamless transition. Their pastor officiated, Chris's sister did a reading, and local musician Autumn Sky sang while playing guitar, which was beautiful, Andrea says. Hilarity ensued during the sand ceremony when they both went to pour black and red sands they had saved from their vacations in Hawaii; unfortunately, the black sand had not dried all the way, resulting in a hilarious episode of clumping rather than pouring, which they both took in stride.
Opting to do a first look before the ceremony, the two were able to enjoy the cocktail hour with their intimate group of friends and family. Earlier in the day, they had snuck off for a moment alone and to enjoy sandwiches at their favorite roast beef shop.
Post-ceremony, everyone enjoyed a delicious meal of sea bass and New York strip steak served by The Grange at The Citizen Hotel, and a red velvet cake by Ingrid Fraser Elegant Cakes. The rest of the night was one big party, with endearing toasts and some serious dancing, all topped off with some friends celebrating long into the night by heading to a nearby bar for one last toast.
Not ones to play it boring, the love birds took off for their honeymoon in Kauai and did everything from chartering a helicopter (with the doors off!) to touring the island by motorcycle to hiking to gorgeous waterfalls.
And while adventure calls sometimes, what the couple love most is spending time with their wonderful kids and riding bikes.