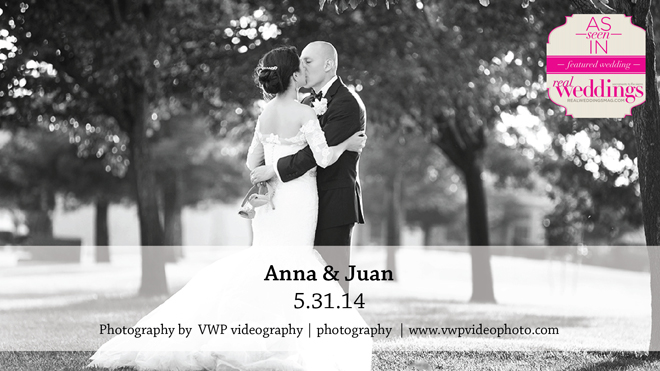 They lived miles apart and probably never would've crossed paths, but fate had a different plan for Anna and Juan. "Juan's brother was having dinner with my friend and invited us both [to come]," Anna recalls. It didn't take long for the match to be ignited. "I felt a connection the moment I took his hand, and Juan later said he instantly noticed my smile and felt a connection, too."
Anna, from a Romanian background and Juan, with Mexican heritage, soon found they balanced each other perfectly. "Ever since I've been with Juan, my parents have told me how calm I am," Anna explains. They quickly became a couple and one year later became engaged during a special dinner Juan had arranged aboard the Napa Valley Wine Train.
After searching for a perfect venue for their intimate wedding of 80 guests, they selected Wine & Roses Hotel, Restaurant and Spa. Finding the perfect dress for Anna, however, wasn't so easy. "That was definitely the hardest part," Anna says. "But when I finally found it and went back for the final fitting, and then tried it on, it was a very emotional moment."
The big day was filled with similar emotional moments, surrounded by their closest family and friends. The black and white palette with elegant gold accents featured the bride's three sisters as bridesmaids and the groom's three brothers as groomsmen. The pastor was a friend of Juan's and during the ceremony Juan's brother recited a meaningful scripture passage, I Corinthians 13:4-8, in both English and Spanish.
Being pronounced husband and wife, however, was the most memorable moment for the couple. Anna says, "To be able to share that moment with our closest family and friends will be a moment we remember for the rest of our lives. It was truly one of the most special days."
The reception that followed was exactly what the couple envisioned: small enough that they were able to speak with each guest personally and tell them how much it meant for them to be there. The three-tier cake adorned with gold and lace highlighted the sumptuous décor. "The cake by Freeport Bakery was amazing—they even added a lace pattern that matched my dress," Anna says.
Happy tears flowed at the heartfelt toasts made by Juan's best man and his brother Jesse, and Anna's maid of honor, her sister Becky—making the event extra special.
The couple had many memorable moments during the wedding, but when the photographer arranged for them to meet prior to the ceremony and Juan saw Anna for the first time, the look on his face was intimate and special. Anna recalls, "Those few quiet moments together were special to us, and really made us realize we were getting married!"
—Carrie Poggio