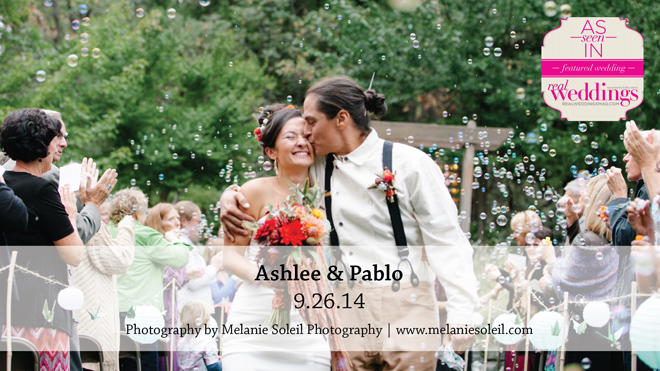 Talk about a dreamy romance. When Ashlee worked at a Chilean restaurant, Pablo and his mother came in one fine day. Ashlee happened to be their server and instantly felt nervous around Pablo's presence—spending the entire time ignoring him and talking to his mother! When Pablo came back to the restaurant a few weeks later, he left a note on the receipt saying he thought she was beautiful, and returned again to strike up a conversation with her about their dreams and goals.
Perhaps they'd known each other in a previous life, they mused. "How would you like to get to know each other in this life?" asked Pablo one time. A few weeks later, Ashlee was swept off her feet. "When he brought me a beautiful African basket filled with tomato starts, eggplant starts, purple iris' and red poppies from his garden, I fell in love as he walked through the door." The rest of their magical summer was spent staying up late, going to the river and sleeping under the stars.
While they sat on a marble seat watching the sun set during a hike to the Yuba River three years later, Pablo gave her a ring made of wild oats and asked her to marry him. She said yes, of course. For their Japanese-Mexican fusion wedding, Ashlee spent six months ordering papel de picardo flags, folding origami cranes with the help of friends and family, designing ceramic wabi sabi teacups for wedding favors and making seed bomb favors, among other things. For his part, Pablo rounded up kegs from Ol' Republic Brewery, and he and his best man made an arch for the ceremony, with redwood lumber from his friend's parents' old deck.
"Our vision was a colorful, festive and family-and-friend-inclusive celebration, created with beautiful decorations and ceremony, good food and beverages," Pablo says. With their vivid vision and rich, vibrant colors—including turquoise, poppy red and gold (the same colors that are on the cover of Ashlee's wedding journal)—the wedding was all that and more. "Our officiant and dear friend, Alan Haight, added a magical touch to the ceremony by incorporating a call and response with the guests to create the community vibe and feel we desired," says Ashlee. "It was amazing."
Local produce, sushi appetizers and organic chocolate cake made up the feast, while the celebrations consisted of the bridal party dancing to "Sugar Pie, Honey Bunch" and their parents dancing to "Guantanamera."
"In the end, the beauty of our wedding far exceeded my expectations; and to have our union be commemorated by such a memorable composition of many creative, collaborative and generous people…is priceless," Pablo says.
—Tara Mendanha