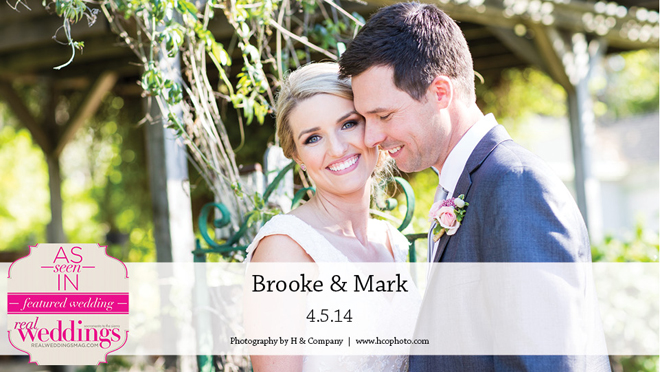 When Brooke met Mark nine years ago, she was newly single and forced to tag along with her sister and brother-in-law to a Fourth of July barbecue. Little did she know that her brother-in-law's best friend, Mark, would be there…with a girlfriend.
"I thought nothing of it, other than he was cute and too bad he wasn't single," Brooke says. Over the years, they would see each other at parties and barbecues, but the timing wasn't right until August 2013 when they finally went out on their first date. They agreed to meet for dinner, but never made it into the restaurant; instead, they sat on Mark's tailgate talking for five hours. "That day, we both knew this was it, and we never looked back," Brooke recalls.
Less than two months later, on September 28, the couple headed to Tahoe for Brooke's birthday. They drove around the lake, enjoying the beautiful view and surrounding nature. While heading home, Mark turned up a side road leading to a lookout and gave Brooke her birthday card. She began to cry while reading it, feeling the love Mark had for her. Meanwhile, Mark went down on one knee and pulled the ring out of his sock where he'd hidden it all day. Brooke looks back on this moment with such affection. "I dropped to my knees and couldn't believe that this day had finally come for me. It was so much more than I had ever dreamed!"
The duo opted for a spring wedding at The Flower Farm with a romantic, shabby chic feel. Brooke chose soft pinks, golds, silvers and champagne for her décor and flower colors, while her bridesmaids brought a pop of color with their bright blue dresses. Many guests complimented Brooke, telling her that the wedding looked exactly like something she would pick. To include a touch of Mark, Brooke surprised him with a "groom cake" featuring a Jeep driving up the side (the car he's had since age 15).
The reception included a candy bar with their favorite confections, vintage key beer openers as "thank-you gifts," black labrador cookies (to represent their own dog), and pictures of the couple at various ages to correspond with table numbers.
In addition to weaving themselves into the wedding, they also included family. Brooke's grandfather made lawn games, her niece shined while singing "Let It Go," and the father-daughter dance ended with her mom and siblings joining in.
"I just wanted to have a fun, loving day. I felt that the setting, personal vows, lawn games and fun dancing achieved this throughout the whole day!"
—Emily Peter