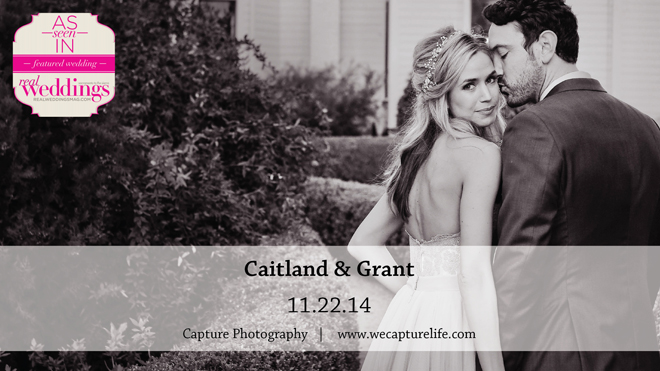 After only a month of dating, Caitland knew she would marry Grant, which is no surprise, considering her crush began three years earlier when they first met through mutual friends in Seattle. Although they were both seeing other people at the time, the two spent a memorable night out dancing (an infamous night still known amongst friends) where a palpable chemistry was born. They finally began their long-awaited relationship and were engaged less than two years later.
On the Friday before their engagement, Grant picked up Caitland's specially designed ring with no plans to propose anytime soon—until he woke up that Saturday, too excited to work, and decided to plan his proposal. He called Caitland's sister and asked her to take Caitland  out to get her nails done and get a new dress. He then called Caitland's parents and asked them to come up for a celebration dinner that evening. "They immediately agreed to come to Seattle, so I booked them tickets for the next flight out of Sacramento. They had about an hour and a half to get to the airport!" explains Grant. With a little research and shopping, Grant picked out the city's most romantic restaurant and park, and bought a brand new suit with help from friends.
"When Grant walked into my sister's apartment in a brand new suit, I was suddenly so nervous and confused," Caitland says. Grant explained that they needed to make a stop before meeting her sister and boyfriend for dinner (where more friends and family were secretly waiting), and took her to the Woodland Park Rose Gardens. Grant asked a stranger to take a quick picture of him and Caitland, but to Caitland's surprise, Grant got down on one knee to propose! She said yes, and within five months they were married.
Caitland and Grant consider California home, so they enlisted Caitland's mom to help with planning. They fell in love with Park Winters and created an ethereal feel that went well with the beauty of the venue. Caitland's blush wedding dress and white bridesmaid dresses, along with custom-made natural chandeliers and Grant's homemade wooden centerpieces, perfectly attained the magical and fairy tale feel the couple desired. "I wanted her to be happy, and she got the wedding she'd always dreamed of," Grant says.
The biggest moment of the day for both was the bride's walk down the aisle. "Essentially, I was walking to my future. It was the biggest moment in my life, and I just felt so lucky to be there with Grant, surrounded by all of our friends and family."
— Emily Peter