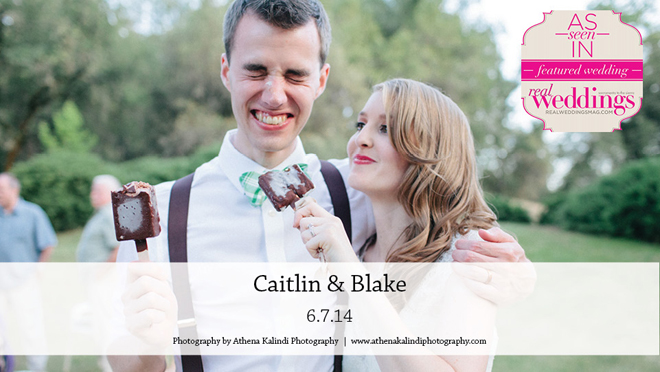 Caitlin and Blake are proof that long distance love can work. They met in a bar in February 2011 when she was a student at Sonoma State and he was traveling on business from his native Canada.
The romance continued over Skype and multiple visits. After two and a half years of long distance dating, they got engaged on the beach in Coronado, near San Diego, Caitlin's hometown. (The whole story was on their infographic invitations!)
Eight months later, Caitlin, an elementary school teacher and Blake, an IT consultant, married in an outdoor ceremony at her grandparents' house in Grass Valley. Caitlin always dreamed of getting married there because the property is so charming, including creeks, oak trees, flowering blackberry bushes and a pond.
Both Caitlin and Blake decided to have their respective parents give them away. During the ceremony, in front of 120 guests, the couple recited the same wedding vows that their parents and grandparents said when they married. "One of our favorite parts of the ceremony was when we had an opportunity to face all of our guests who were in attendance," says Caitlin. "Seeing all of their faces helped us to embrace the moment even more and helped to include every guest in the ceremony as well."
The couple had a wine box ceremony, featuring a bottle of wine and hand written letters. "I made the wine box myself, surprising my wife with a laser engraved front that has our names and wedding date," says Blake, who worked on the box for months and plans to "refresh" the contents for significant life events, like children or a new house.
The wedding's garden party theme featured green, tan and white as focus colors with summer accents like bright pink and sunny yellow. The décor included bales of hay for seating, mason jars and colorful bunting. "We knew it would be beautiful in the summer, and from there, we decided on a 25-foot chuck wagon serving BBQ, lawn games to pass the time, and all the wine, beer and other refreshments one could drink," the bride says, noting that friends and family arranged the flowers and her grandmother baked the three-tiered lemon-flavored cake featuring Swiss dots.
Caitlin wore a vintage-inspired tea-length gown, which she styled with accessories from Etsy, including a blush flower dress sash and matching flowers on her shoes. "I wore my mom's veil, which was not only my something-borrowed, but also helped me to feel even closer to her on my wedding day," she says.
For an "effortless," yet cool style, Blake dressed in tan pants and a vest with a white shirt with rolled sleeves, brown leather suspenders and a green bow tie. His ring, made entirely of reclaimed heartwood from Canada, reflects Blake's woodworking hobby.
We had a lovely ceremony that focused on our commitment to each other while still honoring the ones who helped to raise us," remembers the couple.
While distance was a challenge in their wedding planning, "we really learned to make the most of our time and resources," says Caitlin, who explains, "overall, everything came together flawlessly."
— Kristen Castillo