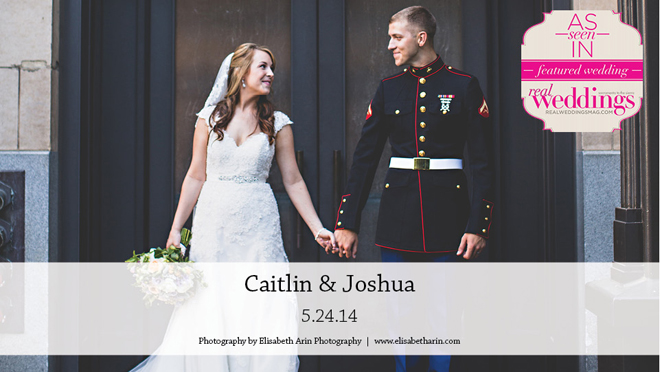 Cait and Josh were deep in the midst of picking floral arrangements and a color scheme when their plans were turned upside down. In a whirlwind afternoon, they learned Josh was to be deployed, leaving them just eight weeks to tie the knot. Lucky for them, The Citizen Hotel was able to accommodate their new wedding date and they were able to send Josh off having celebrated the couple's love and commitment to each other.
The couple met in Portland while Cait was visiting a friend and Josh was attending Portland State University. A year later, after managing a long distance relationship, they both moved to Eugene, Oregon—Cait to finish her degree and Josh returning to his hometown. After a few short years, Josh came home for a week of leave and proposed. He had spent weeks coordinating with their favorite winery to orchestrate the occasion. "There was a guitarist playing in their tasting room that night and when he started playing 'Your Song' by Elton John, Josh asked me to dance. Mid-dance he stopped me, got down on one knee and proposed," Cait says.
"Patient. That's the only thing you can be when you're in a military relationship," Cait explains. Given that their planning had to be moved up by six weeks, the bride says that she couldn't have done it without the help of her mother and sisters. "We received never-ending patience and support, from not only our family and friends, but from our vendors and venue as well."
Cait remained flexible—swiftly changing the bridesmaids' attire to simple black dresses, and relying on brightly colored floral arrangements (lavender, pale pink, coral and bright greens) to bring a pop of color to the event. Their ceremony was a mix of traditional and alternative—getting married by a Catholic priest but outside of the church, and Cait following the family tradition of wearing her grandfather's Air Force pin on her wedding gown.
They wanted to remember the jubilant feel of their wedding and were thrilled with their photographs. "We just hoped that our pictures together would capture how excited and elated we were, and they absolutely did," Cait says.
The most memorable part of the nuptials for bride and groom, however, was a simple moment they both shared during the reception. Cait says, "We were both standing on the edge of the dance floor, finally as Mr. and Mrs., and we were watching all of our friends and family laughing and dancing around, just having an absolute blast.
"It was such an amazing and surreal moment for both of us to have all of our favorite people under one roof, celebrating with us and having the time of their lives."
—Abigail Blank