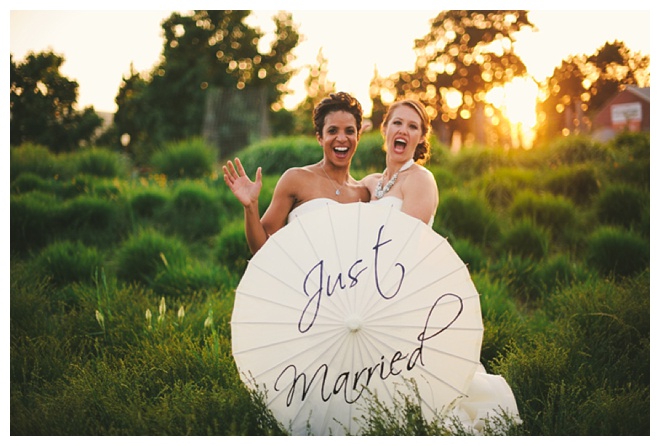 As Cassy and Keysia danced the night away with 50 of their family and friends, it was hard not to be reminded of the night they met. More than five years before their big day, they crossed paths at a magazine release party. Despite the fact that they both came with dates, Keysia came over to talk to Cassy; before they knew it, they were dancing and having a great time. The connection was instant and as Cassy puts it, "We haven't been able to shake each other since then."
Cassy didn't think they were going to have a big romantic proposal moment because they had talked about marriage and even been ring shopping. In true Keysia fashion, however, she surprised Cassy with a one-of-a-kind proposal. Keysia keeps a "thought book" where she jots down notes, quotes and (of course) thoughts. The one time she let Cassy peer into the thought book was on a lanai in Hawaii at sunset, and written on the pages was a dreamy proposal that was literally one for the books.
As the couple started preparing for their big day, they met with the caterer for a food tasting (one of Keysia's favorite recollections from the planning), and really enjoyed an appetizer of spicy barbecue pulled pork and papaya on a crispy wonton; needless to say, the dish made the cut. Some things that didn't make the cut? All of the stuffy traditions that had no meaning to them as a couple. Instead of being sequestered right until I Do's, they chose to get ready together and accompany each other to their wedding (no aisle by the way, they just came in from the side).
They also spent a lot of time together working on the perfect ceremony, which included a reading by Cassy's brother that ended up doubling as comic relief. The wedding planner told her brother to lose the phone for the wedding, but that was where he stored the reading. He eventually read from the notebook their good friend and officiant had prepared, but not before fumbling to reboot his phone—easing some of the emotional tension with laughter. Those moments were some of Cassy's favorites.
"Some of the most unexpected moments are the best ones. For instance, a brother forgetting the reading for the ceremony, a father forgetting his reading glasses for the dinner prayer, seeing your best friend in tears of joy for your happiness, and that last breath out before you walk into the ceremony. Those little things of the day are really what make everything real and truly perfect," Cassy remembers.
Another thing that made their day truly perfect was their location overlooking vineyards in Sonoma. The barn reception was cozy and inviting, with one long table for everyone to fuel up for their long night of dancing.
For Cassy and Keysia, it seems fitting that it all came back to where they started—on the dance floor, only this time when Keysia saw Cassy dancing she could say, "Yeah, that's my wife."
— Jennifer Resnicke