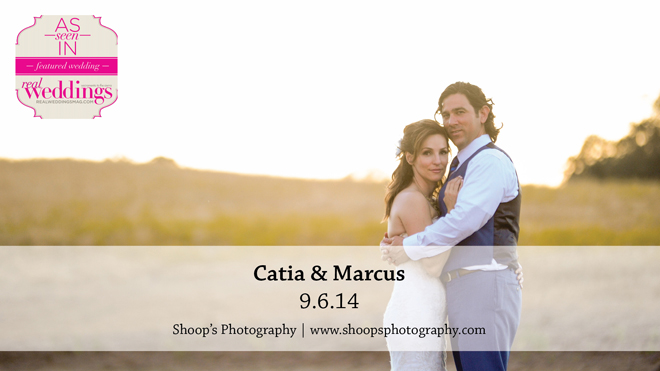 When Catia and Marcus met it was nothing short of destiny. Although they found each other by way of modern social media, their old world traditional values are what convinced them their love was meant to be. "We knew pretty much from the start that we were destined to be together and that we didn't want to spend another day without one another," Catia says. After less than a year of dating, Marcus proposed to Catia on a foggy November evening at Bolinas Beach.
They chose the 100-year-old St. Elizabeth Church in Sacramento, where Catia's family have been parish members since first immigrating from Portugal in 1985, for their traditional Catholic ceremony. The Mediterranean styling of the church set the tone for their reception, which incorporated both Marcus's Mexican heritage, as well as Catia's Portuguese roots. Family members were central to the ceremony, from their nieces and nephews serving as flower girls and ring bearers, to their siblings in the wedding party.
Combining their love of nature with their cultural heritage, the couple planned an elegant picnic reception on Marcus's family farm in Wilton. Catia explains, "We wanted it to be beautiful, but not stuffy—effortless elegance was the vibe we were going for." A blend of greens, yellows and blues accented the beautiful outdoor venue, and the décor was highly personalized—featuring many handmade elements, including hand-painted signs and a family tree with framed photographs of family members going back generations.
Catia was extremely hands-on in the planning—from choosing décor to organizing children's activities and designing the wedding favors—but they did utilize the assistance of a wedding coordinator to make the day-of details run smoothly. "Our wedding was a balance of our cultures, families and values. There was a blend of Portuguese, Mexican and country music, plus great food and drinks," Catia says. The guests were enthusiastic about the duo's nuptials, too—dancing and celebrating until the wee hours. The after party continued until 3 a.m. and included a specialized playlist and delivery pizza.
Of married life, Catia says that their love, faith, friendship and overall relationship have deepened. "When you marry, it's no longer about each individual but rather about us as a team…" She's enjoying their new life as husband and wife and looks forward to growing the family. "If you're with the right person, it shouldn't feel like everything is changing because ideally you're on the same journey."
— Abigail Blank