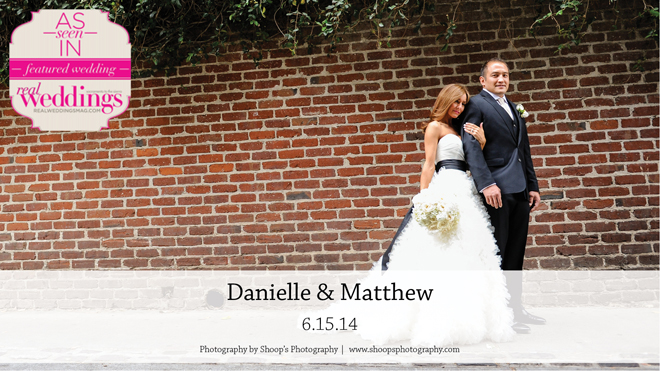 Danielle and Matt were both celebrating the engagements of others when they first met in May 2003. "The moment I saw him I felt like our souls were connected," Danielle remembers. Matt approached her and they talked the entire night, neither straying from each other's side. For the next month, they continued getting to know each other—talking on the phone every day. Living two hours from one another was hard, but their love wasn't phased by the distance. They had their first date on the Fourth of July and realized that they never wanted to be apart; at Matt's invitation, they spent the next two months traveling through Europe together.
It would be almost 10 years later when Matt proposed to Danielle at midnight on January 1, 2012, in Tahoe. "He got down on one knee, spoke some very sweet words and asked me to spend the rest of my life with him," recalls Danielle. "He is the most amazing person I know, and he makes me a better woman." Of course she said yes, but it would be another two years until they finally tied the knot.
They took only six months to plan their wedding, but with the help of Danielle's mom, everything turned out perfect.
"My mom did almost all the work for the wedding. We went to all the meetings together and described the soft, elegant, romantic feel I wanted, but at the end of it all, I owe everything to [her]. She's amazing," remembers the bride.
The couple chose The Firehouse as the venue for their special day. The intimate courtyard was the only place Danielle and Matt could both see themselves marrying each other. Wanting to create that soft, elegant and romantic feel, the bride chose vintage whites, pinks and peaches for her color scheme, and added charming flowers, candles and chandeliers. The addition of a gelato station from Capital Confections reminded them of their time in Europe and added a personal touch. "The gelato station was a big hit—we chose to have that because Matt and I often roamed Italy at night and grabbed gelato," remembers the bride.
The couple also wrote their own vows, making for a very emotional ceremony. "Matt was choked up reading his and tears were forming reading mine," Danielle remembers.
The day ended with the couple departing to Michael Jackson's "The Way You Make Me Feel." And they both make each other feel as if their lonely days are gone.
— Emily Peter