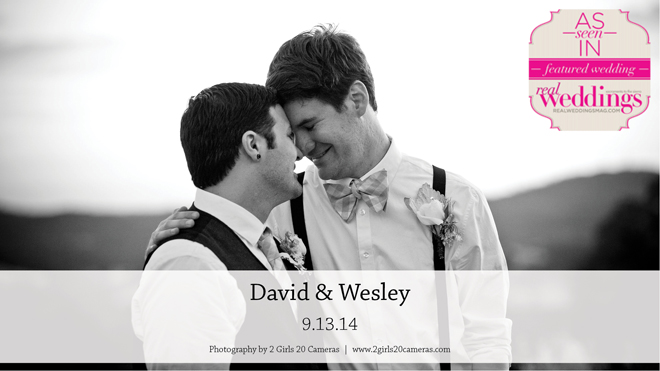 Both Wesley and David are performers—Wesley is a fire dancer and David a musician. Naturally, many of their friends are just as talented and creative. Using this as inspiration, the couple essentially planned a four-hour variety show as their wedding reception.
"Most of my close friends who I grew up with are actors, dancers, singers and artists, so it was easy to delegate creative tasks to them," David says. "More than anything, I think we both wanted to make sure our guests were entertained, so I asked several of my friends to prepare five to 10 minutes of their specialty. Since they're professionals, I knew that letting them pull from their own skills was the best option."
The couple had to plan their wedding on a budget, so they cut out what they could, including videography and a wedding planner. "The DJ, lighting, flowers, décor, wine, catering, and even venue had all been graciously offered as gifts from our talented friends and family," David says. Both the ceremony and reception took place in a friend's backyard in the foothills, also bringing costs down. "A lot of people contributed to making the wedding successful," Wesley says. "We kept referring to the wedding as a barn raising, since so many people came together to help us."
With the focus of the night set on entertaining everyone, the couple decided to move away from many traditions.
"We really felt this was an opportunity to create a day that was unique to us and represented our beliefs and values," Wesley says. "We pretty much threw most wedding traditions out the window. We walked down the aisle together—no one gave us away at the altar. There really wasn't even an altar. Our officiant was a professional tattoo artist. There were no 'sides' for family and friends to sit on. We didn't have a planned first dance, a song, mother/son dance, money dance, etc. We didn't 'cut the cake' or throw flowers. They all just seemed like overly formal traditions that really got in the way of everyone enjoying the evening we had planned for them."
For Wesley, the highlight was the puppet show. "Our friends made these Muppet-style puppets of each of us and reenacted our relationship from dating to marriage via tap dance and puppetry. It was hilarious!" And for David, he will never forget all the love he felt that day. "There was a moment I had by myself when Wesley was changing into his fire performance costume," he says. "I had our dog, and I'd snuck to the very edge of the yard; my friend Sandy said to me, 'Just look at all these people who love you.' I looked out at the twinkling lights and the people smiling, laughing and having a wonderful time. It was nice to breathe and soak it in."
— Kourtney Jason