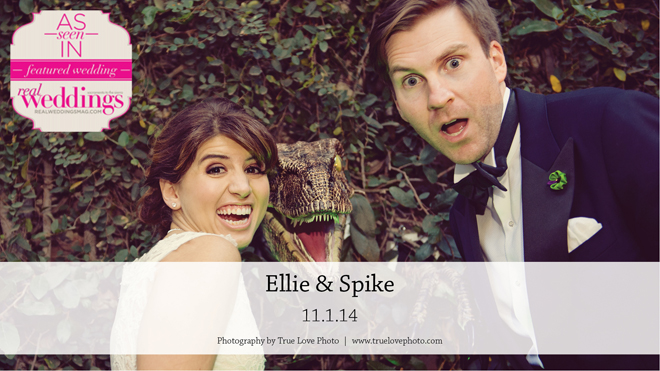 Longtime lovers of the hit 1993 film Jurassic Park, newlyweds Ellie and Spike decided to take their wedding guests for a walk on the wild side by making the movie their wedding theme.
Both transplants from the Midwest, the duo first met at a Thanksgiving dinner thrown by a mutual friend. Ellie says the two started dating as soon as they met, and became engaged one year later. Because Ellie is a physician in the U.S. Air Force, the two decided to have a very short engagement and tie the knot at the courthouse later that month.
This gave the couple plenty of time to plan their larger ceremony and reception with family and friends, which took place in early November at The Firehouse in Old Sacramento. "Getting married to the same guy twice was pretty great!" Ellie says.
The couple first set the scene for their Jurassic Park-themed wedding through the invitations. Ellie says the outer invitation envelope was designed to look like a wooden shipping crate, while the inner envelope looked like the cage of a raptor. "We tore into it, so it looked like the raptor had broken out," she explains.
To integrate the dinosaur movie into their ceremony, they turned to the wedding party to help. Ellie says her mother walked down the aisle using a cane similar to that used by the character John Hammond, while her brother dressed up like the character Dennis Nedry. In the movie, Nedry uses Barbasol shaving cream cans to steal dinosaur embryos and the couple used that same concept for their rings. "We had him as a ring bearer, so he snuck up during the middle of the ceremony and unscrewed the bottom of the can—just like they do in the movie—to hand us the rings," Ellie says.
The theme continued into the reception, where guests had to find their table by matching the dinosaur on their name card to ones on the tables; certainly there were quite a few gasps when they came face-to-face with a life-sized raptor dinosaur! "My wedding planner, Kendra, was able to rig it up so it looked like it was literally coming out of the wall, which was pretty great," Ellie says.
Ellie says that when it came to planning, they took the approach that the celebration was theirs, so did what would make them the happiest. And this is the main piece of advice she wishes to pass on to future brides. "We certainly asked for opinions, but if their opinions [didn't align] with our own and we cared about it, we didn't budge," Ellie explains. "We weren't willing to compromise our happiness for somebody else's, and I think it definitely paid off for us in the end."
—Corrie Pelc