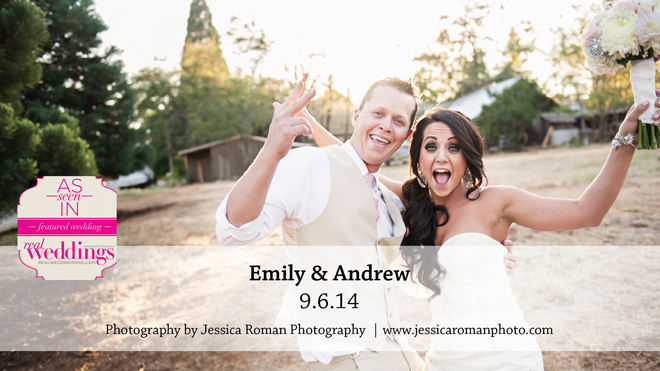 Emily and Andy's love story began with one condition: no flirting. In December 2008, one of Emily's sorority sisters asked if she would accompany her cousin, Andy, to their winter formal dance. Emily responded, "Yes, as long as he doesn't try and hit on me." It's a good thing Andy didn't follow the rule—after that first meeting, the two were inseparable.
They continued to grow closer, and in the summer of 2013 took a trip to Las Vegas with three other couples. Andy and his friends had already devised a plan to tell Emily he had won an extra night at a fancy hotel, so they could spend an additional night on their own.
He planned a banner evening of Cirque du Soleil, the Bellagio fountains, the gondola at The Venetian and reservations at a top-notch steakhouse, where he proposed over dessert. Emily could tell something was amiss, but only later did she find out "the main reason Andy was acting so strange was because he hadn't planned the exact place or time he would propose during the night, so at every stop…he debated on whether [it] was the perfect time and place. It literally made him sick!"
As they began planning their dream wedding, the couple agreed that their number one priority was for it to feel light and fun—to match their joyful personalities. Between the reception, which was a "party with a capital P" as Emily puts it, and toasts that included a rap—courtesy of the maid of honor—their day lived up to all of their hopes.
One of the moments Emily particularly enjoyed while planning was the singular experience of finding the perfect dress—something she'd seen many other women do on Say Yes to the Dress, which she has devotedly watched since the show began.
In addition to wanting a joyous ambiance, the couple also knew they wanted Andy's family friend Vusi (who plays Simba in The Lion King on Broadway) to sing at the ceremony. Unfortunately, Emily recalls one of the worst parts of planning was when they found out Vusi was unable to sing at their wedding and couldn't even get the time off to attend at all. Unbeknownst to Emily, Vusi called Andy a few days before the ceremony and said he would be able sing an old African song at the ceremony—a fact they kept from Emily as a surprise.
The day of the wedding, as she started to walk down the aisle, she had "a minor freak out"—the song she heard playing wasn't the one she picked out—and told her dad to stop. Luckily, her dad was in on the secret and persuaded her to keep going. When they turned the corner, she was amazed to see that her wish had come true: Vusi was singing near her soon-to-be husband.
As the couple thinks back on their special day, the ceremony burns brightly as one of their most cherished memories. Emily recalls: "It was so fun yet intimate and full of family and love."
               —Jennifer Resnicke