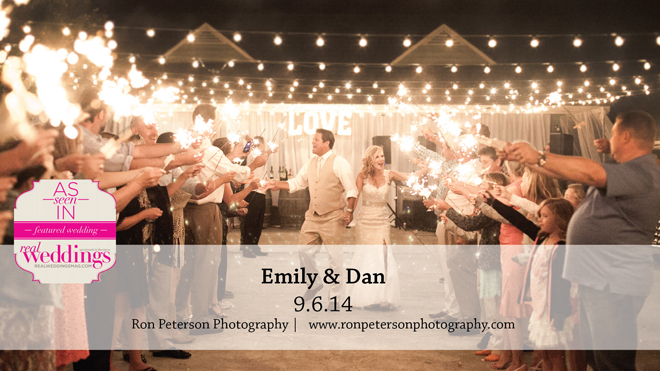 Imagine a backyard wedding surrounded by family, friends and your favorite things: flowers for her and cars for him. That's how Emily and Dan's wedding played out as they said, "I do" in their very own backyard.
Emily, owner and floral Designer at Embellish Floral Design, and Dan, an international sales manager, were so committed to the at-home wedding that they spent money investing in landscaping instead of renting a wedding venue.
Wedding planning took a year and a half, which kept the couple busy. "Leading up to the wedding day, I thought about our property and the 'to-do' list daily," says Dan, who in the end says he was surprised that "a five-hour wedding could seem like it lasted for 30 minutes." They exchanged vows under an arch made by Emily's father. It's "a permanent structure that is a meaningful part of our yard and remembrance of an amazing moment," she says.
The couple—who Emily says has been "inseparable from our first date"—had a traditional Christian ceremony, with a few "twists," including Emily's father as officiant, writing their own vows, and the bride carrying her grandmother's handkerchief down the aisle. "We kept the wedding party to our three children," says Emily, explaining that it consisted of her daughter Luci, 10, and her son Joe, 12, along with Dan's son Tyler, 21, who held the rings.
Dan says he was "definitely stunned" when he first saw Emily, "although it was not a surprise because she is always beautiful." Emily was wowed by her groom, too. "I peeked out the sliding glass bedroom door where I was getting ready and saw him walk into the backyard," she says. "He looked amazingly handsome in his suit. I couldn't wait to be with him. It was so exciting!"
The theme was "D+E Sparks Flew," which came together in many areas, from the cocktail napkins and matchbooks to sparklers and the cake. The 110 guests enjoyed the celebration, which included square dancing and a dessert display of three small cakes, tea cakes and mini pies. Their cake topper, a wired D&E, was stunning.
The couple maximized their yard with different areas for the ceremony and reception. Emily loved being announced as husband and wife, as well as their first dance to their song, "Bless the Broken Road" by Rascal Flatts.
They took photos "all over the yard" says Emily, noting that they posed in front of the arbor/altar, on the swing, in front of a "Love" sign that the groom made, and in front of old Chevy pick-up trucks loaned to the couple specifically for their wedding.
―Kristen Castillo