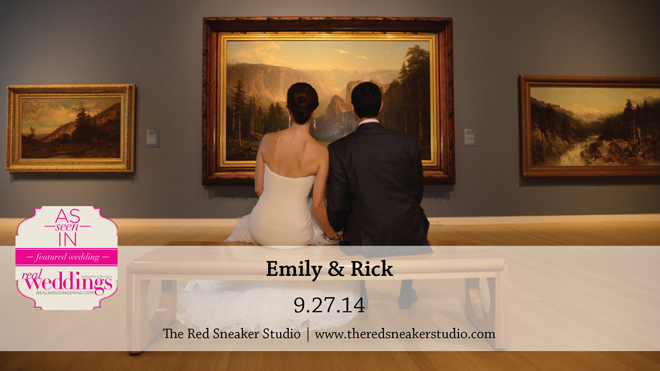 They started out as friends and four years later kissed on New Year's Eve at midnight. From that moment on, Emily, who works in mergers and acquisitions, and Rick, a financial advisor, were a couple.
After two years of dating, they got engaged on a hike during a Thanksgiving visit to Salt Lake City. They married the next fall at the Crocker Art Museum, with a ballroom ceremony and a reception in the venue's courtyard. The museum was a fit for the couple, since they liked "the idea of taking a non-traditional wedding venue and having a great celebration [that] would be fun for guests," says Emily. "We can [also] go back and visit and remember our wedding."
The ceremony focused on family and friends. Rick's parents walked him down the aisle in Jewish tradition and his father said a prayer. Emily's mother walked her down the aisle, and an acoustic version of Tom Petty's "Free Fallin" was played to honor the bride's father, who passed away eight years ago. "There were not a lot of traditions, but we made [the] ceremony our own," says Emily, noting she and Rick wrote their own vows. "It made me realize how important it is to take the time to vocalize your love," she says.
Emily was so nervous that she almost fell down the stairs, since her dress got caught on a rivet and she was wearing four-inch heels. "I was so happy and relaxed once I saw [Rick] and smiled," she says. "I knew the rest would be an easy and happy celebration like we planned." For the groom, "seeing Emily walk down the aisle and knowing that this was the first step for the rest of our lives together was pretty emotional, and will be a memory I carry with me forever."
Rick's childhood friend was the officiant, and their wedding party was made of 14 of their best friends. They walked out of the ceremony to the Top Gun theme song. "It was unexpected, unique and something that shared significance for Emily and me, almost like an inside joke, but it definitely worked for the occasion," Rick says.
The color scheme focused on Pantone's Color of the Year for 2014, radiant orchid, which was accented with gray and silver. For the bride's something old, new, borrowed and blue, she chose her father's handkerchief wrapped in her bouquet, her new gown, earrings borrowed from her sister's wedding, blue lingerie and blue stitching on part of her dress.
"Our end goal of the wedding planning process was to have a great party with our closest family and friends, and get married," says Emily. "In that order. It was a magical night under the stars."
Four days after their wedding, the couple went for 17-day honeymoon throughout Thailand. Emily says, "It was the most amazing trip of travel, food, relaxation, exploration and celebration."
—Kristen Castillo