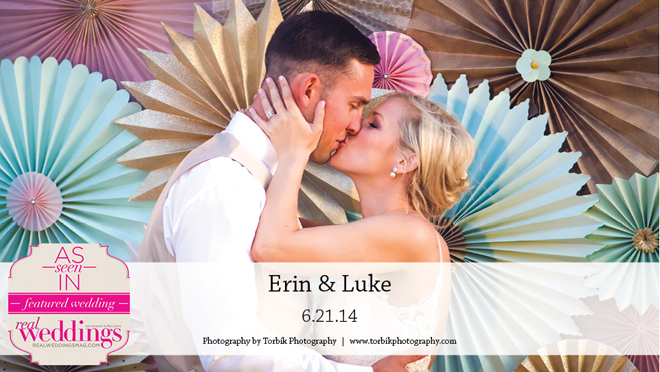 A backyard barbecue is what Erin and Luke first envisioned for their summer wedding, and that is exactly what they did. "We wanted everyone to leave saying they had fun and a really good time…and that's exactly what we had!" Erin recalls.
It was a bit of a whirlwind romance for these two, who first started dating in October 2012, became engaged in August 2013, and then—less than a year later—married in June 2014. Erin says the couple knew from the start they wanted to be husband and wife.
Since Erin grew up in West Sacramento, the duo felt it was fitting to have both their wedding ceremony and reception at Vierra Farms, also known as Dave's Pumpkin Patch. For the ceremony, the couple turned to a boyhood friend of Luke's to officiate. "We wrote the ceremony with him, and he did a great job," she says. The bride says that they also kept their ceremony short and sweet. "We wanted something quick and painless—we wanted to get straight to the party!" she adds.
After the ceremony, the couple kept to their backyard barbecue feel with an outdoor reception catered by Lucille's Smokehouse Bar-B-Que. "I felt like I was having everyone at my mom and dad's to hang out, and we also got married…it was very fun!" Erin says.
Another focus for the couple was music; they wanted great tunes playing throughout the event so they worked with their DJ to make sure there were upbeat songs playing that catered to every age group in attendance. As the sun went down, big lights over the dance floor offered illumination while partygoers were given glow sticks to wear.
When it came to the reception's décor, Erin was completely hands-on, making many of the items herself and shopping for others with her father at area antique stores.
My dad and I love antiquing, so the actual décor was very rustic," she explains.
For example, they purchased and refurbished a table together to use at the wedding. The bride herself constructed 180 pinwheels, which were used to line the aisle and served as a backdrop during the ceremony.
Erin also got help from her mother and best friend in making the wedding favors, which included 10 different flavored popcorns, caramel apples and cotton candy. These sweets were on top of the ice cream sundaes that guests could make, which the couple offered in lieu of a traditional wedding cake.
Looking back, Erin advises brides-to-be to try not to stress about their big day, "Just relax, enjoy the hair and makeup process, tell your bridesmaids how much you appreciate them, and make sure to have a special moment with your family before the ceremony. Take it all in, from the beginning to the end," she says. "It's your day [and] you never get to redo [it]—it's literally once in a lifetime."
—Corrie Pelc