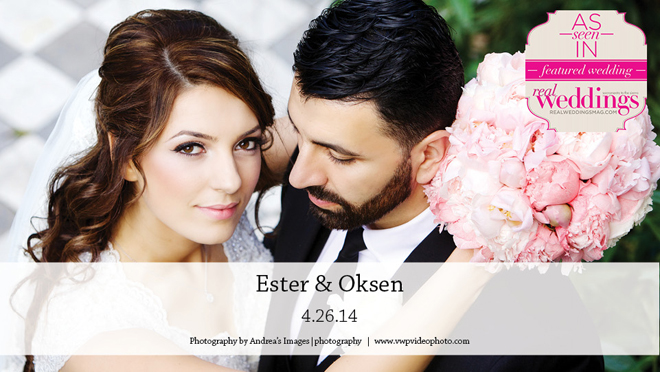 When Oksen, a banker, asked his co-worker if she knew anything about a regular customer whom he had taken a liking to, he did not expect to discover that the girl just so happened to be best friends with his co-worker. Getting to know Ester was going to be easier than he thought. He asked his co-worker for Ester's phone number and a relationship soon sprouted.
Flash forward five years, when Oksen organized an intimate dinner party with his and Ester's traditional Armenian parents. It was here that he proposed and the wedding planning began.
Ester, who prefers to be organized and prepared, found that the most difficult decision was selecting the style of wedding that they would have. The couple agreed that a classic, romantic celebration would suit them best. According to the bride, a wedding with "chiffon drapery, lush florals, and more glamour than most red carpets could handle." As a graphic designer by trade, Ester enjoyed being able to place her own personal stamp on each part of the wedding with custom-designed printed materials.
The day began with a full team of beauty experts helping the large wedding party prepare. Ester recalls that, "the closer we all were to being ready, the faster my heart was beating." Armenian tradition calls for the groom to pick the bride up from her parents' house to take her to the church, so the soon-to-be newlyweds had their first look surrounded by loved ones prior to the ceremony. As they arrived at the church, they realized that everything was even more perfect than they could have hoped for. "It was a glamorous day filled with beautiful gowns, dapper tuxes, impeccable appetizers, delicious Armenian cuisine, decadent desserts and so much love," Ester describes.
"We had quite the journey getting to that day and my hearts was so full. I felts as though I was dreaming. Everything was so beautiful and everyone so loving that it felt surreal," remembers the bride.
The overall feel of the wedding certainly made an impact on the couple and their guests, but it was the small details that made the wedding truly special. Guests were treated to a viewing of a short film produced by Ester and Oksen telling their love story. Ester also describes having her father walk her down the aisle as a moment she will never forget.
A glamorous wedding called for a glamorous honeymoon, and they were up for the challenge. The two enjoyed a romantic getaway to Saint Lucia. They're currently enjoying their time as newlyweds, but starting a family is definitely a part of the not-so-distant future.
—Kelley Saia