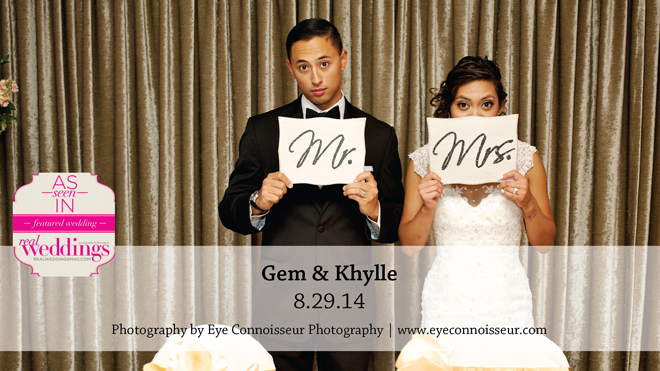 For Gem and Khylle, who met at church, the saying, "A date made in church is a match made in heaven" rings true.
Gem, a student majoring in nutrition at CSUS and Khylle, a staff sergeant in the U.S. Air Force, met in December 2011, started dating in July 2012, and got engaged in July 2013. They married at the Sacramento Courthouse in front of her and his respective parents in September 2013, since the groom was being deployed to Kuwait for six months.
When Khylle came home from deployment the following April, the couple decided to plan a church wedding with their family and friends. "We are devoted to our church and have strong faith," Gem says, so it was only fitting that they married in front of 200 guests at the Church of Christ in Sacramento.
The wedding party included four bridesmaids, two maids of honor, five groomsmen and one best man, as well as two six-year-olds: the flower girl and ring bearer. "We had five paired elders that we call our 'ninongs'—which basically means godmothers and godfathers—for the males, and 'ninangs' for the females," says Gem. "They're the ones we trust and go to for advice when we need them."
The reception at Arden Hills "fit our guests comfortably," says Gem. "I loved the mirrors and stage." Khylle was impressed with how great the reception looked. "We didn't get to see it until we walked in, and it was absolutely beautiful," he says.
The theme was world travel since both the bride and groom love globetrotting. Décor was simple and included a Tiffany blue and gold color scheme. While the last-minute schedule and budgeting were stressors, the day went well. The bride's favorite wedding day memories included seeing her groom for the first time, walking down the aisle and the first kiss.
Khylle has similar favorites. "When I first saw Gem turn the corner to walk down the aisle, I was so nervous but excited," says Khylle. "[She] looked just absolutely beautiful…like a queen ready to meet her future king. I could tell Gem was trying so hard not to cry in which she succeeded," he explains, noting his bride "probably didn't want to ruin her makeup."
— Kristen Castillo